A local news interview with Ken Starr took an awkward turn when the ex-Baylor University president was confronted with a potentially incriminating email that prompted his crisis manager to hurriedly intervene -- after which Starr gave two more answers, both different from his first response, to the original question.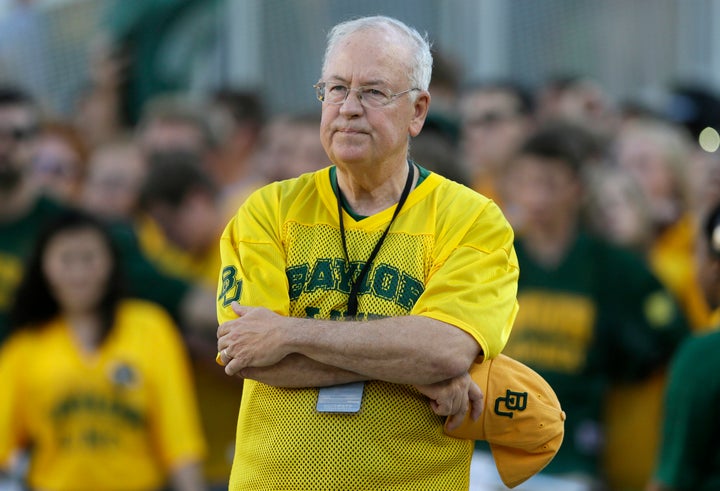 Starr on Wednesday resigned as chancellor of Baylor University. The school's board of regents had removed him as president just a few days earlier as part of the ongoing fallout from revelations the school turned a blind eye to claims Baylor football players were raping female students.
He announced his resignation during a Wednesday interview with ESPN's "Outside The Lines," in which he also insisted he had been operating behind a "veil of ignorance" about the football rape scandal.
Later that day in an interview with Texas station KWTX, Starr was confronted with a 2015 email from a Baylor student who personally wrote to Starr and stated in the subject line she had been raped at Baylor. Starr did not give a clear answer as to whether he read the message. 
"I honestly may have. I'm not denying that I saw it," he said at first. 
That's when, off camera, Starr's longtime friend Merrie Spaeth -- a crisis manager and former PR flack in the Reagan administration -- tried to shut the interview down.
KTWX later said Spaeth told the station not to use the interrupted portion of the interview. When the news director refused, Spaeth pulled Starr away to convene before he returned on camera. 
Given a second chance to explain whether he'd seen the email, Starr said, "All I'm going to say is I honestly have no recollection of that."
Starr then looked at Spaeth and said, "Is that OK?"
Given a third chance to answer the question, Starr went for full denial. 
"I honestly have no recollection of seeing such an email and I believe that I would remember seeing such an email," he said. "The president of a university gets lots of emails. I don't even see a lot of the emails that come into the office of the president. I have no recollection. None!"
Starr flatly denied he was sitting on any incriminating information.
Starr has called his resignation "a matter of conscience" and said he stepped down so that he could talk openly -- something he couldn't do as a top Baylor official. 
"I am calling on the board of regents for transparency," Starr said. 
The former Baylor student who wrote the email to Starr copied other Baylor officials, including football coach Art Briles, who the board suspended "with intent to terminate" over his role in the scandal.
The woman, only identified as "Sarah" to protect her privacy, said in a Wednesday interview with ESPN that neither Starr nor anyone from the athletic department reached out to her after she reported her alleged rape.
Sarah criticized Starr for later characterizing the scandal as an issue of "interpersonal violence." 
"Let's call it what it is: it's sexual assault," Sarah said. "It downgrades what we've been through. I find it a little offensive." 
Calling all HuffPost superfans!
Sign up for membership to become a founding member and help shape HuffPost's next chapter
BEFORE YOU GO
PHOTO GALLERY
Images From 'Surviving In Numbers' -- A Project Highlighting Sexual Assault Survivors' Experiences