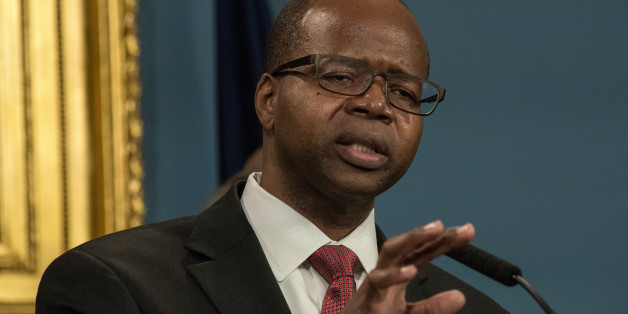 By Hertencia Peterson (aunt of Akai Gurley) and Nicholas Heyward Sr. (father of Nicholas Heyward Jr.)
We know there is nothing worse than losing a loved one. Thus, we can empathize with the family of Ken Thompson, who passed away last month, days after stepping down from the office of Brooklyn District Attorney. However, justice, from our vantage point, was denied to our families through the actions and inactions of Mr. Thompson. This past weekend marked two years since the police killing of Akai Gurley, a case where Mr. Thompson brought Akai's family tremendous pain. The posthumous recasting of Thompson as a "civil rights leader" and "reformer" perpetuate a false legacy that erases the pain of several families.
Akai Gurley and Nicholas Heyward Jr. were two innocent lives stolen from us by New York city police officers. Their deaths are forever linked together as our families have marched side by side demanding that black lives matter. Little Nicholas, only 13 years old at the time, was shot to death in the staircases of Brooklyn's Gowanus Houses by a housing cop, Brian George, in 1994. In a horrific and avoidable echo of his death, Akai was similarly killed by a rookie officer, Peter Liang, patrolling the Pink Houses stairs in 2014 -- almost exactly 20 years later.
Liang, like George, is free today. Mr. Thompson's recommendation that Liang, unlike others convicted of manslaughter, not be sentenced to any jail time was not only a betrayal of Akai's family, it was a slap in the face to communities of color who live at risk of being killed by police -- and who want real accountability. Mr. Thompson caved in to the police after a jury - surprisingly, statistically - convicted Liang.
With Nicholas Jr.'s case, Mr. Thompson's politicking was no less painful. In 2013, while campaigning to become Brooklyn DA, then-candidate Mr. Thompson stopped by the annual Nicholas Heyward Jr. Day of Remembrance in the Gowanus Houses to promise Nicholas' family that he'd re-open the case once elected. For over a year, we heard nothing. Instead we had to rally and demand Mr. Thompson fulfill his promise. We heard whispers that Thompson never fully intended to seriously investigate what happened or actually charge George with Nicholas Jr.'s' murder. Earlier this month, new acting DA Eric Gonzalez, who took over after Thompson, told Nicholas' family that the re-investigation was to be closed.
Thompson's office came to the same conclusion with that of the prior administration: little Nicholas' death was justified.
The cruel irony of Mr. Thompson's legacy is that the Brooklyn DA's Office, under his watch, regularly sought more jail time for low-level, nonviolent offenders than it did of a cop who killed an unarmed black man. Under Thompson, the Brooklyn DA's office continued to implement Bloomberg-era Operation Spotlight, a policy reminiscent of three-strikes rules, by regularly demanding maximum jail time for "persistent" misdemeanants convicted of nonviolent offenses like shoplifting, traffic violations, and jumping subway turnstiles. It was not uncommon for Mr. Thompson's office to seek one year imprisonment for fare-beating, an offense overwhelmingly enforced in communities of color.
Thompson the reformer? Among Mr. Thompson's "reforms" was the highly touted announcement that his office would no longer prosecute possession of small amounts of marijuana. In the fine print, however, the DA abstained only from charging individuals without criminal records. In an overly criminalized city, this loophole meant than in Brooklyn, like other boroughs, prosecutors still aggressively pursued charges and sentences against people of color for minor offenses like marijuana possession. His warrant cleansing program, Begin Again, was nearly identical to Safe Surrender, a similar program begun under his corrupt predecessor, Charles Hynes.
There were examples of Mr. Thompson's unbalanced prosecutorial style: seeking (and receiving) a max sentence for Marcell Dockery, only 16 years old at the time, who was charged with murder for allegedly lighting a mattress on fire; declining to prosecute Will Groomes, a retired corrections officer who shot and killed an unarmed man in a busy Brooklyn subway station.
This leads us to believe that Mr. Thompson was a calculating politician whose self-posturing as a reformer served his own political agenda at the expense of individuals and families from communities like ours. Behind the hype, Mr. Thompson was no friend to the civil rights community. He never departed from disparate, punitive treatment of poor people of color and his bias and extraordinary leniency for law enforcement officers was a continuation of the status quo -- not a break from it. While his exoneration of 21 wrongfully convicted Brooklynites was real and legitimate, the teachings of a true civil rights leader, Malcolm X, taught us that sticking a knife into someone's back nine inches and pulling it out three is not progress.
Calling all HuffPost superfans!
Sign up for membership to become a founding member and help shape HuffPost's next chapter