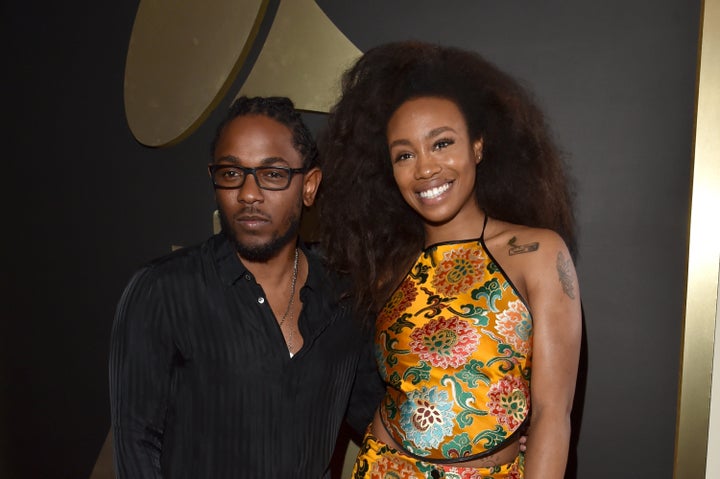 Kendrick Lamar and SZA are being sued by an artist who claims they copied her artwork without permission for the video of "All the Stars," the first single off the "Black Panther" soundtrack.
Lina Iris Viktor, a conceptual and performance artist and painter, contends that rapper Lamar, singer SZA (real name Solana Imani Rowe), record label TDE and others, knowingly infringed her work to create a golden scene in that music video. 
In her lawsuit, Viktor said she was approached by a Marvel set director and a public relations firm on behalf of Marvel to collaborate on "Black Panther" in November 2016 and again in January 2018. The critically acclaimed artist said she ended up declining to work with the teams both times.
But after the "All the Stars" video dropped on Feb. 6, the lawsuit says, friends told Viktor that they had seen what appeared to be her art in the clip ― specifically three original works titled "Constellations I," "Constellations II" and "Constellations III" ― and the press noted the apparent collaboration.
The lawsuit calls the music video an example of "willful, brazen, and extensive unlawful infringement" and asserts that Viktor's creations are "being used by Defendants to promote the soundtrack to the latest multi-million-dollar budget Marvel film." 
"[It] is both an egregious violation of federal law and an affront to the Artist, her livelihood, her legacy, and to artists everywhere," the suit states.
The legal complaint provides examples of Viktor's art and the problematic art used in the music video ― specifically, a scene that begins at the 2:59 minute mark and lasts for about 19 seconds. 
Below is one side-by-side example from the lawsuit, with Viktor's work on the left and an image from the video on the right: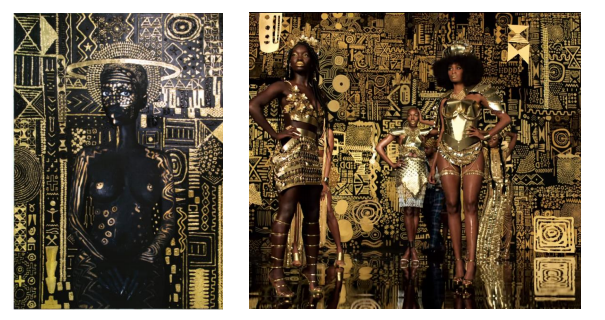 You can watch the entire video below: 
"Why would they do this? It's an ethical issue, because what the whole film purports is that it's about black empowerment, African excellence — that's the whole concept of the story," Viktor told The New York Times earlier this month. "And at the same time they're stealing from African artists." 
Representatives for Lamar, SZA and TDE did not return requests for comment.
On Monday, Viktor thanked her fans for their support on her Facebook page and told them that she was "seeking justice." 
"We believe that the copyright infringement is irrefutable," Viktor's lawyer,  Christopher Robinson, said in a statement to HuffPost. "We are confident that Ms. Viktor will prevail." 
Calling all HuffPost superfans!
Sign up for membership to become a founding member and help shape HuffPost's next chapter
BEFORE YOU GO
PHOTO GALLERY
'Black Panther' Premiere Celebrates African Royalty