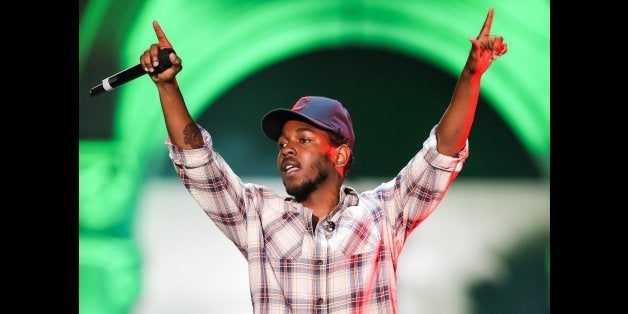 To Pimp a Butterfly has me excited to make music. It reminds me how important music is to my everyday existence. It's an inspiring record, an incendiary lyrical tour de force and a stylistic mashup that's elevated the G-Funk era with a set of more organic twists. Kendrick's cabinet runs deep: although the producer/collaborator count runs close to two dozen, the album's sonic expansiveness is cohesive, dynamic and jammed with live instrumentation. Intros and outros snake through song forms, paving a road both perfect for low-riders or your MTA of choice. When was the last time you heard clarinet on a hip-hop record? This is it.
If a little Googling is correct, that's Pedro Castro, a clarinetist with four YouTube videos and a solid writeup in the Pasadena City College Courier. But his performance on "Institutionalized" is not as anonymous; rather it's part of the deep musical fabric that Kendrick, a decidedly hands-on foreman, has curated on his third full-length. To Pimp a Butterfly paints with colors that resemble, if I may use the C word, classic hip-hop -- the album feels more like De La Soul, A Tribe Called Quest and 2Pac, all of whom made records that duck and weave in their bounce. While the latter's brilliance obviously inspired the Kendrick behind 2011's Section.80, the emcee of this week's surprise release is more worldly, part of which owes to the feeling that he's become a true bandleader.
From the jump, we get a mood beyond that of 2012's good kid, m.A.A.d city -- the last time we heard George Clinton like this was on "Synthesizer," from Outkast's 1998 masterpiece Aquemini. The Atlanta duo remains a major influence throughout, and their perpetual collaborations with production team Organized Noize mirrors the setup at Kendrick's label, Top Dawg Entertainment, which employees an in-house production crew that's all over To Pimp a Butterfly. Neal Pogue, who engineered Aquemini said of those sessions, "It was almost like a Motown, that's what we had. Or like a Stax Records thing. That's what I loved about it. It brought back that whole feeling of making records. It was organic."
That feeling pervades To Pimp a Butterfly, which owes much to Thundercat's bass playing, more nuanced than ever, and Bilal's vocals. The Bay Area singer has been making genre-smashing R&B for years, and his style surely informed this album.
Organic is nothing new in hip-hop, a genre we often imagine being made on machines from choppy chunks of music that already exists, but in 1993 a little band called The Roots independently put out Organix, which changed my world. The idea that such a powerful genre, one that saw a concentration of incredible music that year, could be created with live instruments connected hip-hop to the spheres of jazz, funk and rock, which seemed to live disparately in my musical mind. The career trajectory of that little band is just as inspiring - they've pushed envelopes on every stage, including that of latenight television, not failing to get political when necessary.
Of course, hip-hop has seen live instrumentation elsewhere, but it wasn't billed as the work of a band (e.g. Ron Carter, on the bass). The same arrangement is true on To Pimp a Butterfly, which combines the LA languidity of The Pharcyde with Dr. Dre's aggressive bounce, so emblematic of the West Coast. But there's also a spirituality, one learned from the coastal feuds of the '90s that took hip-hop's co-rulers, one that pays homage to the past yet looks squarely towards the future. It feels at times like a Soulquarians opus or a J Dilla joint -- collective musicality and compromise triumph over ego, themes that echo in Kendrick's words.
"Egos kill. Not only you but everybody around you," he said at 24. "The caterpillar is a prisoner to the streets that conceived it. Its only job is to eat or consume everything around it in order to protect itself form this mad city... the butterfly represents the talent, the thoughtfulness and the beauty inside the caterpillar," says present day Kendrick, sounding as thoughtful as ever.
I like thoughtfulness in my music. I like to hear collaboration, which is why I love jazz, or, if I've read my Nicholas Payton*, Black American Music (#BAM -- do I need the hashtag?). "From a genealogical standpoint," says Payton, "It becomes very clear to a knowledgable listener whose music has been informed by the Black tradition and whose hasn't. That will never happen with jazz because it's a bastardized tradition that has no foundation outside of a commercial structure. It's not a communal language, it's a capitalist one." Hip-hop has certainly been speaking that language, and it's refreshing to hear something serious that stops putting materialism on a pedestal. Although flashiness and braggadocio have been essential to the art form since the beginning, the past decade has been overly concerned with material gain.
Critics want to mention that they miss when hip hop was rappin' / Motherfucker if you did, then Killer Mike'd be platinum / Y'all priorities are fucked up, put energy in wrong shit / Hennessy and Crown Vic, my memory been gone since.
There's hints of an A Love Supreme vibe here, and in a way some of the work is devotional. No surprise from the man who said, "All I am is just a vessel, doing his [God's] work." That attitude, notes pianist Ethan Iverson, "seeks ecstasy through communion, not just with God but with every one in the immediate vicinity. You don't practice it. You plug into the ancestors and your reason for living and it's there."
Also no surprise that multi-instrumentalist Terrace Martin, who produced much of the album, compared Kendrick to "Coltrane, man. Mild-mannered, soft-spoken, always practicing. New harmonic approaches, different techniques, falls in -- there's not a mistake on that stage with him. If the turntables fall, he gon' -- like, it's weird. It's like water."**
"I think that's why a lot of motherfuckers fuck with me," the rapper said, "Because the shit I put out on my music is me not knowing everything. It's me trying to figure out the world just like you." Although he's gained confidence in the past three years, his allowance for musical sensitivity, nuance and harmonic richness gives the album weight, which makes for a statement not without its warts. The inclusion of the live version of "i" is a conscious illustration of this (Kendrick is certainly striving for Black Thought status in his ability to front a band) and his willingness to perform an untitled song on national television that was written the day before "cause we didn't want to do nothing that's already been done" - these things explain why To Pimp a Butterfly was streamed almost 10 million times in one day.