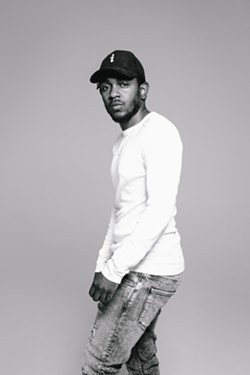 Christian San Jose via SF Weekly
If you have seen Kendrick Lamar's latest music video, "Alright," then you know it is arguably one of the most epic music videos of all time. Along with its hip-hop bravado, lyrical brilliance, cultural creativity, and breath-taking videography, I was captivated by its central message of hope. Lamar's "Alright" gives you a lift of hope in the midst of perpetual antipathy for black and brown human lives in our world today.
While stunning the world with his, To Pimp a Butterfly album, Lamar demonstrates his ability to use his artistic prowess for the uplifting of oppressed peoples. Within this album, the theme of hope is demonstrated in the Alright music video. As this video address a myriad of problems, from domestic violence to police brutality, it offers practical hope for real life problems.
An ongoing tension between many communities of faith and activists is the ability to connect theology with reality. Many clergy leaders ignore the work of establishing concrete hope in our present realities, foregoing practical hope for pearly gates. However, Kendrick Lamar's Alright demonstrates how downtrodden people can have hope in a world of violence, tragedy and death.
It is impossible to speak about violence in 2015 without addressing police brutality--this is a major theme throughout the song. When a person of color is shot by a police officer in the beginning of Lamar's music video, it evokes the numerous deaths of black and brown people as a result of police brutality. As the bullet shoots faster than the nails that pierced the body of Jesus, I think about the barrage of bullets that began in the minds of white supremacy and ended in the bodies of black and brown people. We may even think of the violence enacted on Sandra Bland and Sam DuBose.
The succinct glimpse of the church in the introduction of the video brings to mind the mass shooting carried out by Dylan Roof, who killed nine people at Emanuel African Methodist Episcopal Church in Charleston, South Carolina, On June 17, 2015.
Violence is not endemic to systemically oppressed communities in the U.S, but it is a global issue. Colin Tiley, video director of "Alright," explains that Kendrick Lamar shot the video from the Bay area to L.A. to emphasis the universalism of his message. He connects the violence associated with Apartheid in South Africa with police brutality in the United States.
The universalism of Lamar's message also connects the violence that claimed the lives of seven -year-old Aiyana Jones (Detroit) and 18-month-old Ali Dawabsheh (Palestine), who were both sleeping in their homes at the times of their deaths.
Even in the crux of this chaos, Kendrick Lamar does not turn to despair, but he says:
Alls my life I has to fight, n***a
Alls my life I...
Hard times like, "God!"
Bad trips like, "Yea!"
Nazareth, I'm f*****d up
Homie you f*****d up
But if God got us
Then we gon' be alright
While these words were spoken (at 2:54 in the video), it appeared that Lamar's dangling legs and boots mirrored the lifeless legs of lynched victims in the Jim Crow era. When the video continued, I realized that the legs that appeared to be hanging like strange fruit from a lynching tree were not hanging, but levitating.
Seeing Kendrick Lamar fly across the sky like a super hero was the climax of the video. Like Jesus walking on the waters of stormy seas, Kendrick Lamar soared above the prince of the power of the air.
But what does it mean for Kendrick Lamar to fly so high when people of color are buried so low in our society? For me, it is an affirmation of the freedom to be superhuman. It is analogous to the affirmation that Black Lives Matter.
In the gospel of Jesus, the resurrection is powerful because it demonstrates God's power over the Roman Empire's power that was sustained by subjugation and violence. Although the Roman Empire could exert its power through killing criminals, there was nothing they could do about a criminal being raised from the dead. This same power appears to propel Kendrick Lamar above the present subjugation and violence in our world.
However, Lamar's temporary triumph is shot down on a lamppost by a police officer toward the end of the video. Just as Lamar descends to the ground with his hands spread in crucifix form, he does not surrender to despair, but he smiles. The smile is an affirmation that everything will be alright. It demonstrates that violence, death, and oppression do not have the final say--"but if God got us, then we gon' be alright."
Kendrick Lamar's message is very relevant for people of faith in that he challenges these communities to have messages of concrete hope that engages a world full of violence and catastrophe. All too often, people are told to leave their problems in the world when they come to sacred houses of worship. God is left in our houses of worship and our problems are left in the world. And so the power of God is never actualized in the most needed places in our world.
Lamar encourages us to hold our problems in tension with our faith in God.
He challenges us to ask, "What communities of faith are doing in our world?" Are churches, mosques, temples, and synagogues places of practical hope or perpetual despair?
Calling all HuffPost superfans!
Sign up for membership to become a founding member and help shape HuffPost's next chapter