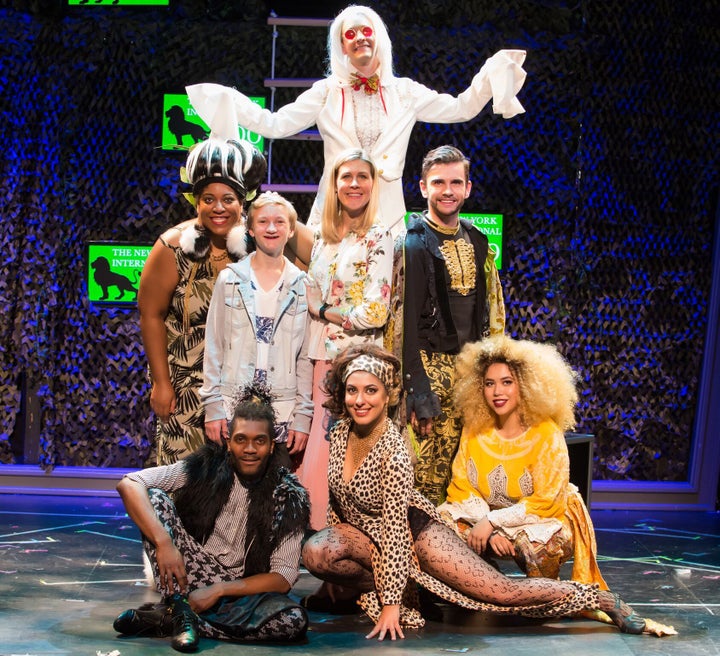 Taking children to see a musical that isn't a Disney tent pole and yet still entertains with the heart and ambition to shape minds is a rare find. Lyricist and librettist Keni Fine, and composer Tony Small, have mounted a real gem at the Davenport Theatre, "Endangered: The Musical"—a production that is both compulsively entertaining and ecologically friendly, set in New York City with all the emerald splendor of a zoological Oz.
Think "Godspell" meets Greenpeace—for kids.
Yes, there's a zoo, and singing animals, and a precocious boy too enmeshed in social media to have appreciated the jeopardy of our planet. It takes a family trip to the zoo to turn this kid into both a lost child and an eco-crusader.
But all is not well at this zoo for the animals, nor for the humans on the island. To heighten both the biblical and Kansan wonderments at work, there is an incoming flood that will make all of these creatures imminently endangered. The melting ice caps and climate changes taking place elsewhere are all converging on Manhattan. It may not quite be the end of days, but Fine wants his audience to think of it as at least a dress rehearsal.
"Endangered," although told in song and laced with levity and wit, is a poignant reminder that when man taunts the environment, the forces of nature will strike with a vengeance, and the animal kingdom will suffer for humankind's neglect.
If you want your children to receive a tuneful tutorial on environmental justice, and also to root for some spirited animals whose personalities can't be confined to a zoo, "Endangered" is your ticket to a great afternoon of self-assured, entertaining drama. Fine has delivered an urban "Lion King" without the Hamlet hijinks but replete with the passions of this political and cultural moment. And there's much for the adults to benefit from Fine's received wisdom, too.
Several standouts among the colorful cast include Nate Rocke as Einstein the Whooping Crane, Ani Djirdjirian as Sita the Cheetah and Connor Delves as Crankee the Crocodile. The entire company of endangered animals are immune to stage fright, with agile movements that mimic their namesakes and distract from the carbon footprints they would otherwise leave behind.
The impending storm threatens to flood the unnatural habitats these animals have been squeezed into. And just so the point is not lost on those two-legged creatures who remain blithely indifferent to environmental calamity, all of Manhattan is endangered, the path of the storm, and its ecological origins, play no favorites among its varied residents. The planet truly is being shared when it comes to the durability of life on Earth; humans and animals are each in harm's way.
But in an act of biblical redemption, there's a great blue whale that comes to the rescue—this time.
This is Fine's story to tell, and while there is a happy ending, one wonders whether he has fired this musical as a warning shot in hopes of heading off a much more tragic fish tale.
Related
Popular in the Community