A video released late on Saturday appears to show the execution of Japanese reporter Kenji Goto by a fighter of the Islamic State group.
The video, titled "A Message To The Government Of Japan," purports to show a black-clad militant with a British accent beheading Goto.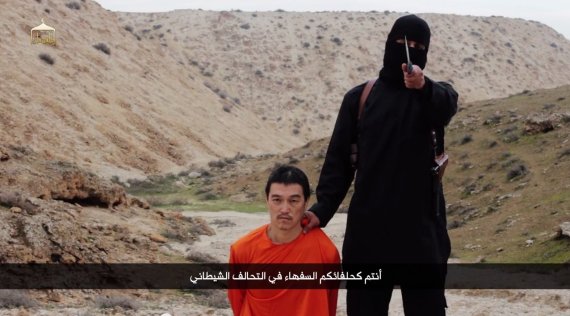 A screenshot of the video released by the Islamic State group.
"You, like your foolish allies in the Satanic coalition, have yet to understand that we, by Allah's grace, are an Islamic caliphate with authority and power, an entire army thirsty for your blood," the militant says. "Abe," he continues, referring to the Japanese Prime Minister Shinzo Abe, "because of your reckless decision to take part in an unwinnable war, this knife will not only slaughter Kenji, but will also carry on and cause carnage wherever your people are found. So let the nightmare for Japan begin."
The Associated Press reports that the video was released on militant websites. It resembles previous videos released by the group that showed the execution of American journalists James Foley and Steven Sotloff, and Britons Alan Henning and David Haines.
In a statement, President Obama condemned Goto's "heinous murder," and hailed "Japan's steadfast commitment to advancing peace and prosperity in the Middle East."
"He covers wars with a difference. Instead of focusing on who is winning or losing, he tells the stories of ordinary people, especially children, who are forced to endure conflict and the horrors surrounding them," The Economist's Henry Tricks wrote in a personal blog for the Committee to Protect Journalists.
"My husband is a good and honest man who went to Syria to show the plight of those who suffer," Goto's wife, Rinko, said in a statement released on Thursday.
Goto's mother Junko Ishido said she "can't find the words" to describe his death, and that he had gone to Syria out of "kindness and courage."
His brother Junichi told Japanese broadcaster NHK TV: "I was hoping Kenji would come back alive to thank everyone who had supported him."
"I am filled with sadness he couldn't do it.''
Before he headed into ISIS-held territory, Goto made a video urging the world not to blame the people of Syria if anything happened to him. "Syrian people [have been] suffering for 3 1/2 years. It's enough," he said.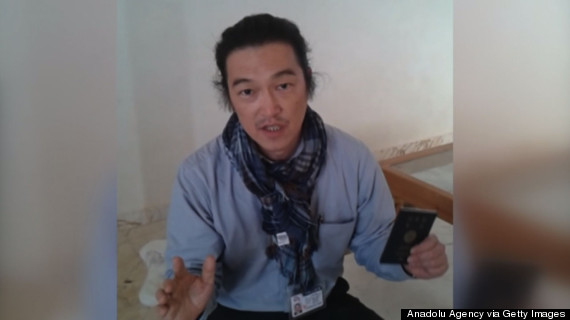 A frame grab taken from footage on October 24, 2014, shows Japanese journalist Kenji Goto Jogo, one of two Japanese hostages captured by Islamic State, giving an interview in northern Mari district of Aleppo, Syria. (Photo by Huseyin Nasir/Anadolu Agency/Getty Images)
Goto had been held by the Islamic State group since the fall. His death comes after intense negotiations over his release.
Earlier this month, the militants threatened to kill Goto and a fellow Japanese captive, Haruna Yukawa, unless the Japanese government paid $200 million -- the same amount of money it had recently pledged in non-military aid to help the U.S.-led coalition battle the Islamic State. The fighters executed Yukawa, who described himself as a security consultant, after the Jan. 23 deadline passed.
The militants later changed their demands from ransom money to the release of Sajida al-Rishawi, a would-be suicide bomber being held in Jordan. On Tuesday, the Islamic State released a video showing Goto, who said that he and Jordanian pilot Muath al-Kaseasbeh would both be killed unless al-Rishawi was released within 24 hours. It was unclear whether the Islamic State would release them both if al-Rishawi was freed.
Al-Rishawi, who is Iraqi, was sentenced to death by a Jordanian court following her role in a deadly 2005 attack on Amman's Radisson SAS Hotel. The attack was part of a triple suicide bombing attack, for which al Qaeda claimed credit, that targeted three major hotels in the Jordanian capital. Al-Rishawi's suicide vest did not detonate, although her husband's did. Sixty people died in the attacks.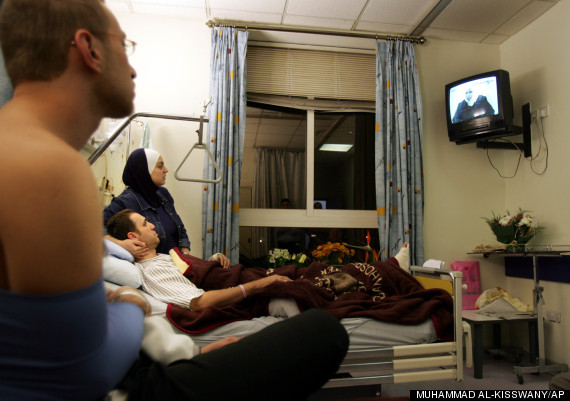 Jordanian people wounded in the triple suicide bombing in Amman on rest in a hospital in on Nov. 13, 2005, as they watch TV showing Sajida al-Rishawi, who failed to detonate her suicide belt inside a major Amman hotel. (AP Photo/Muhammad al-Kisswany)
The deadline for al-Rishawi's release was extended, but eventually passed without news about the hostages.
Jordan had indicated throughout the week that it was willing to hand over al-Rishawi, becoming the first country to publicly negotiate with the Islamic State. However, many countries have paid ransoms to the extremist group to save the lives of their citizens in highly controversial back-door deals.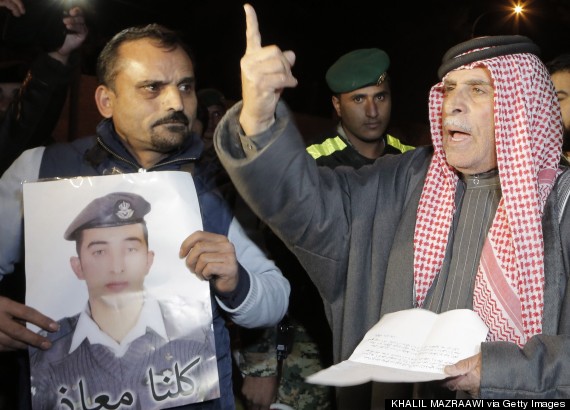 Safi al-Kaseasbeh, the father of Jordanian pilot Maaz al-Kaseasbeh, holds a portrait of his son outside of Amman's Royal Court on Jan. 28. The pilot was captured by the Islamic State on Dec. 24 after his F-16 jet crashed while on a mission against the jihadists over northern Syria. (AFP PHOTO/KHALIL MAZRAAWI)
Al-Kaseasbeh is a member of a prominent family in Jordan. He was the first pilot from the international anti-ISIS coalition known to have been taken by the militants. In December, al-Kaseasbeh was dragged in front of cameras after his fighter jet crashed in the Islamic State's de facto capital of Raqqa in northern Syria. Later that month, the extremist group released what it said was an interview with the captured pilot in its online magazine.
Saturday's video made no mention of his fate.
The Japanese prime minister vowed that the nation would not give in to what he described as an "inhumane and contemptible act of terrorism."
"Japan will work with the international community to bring those responsible for this crime to justice," Abe said.
Sophia Jones contributed reporting from Gaziantep, Turkey.
Calling all HuffPost superfans!
Sign up for membership to become a founding member and help shape HuffPost's next chapter
BEFORE YOU GO
PHOTO GALLERY
Syria War In January