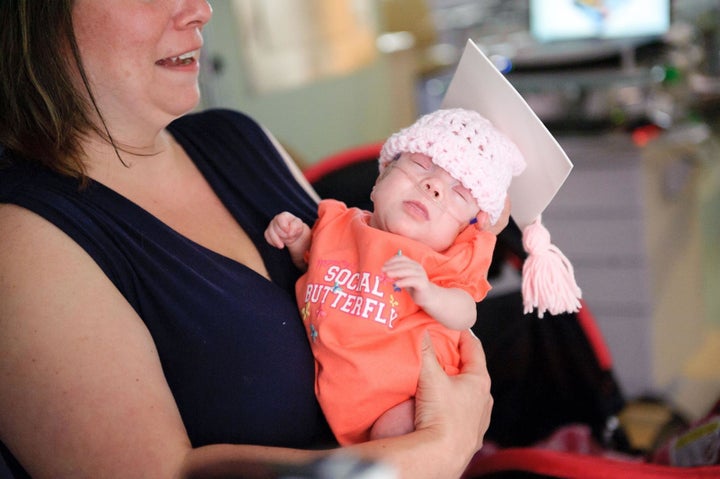 Kenna Moore, the world's fourth-smallest surviving baby, was released from Presbyterian Hemby Children's Hospital in Charlotte, N.C., on Tuesday. At birth, Kenna weighed only 9.6 ounces (for perspective, that's smaller than a can of soda).
ABC reports that Kenna spent six months in the hospital before her parents, Nicki and Sam Moore, were given the OK to take their baby girl home. Since February, the Moores have been updating family and friends with Kenna's progress on their Facebook page, "Keeping Up With Kenna." On Tuesday, they posted a photo of Kenna in a knitted pink graduation cap with the caption, "Today Kenna graduated from the NICU."
The family is thrilled to bring Kenna home, but her journey hasn't been an easy one. Nicki found out in her 18th week of pregnancy that her fetus had stopped growing. Kenna was born in January, at 24 weeks, and faced a life-threatening complication.
Dr. Rogers Howell, the family's neonatologist, told ABC that "the baby, the placenta and the bag of water came out together ... Once the placenta comes loose, there's no way to breathe anymore and we had to open the bag of water."
During the months to follow, Kenna faced more complications. She required breathing tubes and a feeding tube, and according to ABC, developed hernias and problems in her eyes and intestines.
Despite the obstacles Kenna faced, the Moores never lost hope and even maintained a sense of humor. In March, Kenna herself "wrote" a message on Facebook: "Good morning! I'm having a good morning, mom! On 38% oxygen and chillin! Love u!" And just days before Kenna was released, Nicki wrote on Facebook, "She is still just shy of 6 lbs, but that's probably because she loaded her diaper twice for me while I was there. Yes, apparently I just bring it out in her."
Kenna's progress is miraculous -- at birth, doctors were unsure how long she'd survive -- but she still has an "uncertain road ahead," Howell told ABC. "She will go home on oxygen, and will need nipple feedings, some tube feedings, vitamins and other medications," he said.
To help other families through their time in "Club Nicu," as Nicki calls it, she's pulled together posts from her Facebook page in a self-published e-book, also called "Keeping Up With Kenna." She wrote that her daughter's is a "story of hope, finding happiness in unlikely places, and making the best of the life we have."
CORRECTION: An earlier version of this story indicated that Kenna was born 24 weeks early. She was born 24 weeks into Nicki's pregnancy.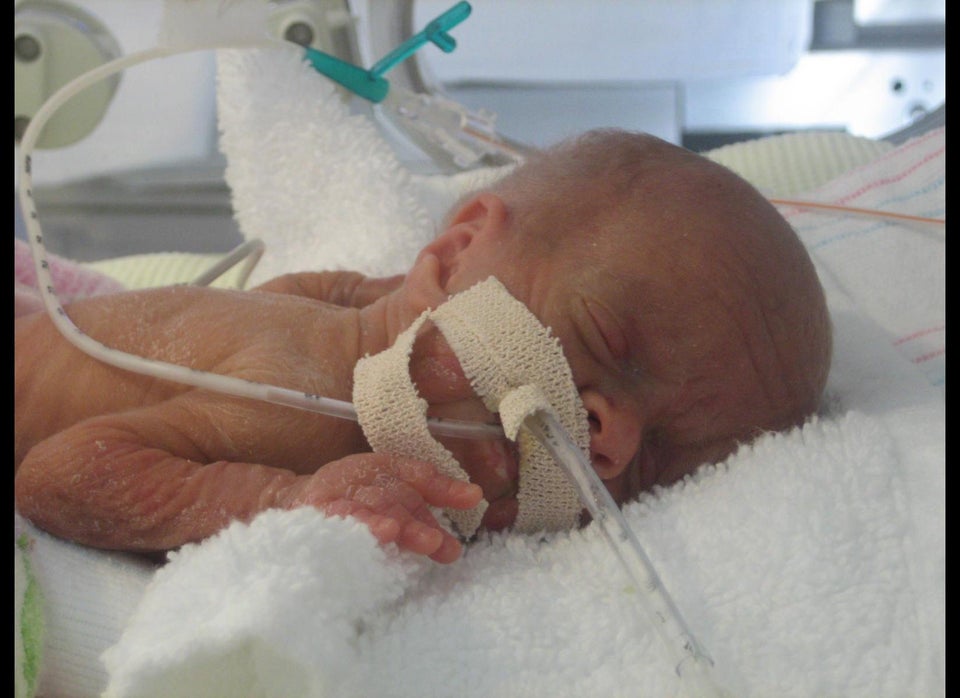 Kenna Moore's Journey