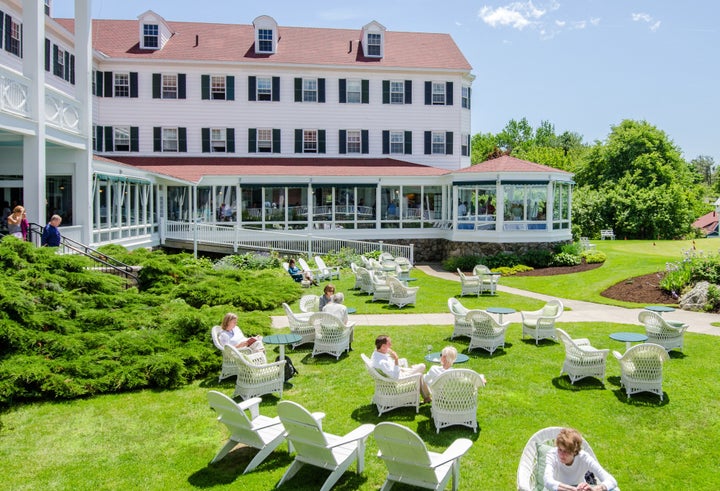 "It brings out something in people…it's a sense of a simpler time. Or maybe it ties into what you did during your summers as a kid. There's definitely a feeling of nostalgia."
In truth, however, he could just as well be gushing about his overall love of Kennebunkport, Maine.
Despite its long history as a well-heeled vacation hub, Kennebunkport has been characterized as being overly conservative, particularly in contrast to nearby Ogunquit, which is known as a coastal epicenter of New England's lesbian, gay, bisexual and transgender (LGBT) community. Helping to shatter that image is the Kennebunkport Festival, a five-day celebration of food, wine and art that showcases the best of what the town and neighboring Kennebunk -- along with many of their talented LGBT residents -- have to offer.
From the glittery, Parisian-style flair of "Pop the Kennebunks" to the colorful, locally-produced masterpieces displayed at the historic Colony Hotel by the week's end, the Kennebunkport Festival (which was held this year from June 5 -– 9) also unintentionally serves as a gesture against those who might otherwise dismiss Maine culture as being not only lacking in LGBT appeal, but also overly provincial. The town-wide festival isn't held in one specific place, but rather private homes, art galleries, restaurants and other public spaces -- and that's not including the after parties, which keep the crowd on its feet even later. Add to the mix top-notch cuisine from some of Maine's nationally-acclaimed chefs, accompanied by some quality libations from a number of the area's wineries and breweries, and you've got events that, given their impressive diversity, wouldn't feel out of place at a well-known LGBT destination like New York's Fire Island or Provincetown, Mass.
Of course, this comes as little surprise to Harrington, who divides his calendar year between Kennebunkport, Miami Beach, a beach house in Uruguay and an apartment in Buenos Aires, Argentina. In 2008, Harrington tied the knot with the Argentinean-born Urtubey right on the premises at Hidden Pond, so the first to experience his resort's high-end, truly exceptional approach to rustic romance were his wedding guests themselves.
As for Kennebunkport's approach to its LGBT residents and tourists during the festival and otherwise, he notes, "We're as gay as gay can be. I hate the word 'tolerant'-- what's there to tolerate? I don't like the idea of a town being 'tolerant' because it's not that; it's just a wonderful place to visit or stay or live as a gay person or as a straight person."
PHOTO GALLERY
Kennebunkport Festival 2012
Upcoming events in Kennebunkport, Maine:
Calling all HuffPost superfans!
Sign up for membership to become a founding member and help shape HuffPost's next chapter