Kennebunkport, Maine belongs to an elite circle of New England havens that require no introduction among seasoned travelers. Still, there's one week when the seaside hamlet's treasures get a chance to shine even brighter than normal. Now in its ninth year, the Kennebunkport Festival is a six-day celebration of food, wine and art that showcases the best of what the town -- and, for that matter, much of coastal Maine -- has to offer.
Being a two-year veteran of the festival myself, I arrived in Kennebunkport this year seeking what local hotelier Tim Harrington previously described to me as "a sense of a simpler time" and a "feeling of nostalgia." Checking into the unadorned but nonetheless stately Yachtsman Lodge & Marina, I developed a plan of attack that would emphasize the area's charms and keep my overindulgences at a minimum.
The Kennebunkport Festival is particularly unique in that many of its events are held at private residences, as opposed to the large-scale tents or convention halls favored by many of its counterparts. A typical evening will start with a cocktail hour at a local inn or art gallery, followed by a six-course banquet prepped by one of Maine's best-known chefs at a Kennebunkport family's cliffside retreat. And that's not to mention the after parties, which kick off at nightfall and feature live performances by local musicians. Such an approach ensures that attendees won't miss the quaint allure of Dock Square or the gentle lull of Parsons Way along the Atlantic, not to mention a peek at some of the most impressive coastal real estate north of the Hamptons.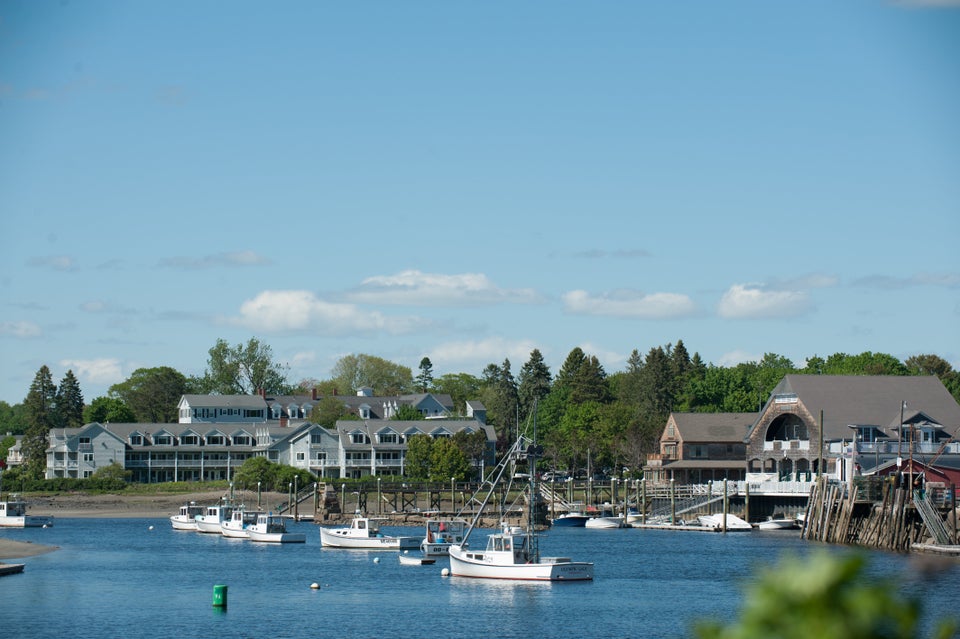 Produced by the staffs of Maine magazine and Maine Home + Design magazine, the event may seem like just another elaborate excuse to postpone that beach body diet, a point which organizers will occasionally throw about in jest at any number of the week's events, but such quips belie the event's beneficent cause. Downsized workout regimes aside, each of the festival's impressive "Art of Dining" dinner events also benefit Share Our Strength, a local advocacy group fighting to combat childhood hunger.
If it at all sounds a bit like a culinary and cultural marathon, that's because it is -- yet those seeking the fried shrimp, lobster rolls and blueberry pie which still erringly dominate tourists' perceptions of Maine dining would be better served elsewhere. A bit of a seafood aficionado myself, I'm pleasantly surprised that my favorite dinner of the week contains absolutely no crustaceans or salmon steaks. Instead, highlights of a menu prepped by Ian Hayward of Petite Jacqueline and Steve Corry of 555 (both located in nearby Portland) include a delectable, warm exotic mushroom and onion tart topped with herb creme fraiche and a slow-roasted duck with poached figs and duck fat heirloom potatoes. Veni, vidi, vici.
The Kennebunkport Festival's more opulent weekday offerings soon give away to the more refreshingly relaxed by the time Saturday rolls around. A new event last year, "Brews and Tunes" features Beatles classics, hot dogs and pints of Allagash ale which go down frighteningly fast, while the "Grand Finale" party puts the spotlight on The Boathouse, Kennebunkport's new waterfront boutique hotel, and the savory stylings of Portland chef David Turin.
Standing on a dock above the serene Kennebunk River with the sun setting above, I find myself saddened by the prospect of returning to Manhattan, but know I'll be dreaming about the ceviches I have sampled, the wines I have tasted and my memories of Kennebunkport itself for weeks to come.
The 2014 Kennebunkport Festival will be held June 2-7. For more information, click here.