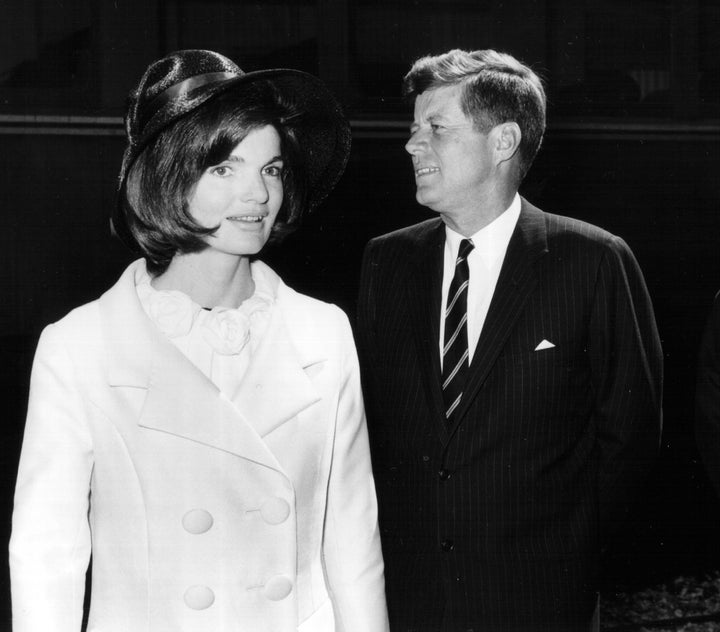 Yet another Kennedy book has made its splash, Jacqueline Kennedy: Historic Conversations on Life With John F. Kennedy. Time moves, but for someone my age -- to annex Kennedy language: born in the '60s, tempered by war, hardened by peace -- the Kennedy narrative remains compelling.
Soon enough I'll make my purchase, even if what I learn will mostly reinforce what I know. Of course Jackie patronized Lady Bird Johnson and Pat Nixon. Of course she was blindly loyal to her slain husband's legacy. "History will be kind to me," said Winston Churchill, "for I shall write it." Let us not forget that Jackie dubbed the concept of "Camelot" posthumously.

Most telling is that I'll read this book while sitting on an airplane. My airborne reading material usually includes one volume devoted to such topics as Hyannis and Dallas, Jimmy Hoffa and Marilyn Monroe, Andrews Air Force and St. Patrick's Cathedral, Parkland Hospital and the Ambassador Hotel. Hagiography and revisionism, family and advisors, entertainers and paramours -- bring 'em on. Once I even read one on Oswald's landlady.
I first noticed my airborne Kennedy compulsion when I was 25. My first national cover story had appeared, a profile of the man I would write my first book about. I was headed east to New York, nonstop to JFK. I was traveling to make history, to make my parents proud.
That family connection is significant. Initially, mere charisma drew me to the Kennedys. Soon that was outgrown -- better yet, overlaid -- with sensitivity to liberal politics and what might have been. But soon I recognized the Kennedys as pragmatists, no guarantee to keep us out of Vietnam, successfully navigate civil rights or solve each problem that hit America in the '60s and '70s.
More recently, I see the Kennedy story as a family saga, a high-octane, public version of one so distinctive to us baby boomers: immigrant arrival and diligence, upward mobility -- and most telling, life's mix of passion and pain, played out across a landscape of ambition.

What I realized whenever I read these books from 30,000 feet was that I was aping the Kennedy journey: I was flying into opportunity. Something about each trip would advance my story line. I was fulfilling the destiny of a child born into an era of jets rising into the skies; and yes, something unusual to Americans that the Kennedys had also brought to the picture -- a profound awareness of tragedy.
For when reading about the Kennedys, I could see it all. Just about all of the saga had been played out before I was fully conscious. Having been born in 1960, a mere three years old that day in Dallas and turning eight the month Bobby was killed, I'd spent my life not so much experiencing the Kennedys as studying them, parsing through these recently concluded iconic events in documentaries, photos and books, turning the pages back and forth across a close-at-hand but faraway fable that perhaps in some ways defined the expectations of my life -- a tragic tale, but also charmed, potentially transcendent and eternally star-studded.

My mother, born in 1929 like Jackie and married the same year as she and John, would remember more than 40 years later the excitement of seeing the president's chestnut-colored hair from across a Manhattan street. It hardly mattered that he was likely headed to an extramarital tryst at the Carlyle Hotel. Even tales of Jack's promiscuity with exotic amours such as Angie Dickinson and Mary Pinchot Meyer enhanced my romance of a time and place that had existed in my life technically, but not genuinely.
Most of all, I was engaged in this course of study not on the dirty highways but in the pristine skies, thousands of feet over the dusty roads of American migrants such as the Joads in The Grapes of Wrath or the rocky waters our ancestors had trekked across to Ellis Island.
Hadn't the Kennedys been Jet Age family number one? The images are extensive, from John and Jackie's colorful arrival at Love Field on November 22 to that evening's somber nightfall return to Andrews Air Force; to the older son Joe's death while flying a plane, to daughter Kick's fatal crash, to another crash that nearly killed Teddy -- and finally, the 1999 death of John-John, which occurred the same night I attended an event at the Kennedy Museum in Boston.
While so many Americans had taken the surface streets, the Kennedys had enjoyed the goodies of success and ambition (even if accompanied by such bedfellows as corruption and deceit). They had soared, but events had grounded even them.
Nothing more brings the Kennedy tale of ambition to its somber, crashing, earthbound thud than Bobby's last train ride, a funeral dirge through an America wracked with pain for both itself and its hopes, all personified in the pain of all families, of dreams and nightmares, life and death.
Say what you will about the speed of change in the 21st century, but consider the rapid pace of history that occurred in the seven-and-a-half years between JFK's January 20, 1961 inauguration -- his youthful voice cutting through the chill -- and the hot and harsh agony of that June 8, 1968 train ride.
But on a plane, as I held the entire tale in my hands, on the wake to make new history, I was immune from tragedy. I was alone. And I was soaring.

Calling all HuffPost superfans!
Sign up for membership to become a founding member and help shape HuffPost's next chapter