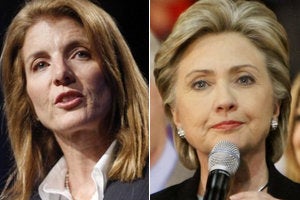 Caroline Kennedy has called Hillary Clinton to discuss her interest in the New York Senator's seat, a source close to Clinton tells the Huffington Post. But the two, as of Monday, had yet to actually speak.
"[Kennedy] called," said the source, "but they hadn't connected as of yesterday morning."
Nevertheless, Kennedy's outreach to Clinton, who is leaving her seat to become Secretary of State, is another chapter in what is quickly becoming a fairly comprehensive public and private campaign for the Senate post. Kennedy has additionally been in touch with a host of prominent New York figures, including Governor David Paterson, Rev. Al Sharpton, and Assembly Speaker Sheldon Silver.
Kennedy has also hired a well-connected political hand to help steer her candidacy to success. Josh Isay, former chief of staff to Sen. Chuck Schumer and founder of the political consulting firm Knickerbocker SKD, is a well-connected figure within New York politics. He is controversial in progressive circles, in part because of a client list that includes Sen. Joseph Lieberman and Benjamin Netanyahu. But Isay also has obvious connections that could aid Kennedy in the short term, including ties to New York politicos and powerhouse unions like the SEIU.
Even with Isay's help, the key sticking point for Kennedy remains: whether or not she can placate Clinton's backers in New York, many of whom seem tepid or antagonistic towards her candidacy.
Multiple reports indicate that supporters of the former first lady -- not to mention the Clintons themselves -- weren't willing to simply forget Kennedy's endorsement of Barack Obama during the Democratic primary. Others, including several Clinton fundraisers, have made public statements that the former first daughter simply isn't qualified for the Senate. But the source close to Clinton insists that their differences are not caused by hurt feelings, but rather preferences for other New York politicians.
"The Clintons aren't going to do anything against her," said the source. "I think they had just been more emotionally attached to names that surfaced before hers did, like Randi Weingarten [of the United Federation of Teachers] and [Rep.] Carolyn Maloney."
Asked for comment, Clinton spokesman Philippe Reines responded: "This is entirely Governor Paterson's decision, Senator Clinton completely respects the privacy of his process so will not be commenting on it or any individual candidate, nor does any third party speak on her behalf."
Popular in the Community