Along with other worthy artists, Sting received recently the 2014 Kennedy Center Honors and the accolades of his peers, the nation, and President and Mrs. Obama. It was a very worthy choice.
However, the moving tributes omitted what I regard as Sting's highest contribution - his passionate work on behalf of human rights throughout his life and career. So along with the accolades of the White House and Bruce Springsteen, I want to add my personal reflections of who Sting is and what he has done for human rights. He and Peter Gabriel were my anchors in music while I was Director of Amnesty International USA. I and the organization were in good and steady hands and great hearts.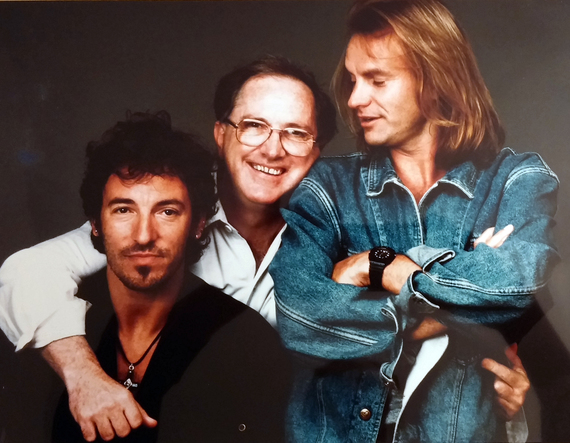 I was lucky to get to know Sting when I and Mary Daly went to his apartment in Soho, New York City, to ask him to play in the Conspiracy of Hope, a six-city tour of the USA to celebrate the 25th anniversary of Amnesty International. He quickly agreed and turned over his staff of Kathy Schenker, Miles Copeland, Kim Turner, and Trudie Styler to help us any way we wanted. His label A & M (Herb Alpert and Jerry Moss) pitched in with an office for me and my staff as our headquarters in Los Angeles.
Sting, on his first TV interview, nailed why we were doing the tour, "It is great to have a dictator as a pen pal." He was referring to the letter-writing campaign we had implemented so members could ask political leaders to free prisoners of conscience.
The 11-hour closing show in Giants Stadium was filmed live by MTV--its first ever. The Police were the closing band. At the end of his set, Sting handed his guitar over to Adam of U2 to signal their new rise. It was a gesture of grace and beauty for all to see.
When Bill Graham and I decided to do the Human Rights Now world tour in support of the Universal Declaration of Human Rights, my first calls were to Sting and Peter Gabriel. Both loved the idea. Previously to this, Sting asked me and my staff what he could do to help further. We said unceremoniously, "You are an artist...sing a song."
Sting studied Amnesty literature and wrote, "They Dance Alone", which tells the story of the Mothers of the Plaza de Mayo, who for 16 straight years held weekly demonstrations in front of the Government House to keep alive the memory of their husbands and sons who had been disappeared. The song became an international anthem against Pinochet, the dictator of Chile. Much like the song Biko by Peter Gabriel came to be the international voice against apartheid, "They Dance Alone" went up and down the Americas in much the same way.
In Mendoza, Argentina, as our Human Rights Now tour buses left the airport, the road was lined by the Mothers of the Plaza of Argentina and Chile. We played in the town of Mendoza so that folks could come over from Chile. Pinochet would not let us into Chile, so this was our answer to him. More than 60,000 came to that concert.
Sting was my first call when Pinochet lost in 1990 and the Chile section of Amnesty asked me to produce the show in the stadium where so many had been imprisoned, tortured and killed. Through the concert, the stadium was washed and cleansed and is still used today. It is one of a few venues in the world that is still used though it was a prison of brutality. Usually such places are torn down or abandoned.
Sting closed the show, and as he sang, the women entered single file from each side of the stadium with images of their lost displayed on their chests. At the moment when art and pain met, there was healing. For the young of Chile it was a moment of clarity as they discovered what had happened to their nation for the last 16 years.
Popular in the Community