WASHINGTON — For the second year in a row, President Donald Trump and first lady Melania Trump declined to attend the Kennedy Center Honors, the annual tradition commemorating performing artists who have made indelible achievements to American pop culture, usually attended by sitting presidents and first ladies.
On the red carpet before Sunday evening's show, honorees and guests fielded the expected questions about the president's absence, reflecting on how in the Trump era, the president can become the story simply by not being there.
"This is a night I'm going to cherish. I'm taking every second in, just absorbing every part of it. I'm just going to savor it."
Praising Bush and sharing her personal memories of him, Estefan, a 2017 Kennedy Center honoree, said that he "graciously attended this event many times during his administration, laughing, applauding, singing along, and even shedding a tear from right up there in that presidential box."
During previous ceremonies, presidents' personal connections and candid reactions to each year's group of pop culture legends often became memorable moments, like Aretha Franklin moving President Barack Obama to tears in 2015 during a performance honoring one of that year's award recipients, Carole King.
However, Sunday's show demonstrated that the president doesn't need to be there for the occasion to resonate. At the Kennedy Center Honors, the show went off without a hitch, unlike some other cultural traditions that have experienced upheaval in the Trump era.
Case in point: the White House Correspondents' Association dinner, another Washington mainstay now defined by Trump's absence. There, unlike at the Kennedy Center Honors, the president has typically played a bigger role in the evening's proceedings by giving a roast of himself, so Trump's decision to skip it has significantly altered the annual confab.
After criticism of comedian Michelle Wolf's speech at this year's dinner, the WHCA announced last month that it would scrap the comedy element of the evening altogether. It's to be replaced by a keynote address from historian Ron Chernow, who attended the Kennedy Center Honors Sunday night because he wrote the biography that inspired the "Hamilton" musical.
Speaking to reporters on the red carpet, Chernow declined to describe his plans for next year's dinner, saying he's still considering ideas.
Kennedy Center President Deborah Rutter said she was certainly "disappointed" by the Trumps' declining to attend the ceremony. But for the honorees, the evening is much more about the "regal" atmosphere and being "moved by the experience of being in these spaces," she said.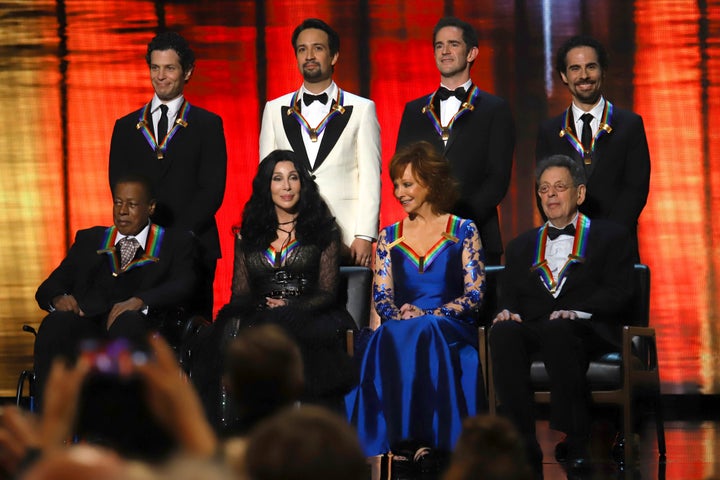 Sunday's show unfolded as it always does, hitting all the right notes for pop culture lovers as a celebration of the performing arts. There was the usual guessing game of which famous faces would appear on stage for its highly choreographed segments paying tribute to the honorees — featuring sometimes unlikely pairings, like Paul Simon leading the tribute to Glass.
Other pairings were more expected, like Kelly Clarkson honoring McEntire, her longtime mentor (and former mother-in-law). Clarkson spoke affectionately of McEntire, and like many of the night's performers, she appeared humbled by the opportunity to put her own spin on the work of one of her heroes.
"I hope you enjoy this song," Clarkson told McEntire. "Don't judge me."
The night's final segment was reserved for Cher, befitting the singer's larger-than-life aura. Whoopi Goldberg set the tone, wearing a glimmering black caftan when she walked on stage to introduce the segment.
"I went in your closet," Goldberg told the pop diva, before quipping to the audience that "she wears it better."
Adam Lambert performed a soulful rendition of Cher's classic "Believe," and Cyndi Lauper brought the audience to their feet with "If I Could Turn Back Time."
Spotted in the audience during Lauper's appearance was another unlikely pairing: World music icon Angelique Kidjo and Broadway star Kristin Chenoweth — who honored Glass and McEntire, respectively — got out of their seats and danced, spurring the rest of the crowd to follow suit.
The unprecedented honor for the creators of "Hamilton" ― who received the first ever Kennedy Center prize for a work of art, rather than the traditional lifetime achievement award for an individual artist or group ― also featured an unprecedented performance.
Writer and star Lin-Manuel Miranda and music director Alex Lacamoire became the first Kennedy Center honorees to perform during their own tribute, joining original cast member Chris Jackson on stage for "One Last Time," a song from the musical.
Explaining the decision to defy convention and make an entirely new award, Rutter said on the red carpet that "it's really important to acknowledge great work as it's happening," rather than waiting decades to bestow a career achievement prize.
She expects that future ceremonies may also devote awards to individual works of art, but only in similarly extraordinary cases.
Despite the ubiquity of "Hamilton" and its loads of awards — from Tonys to Grammys to the Pulitzer Prize — its creators still seem exhilarated by the show's success and how far they've come. To all appearances, they were brimming with joy as they spoke to reporters on the red carpet.
"The highlight of the day that day, besides the performance, was we split a van with James Earl Jones to the White House. We were like, 'If the day ends today, we were in a van with James Earl Jones!'" he told HuffPost before Sunday's ceremony.
Like the "Hamilton" team, McEntire ― no stranger to awards ― acknowledged that getting recognized by the Kennedy Center and joining the pantheon of icons who've received the award is nonetheless an entirely different matter.
"This is a night I'm going to cherish. I'm taking every second in, just absorbing every part of it," she said on the red carpet. "I'm just going to savor it."
The Kennedy Center Honors will air on CBS on Dec. 26 at 8 p.m. Eastern time.