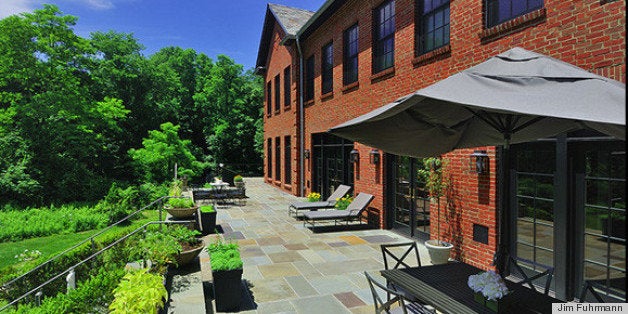 HuffPost Home is proud to present a story from EcoFabulous.com.
On a trip out to New York, Ecofabulous was invited out to The Kennedy Residence for a private tour of their newly remodeled, totally eco-friendly home. After sitting down for tea with Mary Richardson Kennedy (an architect herself), we were taken on a guided walk through the home and its surroundings by none other than Bobby Kennedy. Aside from the overwhelming generosity and hospitality, we were equally impressed by their uncompromising commitment to both sustainability and their personal sense of style.
The home, an 1870′s original that underwent a significant remodel in 1920, ended up flooding last year while the Kennedys were away (some parts were under 4-5 feet of water!). Mary referred to the damage as "a petri dish for mold." It was time for a remodel. Mary and Bobby quickly decided that they wanted their home to be a premier example of green living. Joining forces with Robin Wilson for design and Jim Blansfield for the re-build and a host of other material and services partners, the couple set out to create a home that maximized energy and water efficiency and served as a platform to educate others on their personal environmental commitments. We're not surprised. After spotting a copy of Cradle to Cradle on the couple's bedside table, Mary attested to "reading it whenever I feel discouraged about the world." A woman after our own Ecofabulous heart!
Most of the house is constructed out of recycled or reclaimed materials – like parts of the exterior brick, as well as interior doors and door hardware taken from the former Wassaic Mental Institution upstate and the carrera marble that Mary salvaged with the help of Green Demolitions from a Park Avenue apartment.
Pieces of wood from fallen trees were taken from the property and made into 6×6 floor tiles for the mud room, slate tiles were scooped up after friends had excess material from their installation, and even bedroom headboards were furnished out of old barn doors. What wasn't reused or recycled was vetted for eco credentials by Paul Novack from Green Depot – all paints and finished were low to no-VOC.
As far as the modern, techie side? With geothermal heating and cooling, a solar-thermal water heater, solar roof shingles (the home now generates 10 megawatts of electricity), over 15 Solatubes, a mix of LED and fiber-optic lighting, water efficient Kohler fixtures and energy efficient Electrolux ICON appliances, the house is a testament to modern innovation.
But the classically-inspired traditional home doesn't look like a "green" house. With Civil War flags from Gettysburg hung on the wall, a series of framed letters from every United States president, and intricate reclaimed woodwork on the floors by master craftsman John Yarema (referred to fondly by Mary as the "Michelangelo" of wood flooring), the home stays true to the Kennedy aesthetic and personality – Mary jokes that while her husband Bobby may be politcally liberal, he is to the right of Prince Charles when it comes to personal style.