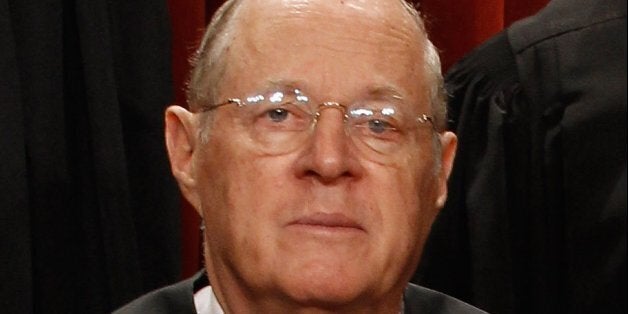 WASHINGTON, Jan 16 (Reuters) - For nearly two decades, U.S. Supreme Court Justice Anthony Kennedy has been building toward this moment in the history of gay legal rights in America.
In decisions since 1996, Kennedy has broadened the court's view of equality for gays. Now, as the court said on Friday it would consider a constitutional right to gay marriage, Kennedy is likely to be the justice who tips the balance on the nine-member court.
Predictions are risky regarding this sometimes-tentative justice, the member of the court's five-strong conservative wing most likely to join the four liberals in key rulings.
Yet the 78-year-old Californian has already laid the foundation for a possible decision extending gay marriage to all 50 states. Currently, it is legal in 36 states and Washington, D.C.
Kennedy wrote the 1996 opinion in a Colorado dispute over anti-discrimination law, denouncing government moves to make gays "unequal to everyone else."
In the most recent related ruling, a 2013 rejection of a law defining marriage as between only a man and woman for purposes of federal benefits, Kennedy authored the 5-4 decision, stating the law "writes inequality into the entire United States Code." He emphasized the "dignity" the Constitution accords gay couples.
Kennedy told Reuters last year he was not closely following the lower court rulings that overwhelmingly interpreted that opinion as an endorsement of gay marriage. This was characteristic of Kennedy, a 1988 appointee of Republican Ronald Reagan who can wax expansively about democracy and large themes but rarely reveals his personal legal views off the bench.
Kennedy, who often arrives at the court before dawn to spacious uncluttered chambers, defies predictions of insiders and outsiders alike.
Last year, liberal Justice Ruth Bader Ginsburg noted that as Kennedy's 2013 opinion spoke of dignity for same-sex couples, it also referred to marriage laws as the states' domain. "Those don't point in the same direction," Ginsburg told Reuters.
It was Kennedy's regard for states' interests that a U.S. appeals court seized upon in November in upholding gay-marriage bans in Michigan, Ohio, Tennessee and Kentucky. Virtually all other lower courts that have struck down state bans have highlighted Kennedy's views on equality for gays.
After the 1996 ruling, Kennedy wrote a 2003 decision invalidating a Texas law criminalizing gay sex. He emphasized gays' rights to set their own boundaries for intimate relationships.
Washington lawyer John Elwood, a former Kennedy law clerk, says the justice has been consistent. "At this point, he's thought through the matter pretty carefully," Elwood said. "He would probably rule the way you'd expect, for same-sex marriage." (Reporting by Joan Biskupic; Editing by Will Dunham)

Popular in the Community