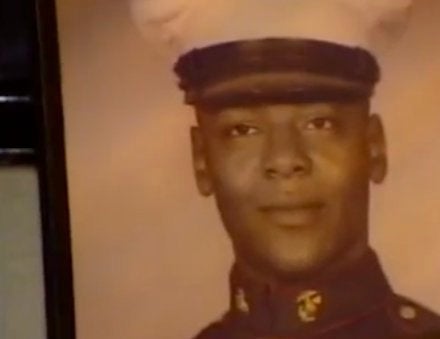 Former Marine Kenneth Chamberlain Sr. was shot and killed by White Plains police on November 19th. Police, who were responding to a medical alert system Chamberlain had for a heart condition, said the 68-year-old attacked them with a hatchet and a knife, and that their use of deadly force was in self-defense.
But four months later-- after new evidence reveals cops may may have used racial epithets before forcing themselves into Chamberlain's home despite his possibly being unarmed and his insistence that he was fine-- the Westchester District Attorney's office confirms the shooting will be the subject of a grand jury.
An online petition, "Justice For Kenneth Chamberlain Sr.," calling for police to release audio and video recordings from the incident has garnered over 190,000 signatures as Chamberlain's story has received more and more mainstream media attention in the wake of the Trayvon Martin tragedy-- another case in which an unarmed black male was shot and killed without recourse.
The DA's office has said they showed the tapes to the Chamberlain's family but will not release them to the public.
"We've been advised by the district attorney's office that they're going to fully present this matter to the grand jury. If they do that, that would mean that those tapes would be played in their entirety," Chamberlain's family attorney, Mayo Bartlett, told The Daily White Plains (who's been exhaustively covering the case since the get-go). "They may decide to play some of the tapes, to play part of the tapes, to redact the tapes, or not to play any of the tapes. We can't control that and we'll never know."
New York Times' Michael Powell describes how it all began:
The string of events that night sounds prosaic, a who-cares accumulation of little mistakes and misapprehensions. Cumulatively, though, it is like tumbling down the stairs. Somehow the uncle, Kenneth Chamberlain Sr., a former Marine who had heart problems and wheezed if he walked more than 40 feet, triggered his medical alert system pendant. The system operator came on the loudspeaker in his one-bedroom apartment, asking: "Mr. Chamberlain, are you O.K.?" All of this is recorded.

Mr. Chamberlain didn't respond. So the operator signaled for an ambulance. Police patrol cars fell in behind — standard operating procedure in towns across America. Except an hour later, even as Mr. Chamberlain insisted he was in good health, the police had snapped the locks on the apartment door.
Cops say they heard loud noises inside Chamberlain's apartment, in the Winbrook Public Housing project, and needed to go inside to make sure he wasn't hurting anyone. One cop reportedly screamed out, "I need to use your bathroom to pee!" while others taunted him for his military service. Someone else allegedly yelled, "I don't give a f--k, n----r, open the door!"
Chamberlain, according to cops, put a hatchet through a gap in the door while cops were trying to pry it open. When they entered his apartment, in the Winbrook Public Housing building, they Tasered Chamberlain and shot him with beanbag guns. Cop then claim he grabbed a knife, at which point they shot him twice in the chest. Chamberlain died at White Plains Hospital two hours later.
Chamberlain's family, however, claims video and audio from the incident shows that he was unarmed when police shot and killed him. "We believe that the grand jury should be able to fairly come to a conclusion that this is a homicide," Bartlett told The Daily White Plains. "I would like for the grand jury to be able to consider any and all possible charges that could be found as a result of the conduct of the police."
Meanwhile, White Plains Mayor Tom Roach officially offered his condolences to the family without commenting on the details of the case.
The family responded to the mayor's comments with a statement of their own: "The Chamberlain family is troubled by the fact that there has been four months of silence from the Mayor's office, but accepts the statement of condolences."
REAL LIFE. REAL NEWS. REAL VOICES.
Help us tell more of the stories that matter from voices that too often remain unheard.
BEFORE YOU GO