Last week, the Wesleyan Argus published an op-ed by a student who took the school to task for being "complicit in Affleck's sexual misconduct" by hailing Lonergan, who was in the class of 1984, for his Best Original Screenplay Oscar win. 
"Wesleyan University cannot insist on claiming credit for Kenneth Lonergan unless they also acknowledge their complicity in the success of a perpetrator of sexual violence," student Connor Aberle wrote. "Lonergan essentially won Affleck his Oscar by handpicking Affleck for his movie. A famous actor's connections enable them to continue their success, and we must be cautious about praising enablers, especially when they help sexual harassers. Wesleyan cannot have it both ways; it can either be true to its progressive brand or it can indiscriminately praise every semi-notable success from alumni (and even students who transferred out)."
Sexual harassment allegations were filed against Affleck in a civil suit back in 2010. The actor denied the accusations and countersued, but ultimately settled out of court.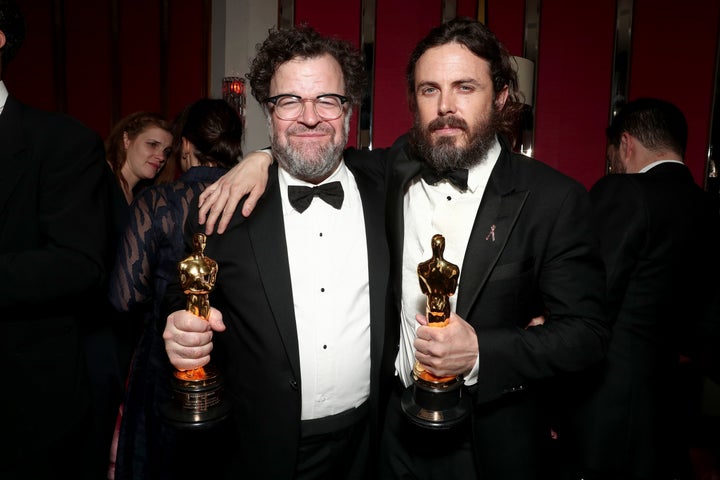 On Saturday, the paper published a response from Lonergan in its Letters to the Editor section, calling Aberle's piece a "tangle of illogic, misinformation and flat-out slander" and saying that his age must be to blame for his "deeply offensive display of ignorance, and warped PC-fueled sense of indignation." He maintained that the allegations against Affleck are "unsubstantiated."
Somebody as interested in actual as opposed to merely vocalized social justice as Mr Aberle presumably is, should unwind his tangled, immoral chain of reasoning and start over at the fundamental precept that an allegation is not an indictment. Nor can it be treated as such by any ethical person living in a democratic society supposedly based on the rule of law. Anything less vigilant exemplifies a disjointed abuse of morals and reason which those of us on the Left like to imagine exists only on the Right. I wish it were so. But I do hope that Mr Aberle is capable of taking a much harder look at the merits of his own arguments before he decides to air his views in public again.
Affleck, whose settlement prohibits him from commenting on the case, addressed the allegations while speaking with the Boston Globe. 
"I believe that any kind of mistreatment of anyone for any reason is unacceptable and abhorrent, and everyone deserves to be treated with respect in the workplace and anywhere else," he said. "There's really nothing I can do about it. Other than live my life the way I know I live it and to speak to what my own values are and how I try to live by them all the time."'
The staff of the Argus was not immediately available for further comment.
Jake Lahut, one of the editors in chief at the paper who is starting at Politico in June, told The Huffington Post there had been some confusion over whether it was the real Lonergan who wrote in to the Argus due to the nature of the piece and spelling and grammar errors. The staff verified the director's email through Nexus and has been in contact with him.  
Calling all HuffPost superfans!
Sign up for membership to become a founding member and help shape HuffPost's next chapter
BEFORE YOU GO
PHOTO GALLERY
28 Perfect Tweets From Women About The Oscars