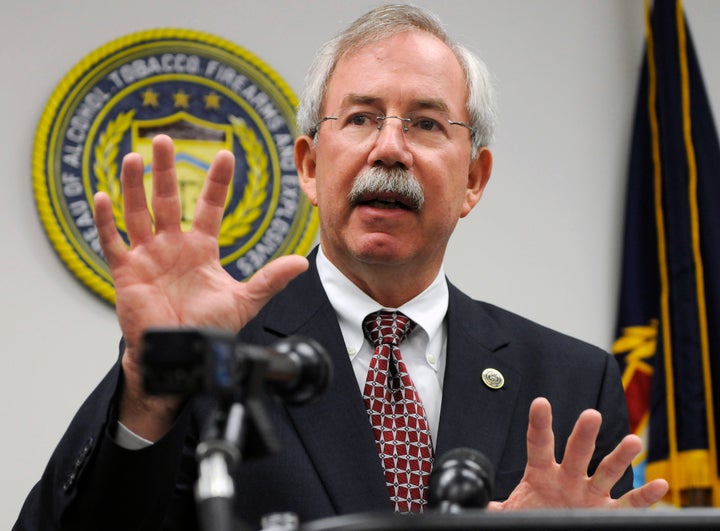 Kenneth Melson is out as head of the Bureau of Alcohol, Tobacco, Firearms and Explosives, the Department of Justice announced Tuesday.
Melson has been under fire from Republicans over the scandal surrounding the gun trafficking program Operation Fast and Furious. The Justice Department announced that Melson will be moving to the Office of Legal Policy.
Melson has been under pressure to step aside since earlier this summer, after a House Oversight Committee hearing revealed controversial aspects of the program. ATF agents charged with monitoring the illegal sale and transfer of guns from the U.S. To Mexican drug cartels told lawmakers that, instead of arresting small-time buyers, they were ordered to stand by and let the guns go through, in the hopes of tracing them to larger arms dealers.
After border patrol agent Brian Terry was murdered in a shootout along the Arizona-Mexico border in December 2010, two weapons found on the scene were linked that the Fast and Furious program.
Melson "was part of the bad judgment. … This was a program so stupid from the start," Rep. Darrell Issa (R-Calif.), the head of the Oversight Committee, told Fox News in June.
In July, after a review of the program, Melson admitted that, in at least one instance, agents could and should have intercepted the weapons. "I read through those and found ROIs (reports of investigation) that indeed suggested that interdiction could have occurred, and probably should have occurred, but did not occur," Melson told congressional lawmakers.
This article has been updated to reflect the official announcement from the Justice Department.
Popular in the Community