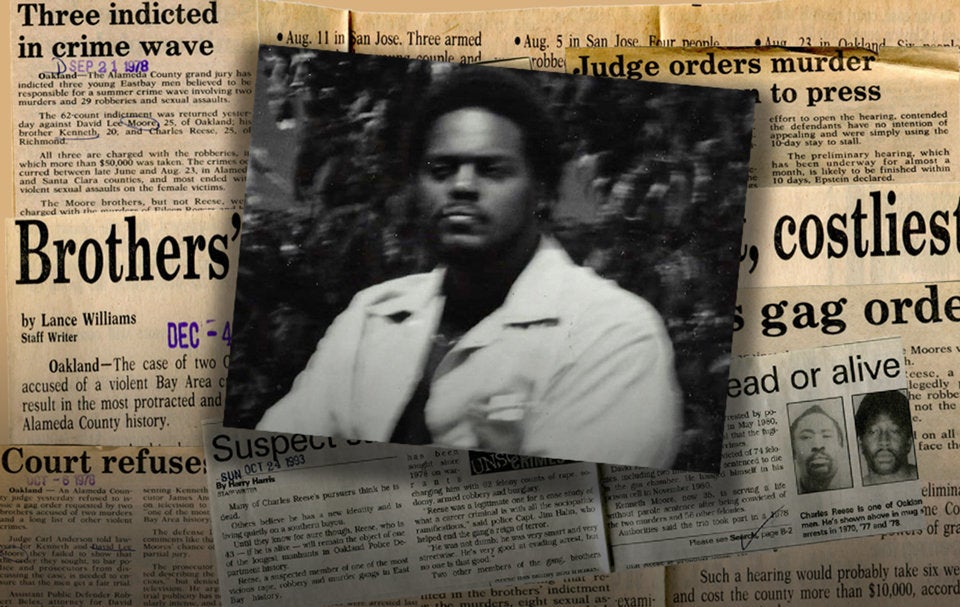 A California man imprisoned for a two-month crime spree he says he didn't commit has served 40 years behind bars, even though the prosecution has evidence that he says supports his innocence.
Kenneth Moore was 20 years old in 1980, when he was convicted of more than 50 felonies, including the slayings of a mother and daughter, eight rapes and scores of other crimes in a case the prosecutor called "downright gruesome." An all-white jury sentenced the young black man to life without the possibility of parole.
Even though DNA testing has helped to exonerate more than 350 people since 1989, the Alameda County district attorney's office has aggressively opposed all of Moore's requests.
"It's frustrating," Moore told HuffPost. "We've put all of our hopes on this. I know for a fact it will exonerate me. Only a damn fool would want DNA testing of something he knew that he did, because that would remove all doubt forever."
The district attorney's office would not comment on the case aside from pointing to court documents, which Deputy District Attorney Teresa Drenick said "spell out the reasons" for their opposition.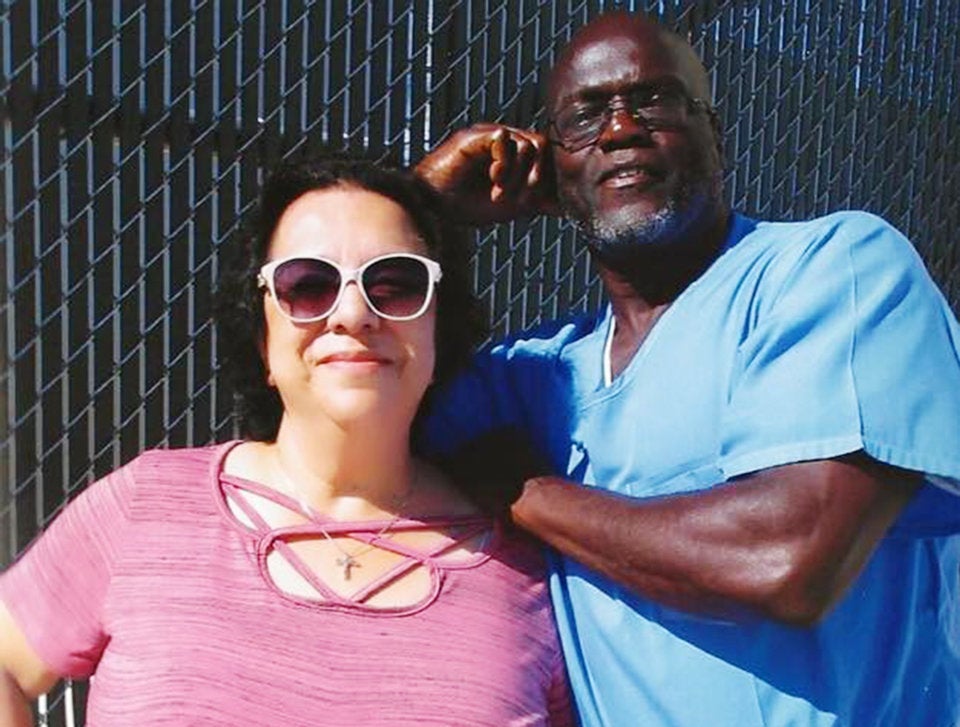 According to the documents, District Attorney Nancy O'Malley has fought Moore "at the highest levels" to prevent testing of a torn dress and underwear in a key case that was used to connect Moore to other crimes. The documents indicate that O'Malley does not consider the clothing to be "newly discovered evidence," and that she believes DNA testing, if it had been available at the time, would not have swayed the jury.
Moore has a prior criminal record for auto thefts, and admits that he did steal a truck connected to the case. He says he wasn't involved in any of the other crimes of which he's been convicted.
"Stealing cars, trucks, boats ― anything with an engine ― that was my hustle," Moore said. "It was quick and easy, and I had a list of people lined up who wanted to buy them. Sadly, that's what started all this."
Moore's case concerns a violent crime spree in Northern California that captured national headlines in the late '70s and early '80s. (The graphic details of that spree are described below, and may be disturbing to some readers.) He and his brother David, then 25, were both accused of involvement, along with 28-year-old Charles Reese.
Moore was convicted of taking part in several rapes, including one in which an elderly woman was violently sodomized with a double-barreled shotgun. According to the Oakland Tribune, Deputy District Attorney James Anderson once described the case as "the most vicious I've ever handled."
The criminal case consisted of the following incidents:
On Aug. 30, 1978, Kenneth Moore, then 19, turned himself in to police after learning there was a warrant for his arrest accusing him of being involved in an auto theft and a home invasion robbery.
"I knew the worst thing that could happen is I'd spend a few more months in county jail for the auto theft, so it was no big deal," Moore said.
Moore said he had been living with his parents and would sometimes spend nights at an Oakland apartment his brother shared with Reese. When police searched the apartment where the men were staying, they found credit cards and other items belonging to various victims, including the ones in a June 25, 1978, rape and robbery case. In the bushes outside the men's apartment, police found a Smith & Wesson handgun. Authorities said ballistics tests matched the weapon to a bullet recovered from Laura Muhlenbruch's body. Muhlenbruch, 21, and her mother, Eileen Rogers, had been robbed and killed in an Oakland parking garage on Aug. 18.
The Moore brothers were arrested. Kenneth Moore says they weren't behind bars long before prosecutors approached him and offered a plea deal in exchange for cooperating and giving up the whereabouts of Reese, whom authorities had been unable to locate.
"They told me I could be out in less than 25 years," Moore said. "I'm from the street ― the hood. What do I do, turn on my brother? I can't do that."
One of the most damning pieces of evidence against Moore was his fingerprint, which was found in a stolen truck parked outside the scene of an Aug. 21, 1978, robbery. His brother's fingerprints were also found inside the vehicle. Moore says he stole the truck earlier that month from a Los Altos Chevrolet dealership.
"I'd got arrested in November 1976 for auto theft in Hayward," Moore said. "I needed help, and my brother got me an attorney. I served something like six months. When I was released, I went back to stealing, and when I got that Chevy truck, I gave it to [my brother] to clear our debt."
The brothers' trial began on Feb. 4, 1980. According to The Associated Press, it took Alameda County Superior Court Judge Stanley Gold two hours to read all 132 counts they faced, including two murders, eight rapes, 25 armed robberies, multiple burglaries, false imprisonment, sodomy and oral copulation. More than $50,000 in valuables was stolen during the crime spree, police said.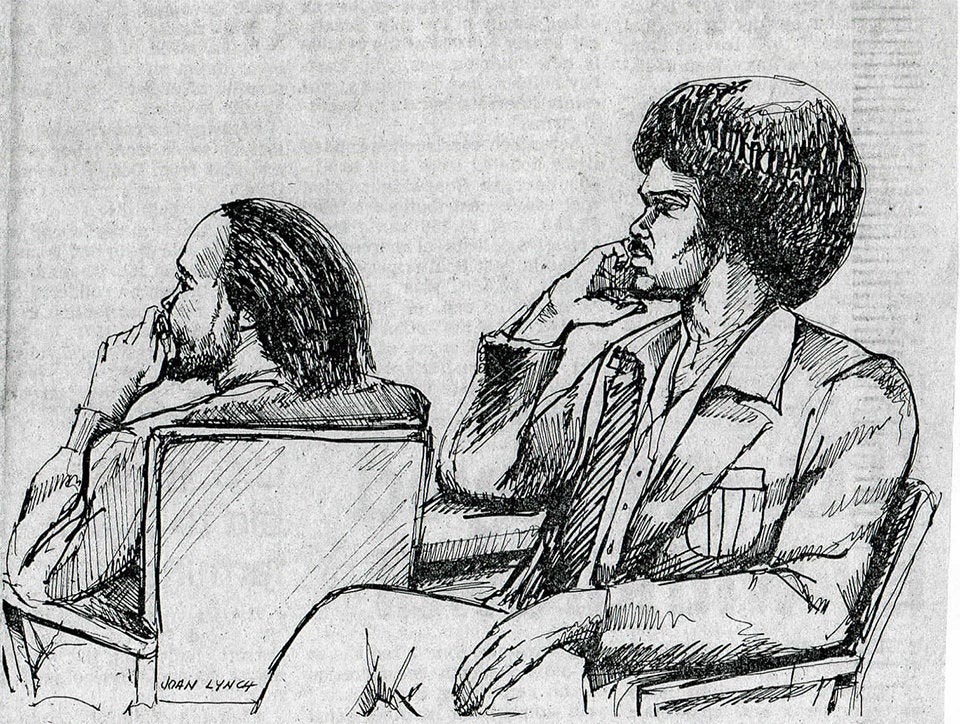 The 132 counts amounted to the longest list of crimes in a single criminal case in the history of Alameda County, the AP reported at the time.
Anderson relied heavily on linking the crimes in his opening statements, pointing out "the amazing similarities of the offenses" and arguing that the June 25 rape and robbery set the pattern for all the crimes that followed. What Anderson didn't know was that Moore had an ace up his sleeve. During opening arguments, he revealed to his defense attorney for the first time that he was locked up for auto theft on that June 25.
"The prosecutor's theory was broken," Moore said. "They recessed outside the jury, dismissed that case, and then, the district attorney changed his theory. He told the jury that under the Natural and Probable Consequences Doctrine, if he can prove I stole the pickup, that's all they really needed ― that if I did one crime, I'm guilty of all of them. I'd already conceded I stole the truck, so that put me in a very unusual situation."
Despite the many victims involved, the criminal case lacked conclusive eyewitness identifications of Moore, even though the perpetrators did not conceal their faces.
A man who was assaulted at a San Jose motel on Aug. 11, 1978, testified that he could not positively identify Moore as one of the two assailants. His wife, who was raped by both assailants, was also unable to positively identify Moore. Their son, who was also at the scene and was 7 years old at the time of the assault, identified Isaac Pullum as one of the assailants, according to court documents. Pullum, an associate of David Moore, was never charged as one of the perpetrators.

Another victim did identify Moore as one of her attackers. During an earlier proceeding, however, she'd seemed less certain, and said Moore "appeared to be one of the assailants."

The only time Moore was positively identified during the trial was by a man who'd been robbed at gunpoint alongside his wife on Aug. 5, 1978, in Hayward, California. Witnesses from several incidents identified Moore's brother and Reese.
What neither of the Moore brothers knew at the time was that on Aug. 30, 1978 ― the day Kenneth Moore was arrested ― authorities had hidden a listening device in a jail cell the two men shared. Anderson told the jury the brothers made several incriminating statements while discussing the various charges they both faced.
Kenneth Moore claims the conversations were taken out of context. He says he did not discuss his own involvement but made references to the case against his brother and his alleged associates.
"It's not like I wasn't unaware of his lifestyle," Moore told HuffPost of his brother. "I'd be lying if I said I was totally in the dark."
During closing statements, Anderson again pointed to similarities in the cases. "Can any one of you truthfully believe that the same threats were not offered, not given, and not made to Laura Muhlenbruch and her mom, Eileen Rogers?"
David Moore's defense attorney threw in the towel during closing arguments, suggesting a diminished capacity defense. He alleged that David was incapable of a deliberate or premeditated crime because he had consumed two beers and smoked marijuana before the killings of Muhlenbruch and Rogers. Kenneth Moore's defense attorney said his client was innocent and blamed the crimes on Reese and David Moore.
On March 24, 1980, six weeks after the trial began, the seven-man, five-woman jury found Kenneth Moore guilty of 58 felonies, including first-degree murder with special circumstances. Under California law, special circumstances are felonies committed during the act of first-degree murder, including murder of a police officer, murder for financial gain and murder during a rape, arson or robbery.
David Moore was convicted of 74 felonies. The AP reported that the brothers "yawned and smiled at each other" when the verdicts were read.
Kenneth denies he smiled in court.
"I was paralyzed," he said of his reaction to the verdict. "I was stunned, defeated [and] demoralized. I felt worse for my parents than I did for myself. You're in this surreal kind of position. It was like an out-of-body experience when I heard that. Here I was at that age facing the death penalty. I was certain that the system would work for me. I was naive. It crushed me."
The same jury decided the brothers' fate. Kenneth Moore was given a life sentence, while his brother was sentenced to die in the gas chamber.
"If David Lee Moore can't be executed, then nobody in California should be executed for anything," Anderson said before the hearing, according to the Oakland Tribune. "The facts are so hideous, it's the strongest death penalty case anyone has ever seen."
In the end, though, David Moore didn't make it to the gas chamber. On the morning of Nov. 29, 1980, the 28-year-old was found dead of an apparent suicide in his cell at San Quentin State Prison.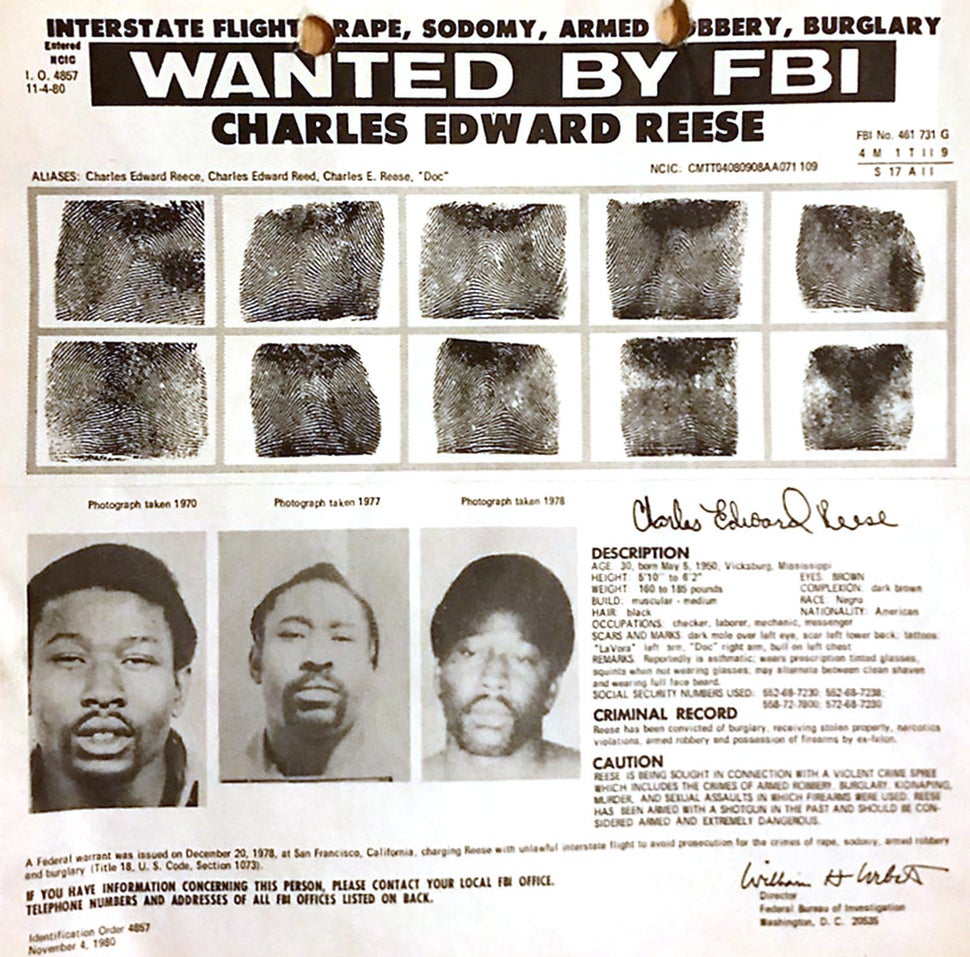 Charles Reese has evaded authorities for the past 40 years. A 1980 FBI wanted poster said that Reese "has been armed with a shotgun in the past and should be considered armed and extremely dangerous."
"It surprises me to this day that he's eluded capture," Moore said. "We are about the same height and, back then, about the same build and complexion. I believe some of the victims misidentified me for him."
DNA evidence was not available or admissible in criminal cases in the 1980s. In January 2001, a law was enacted in California that allowed inmates to obtain post-conviction DNA testing.  
Testing ultimately indicated the presence of DNA belonging to two males and a female, according to court documents. When samples collected from Moore, the victim of the attack and her husband were compared with the rape kit, none of them matched, suggesting the possibility that the wrong rape kit had been tested. The lab issued a report saying that it couldn't account for the location of the correct kit.
Further complicating the matter, according to Moore, was a failure by the Innocence Project to send someone to oversee the collection of the rape victim's reference samples.
In February 2015, the Innocence Project filed a petition in California Superior Court requesting that the dress and underwear worn by the victim in the Aug. 11 case be tested for DNA. The petition alleged that the items, which Moore says he'd been told were lost or destroyed, were located during "an investigation" and found to be in the possession of the prosecutor's office. An examination of the items revealed the presence of biological materials, according to the petition.
The petition further alleged that if DNA testing cleared Moore, it would cast further doubt on his involvement in the other crimes and could yield the identity of the actual perpetrator.
The district attorney's office formally opposed the testing in March 2015, arguing that the items did not constitute new evidence and had continuously been available since the trial. In April 2016, Superior Court Judge Larry Goodman denied the petition.
Moore has exhausted all legal options. As a result, he has no standing to ask a court again to order the testing of these items of evidence.
"It's hard having chased it this many years, knowing it would show it wasn't me that committed those crimes," he said.
The district attorney's office still has the power to permit the DNA testing. To date, it has been unwilling to do so.
"We fought this at taxpayers' expense from 2001 to 2015," Moore said. "We've wasted so many tax dollars on court proceedings that it would've been cheaper to test the evidence. It's absurd, but they don't want to be proven wrong in a case like this."
"They don't want to face that they convicted the wrong person," he said. "They'd rather dig their heels in."
REAL LIFE. REAL NEWS. REAL VOICES.
Help us tell more of the stories that matter from voices that too often remain unheard.
BEFORE YOU GO