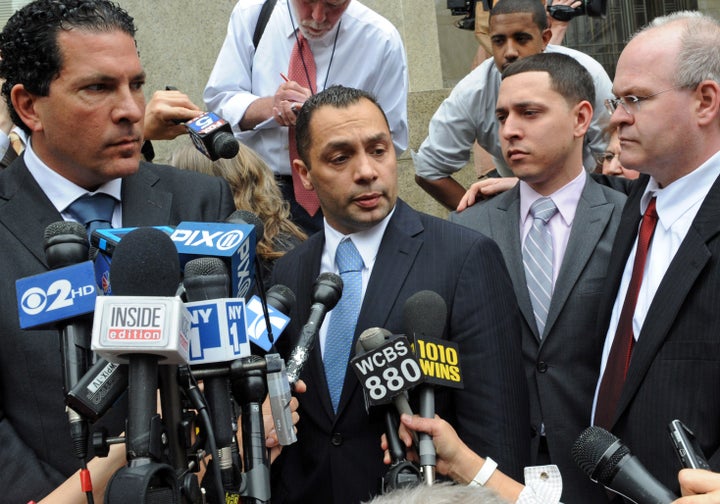 "The guilty verdict reached today involved a violation of the officer's oath of office and merits immediate termination," Police Commissioner Ray Kelly told reporters at a press conference today, according to the Daily News, "Both officers will be terminated today."
"The charges that these officers were convicted of are enough to kick them out of the NYPD, which we're moving to do," Mayor Bloomberg said, according to The New York Post.
Moreno and Mata both face up to two years in prison when they are sentenced on June 28th.
In another development, a demonstration has been planned to protest Moreno and Mata's acquittal. It is scheduled for tomorrow, Friday May 27 from 5-7pm In front of the Manhattan Criminal Court building at 100 Centre Street. A Facebook group called "PROTEST THE ACQUITTAL OF TWO NEW YORK CITY COPS FOR RAPE", who's organizing the demonstration, wrote this statement on their Facebook page:
Why: On Thursday May 26, New York police officers Kenneth Moreno and Franklin Mata were found not guilty of charges that Moreno raped a woman in her apartment while Mata kept guard, despite the fact that the amount of evidence against the officers in this case was overwhelming. Instead, the jury convicted both officers of official misconduct for entering the woman's apartment, but found them not guilty of all other charges, including burglary and falsifying business records. This despite the fact that one of the officers had been recorded on tape admitting to using a condom when having sex with the woman who made the accusation. The cornerstone of the defense required that the woman was too drunk to have a credible account of the incident, but sober enough to consent to sex.

Join us in protest. Because raping a drunk women while on patrol is more than "official misconduct". Because calling 911 should not be an invitation to be raped. Because NO behavior, including being drunk, is an invitation to be raped. Because rapists do not deserve the protection of our tax-funded police department and city officials. Because we recognize this incident as part of the NYPD's long, horrific history of violence - sexual and otherwise - often and disproportionately against people of color. Because the people of NYC will not accept victim-blaming, cronyism, and a culture of silence that allows rapists to roam free, without consequence.
Calling all HuffPost superfans!
Sign up for membership to become a founding member and help shape HuffPost's next chapter