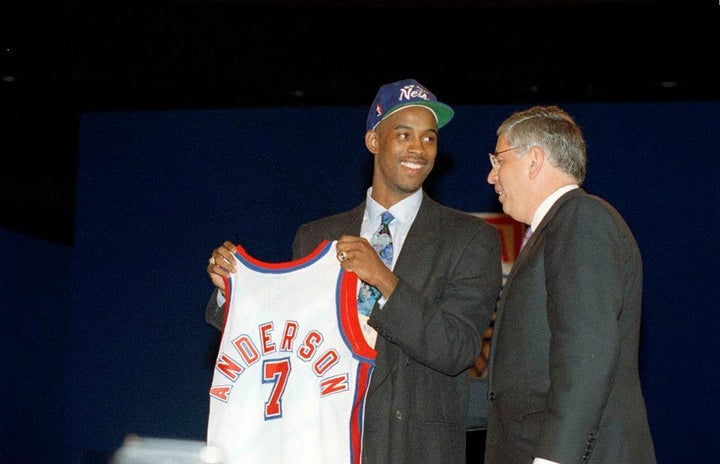 The recently released documentary about former NBA player Kenny Anderson entitled "Mr. Chibbs" serves as both a biographical sketch of Anderson and a cautionary tale of the less glamorous side of fame and fortune. Anderson is incredibly transparent in the film about some of his past mistakes and demons that he still deals with now. This kind of transparency is needed for both current and former athletes to gain important insight about how to navigate their own journeys.
Elements of Anderson's journey can be seen in men young and old in almost every city. While Anderson's story is uniquely his, it is representative of some common themes that play out frequently in the world of athletics. Anderson was renowned in New York City for basketball since he was in the 6th grade. He was arguably the most heralded high school player since Lew Alcindor. Talented basketball and football players are often highly sought after in inner cities across the country by AAU travel teams and private schools.
Athletic talent is frequently utilized as a ticket to private high schools that are located both in their home city and in other parts of the country. This increases the incentive for children and parents to place an even greater emphasis on the development of athletic talent in hopes that it will create opportunities to attend better resourced high schools that can provide a higher level of academic instruction and athletic exposure.
Anderson's private school tuition at Archbishop Molloy High School was taken care of because of his exceptional ability to play basketball. Anderson described basketball as saving him from being in the streets and doing wrong. It was his "sanctuary".
He followed in the footsteps of former University of North Carolina and NBA player Kenny Smith. Smith hailed from the same LeFrak City neighborhood in Queens, NY as Anderson and served as an example of where basketball stardom could take you.
This also plays out in cities all over the country where certain players inspire a generation of younger players to follow their journey. Community adulation is even more prevalent when a native of their neighborhood makes it into the professional ranks. This is the ever-present dream that dominates the mind of urban athletes. Examples of players who had this kind of impact on their home areas are Isiah Thomas in Chicago, Anfernee "Penny" Hardaway in Memphis, and Dwayne "Pearl" Washington in New York City.
Anderson won the "Athletic Lottery" in the sense that his basketball ability allowed him to have access to one of the very few available slots in big time Division I basketball and the NBA. It is important to understand that making it to these levels of basketball is a lottery-like system because of the few opportunities available in comparison to the millions of people who are vying for those slots. The odds of getting there are slim to none regardless of one's desire to get there.
Many kids have the illusion of there being a much greater likelihood that they will reach the professional ranks than they actually have. The reality of many central cities creates a sense of urgency in many student-athletes where they feel that their lives will be cut short or lackluster if they don't escape the environment where they were raised. Anderson spoke about the struggles that his family went through during his early childhood years, including getting evicted and not having anywhere to go.
The importance of having alternative plans in place outside of athletics is one that should be emphasized to aspiring athletes in order to successfully navigate life when the deck is often stacked against them. Anderson went on to play collegiately at Georgia Tech and stated that he didn't want to leave school, but couldn't pass up on being a top NBA Draft pick after being named as a first-team All American after his sophomore season. He ended up being selected as the number two pick in the 1991 NBA Draft.
Anderson had a solid first few years in the NBA including an All-Star Selection in 1994. He then became somewhat of an NBA journeyman playing for 9 different teams over the course of his career. He admitted during the film that his work ethic was adversely affected by money and fame and that excessive alcohol use also impeded his performance.
Additionally, Anderson's journey in the NBA serves as a cautionary tale of how to deal with outside influences including friends and family after making it to the NBA. Anderson outlined how he allowed his friends and family to raid his financial resources during and after his NBA career. This has also been a common theme for professional athletes. The ESPN 30 for 30 documentary "Broke" outlined this epidemic extensively.
The onslaught of requests and people that surround NBA draftees can undoubtedly be overwhelming. As Anderson stated in the film, "the more money, the more bills." He made over $60 million dollars in his playing career only to file for bankruptcy in 2005. He lived an extravagant lifestyle and generously gave his friends and family large sums of money. He stated during the film that "no one stole my money…I spoiled my mother to death....I didn't know how to say no".
Anderson is also representative of the plethora of athletes who have a multitude of kids by different women. The increased availability of women that sports and entertainment stardom brings can be difficult for some to handle. The film explores some of the relationships between Anderson and his children. He was open about his efforts to try to establish a better relationship with his children, particularly those who harbor an elevated level of resentment toward him.
The film also displays the identity crisis that he endured after his professional basketball career concluded. This is somewhat common for former athletes who struggle to find a sense of purpose after having invested so much into their given sport. The film begs the question as to what happens to players after their pro careers. Many have difficulty dealing with their own self-perception after being defined as an athlete for the majority of their lives.
What do they do after their athletic pinnacle? How can they better transition into other areas of life? Anderson stated during the documentary that for him "basketball is easy, life if hard." Many former players feel lost after their playing careers are over. His story is also in alignment with so many young men who have their hoop dreams shattered after playing in high school or college. Some never get over the disappointment.
Anderson allowed himself to be vulnerable and spoke about how he dealt with his mid-life crisis. His wife also spoke candidly about her efforts to support him. She stated during a recent screening during the American Black Film Festival in Miami Beach that the film project helped them to "work through some things that we were putting band aids on." She ultimately concluded that "Kenny Anderson was going to be Kenny Anderson's savior."
The transparency that the film offers is greatly needed. As Anderson said during the film, "people are walking around with demons and lying to themselves". Anderson, now 46, lives in South Florida and admittedly still goes to therapy to help him to progress forward and finds joy in coaching youth basketball including an AAU basketball team that his son plays on.
The "Mr. Chibbs" documentary provides some critical insights both for the players who will be selected in today's NBA Draft and for others who have encountered personal issues similar to that of Anderson. The film is available at http://mrchibbs.com/.
Marcus Bright, Ph.D. is a Scholar and Activist
Related
Popular in the Community