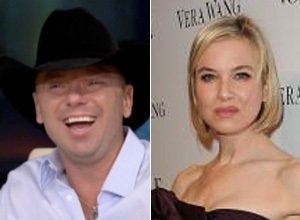 Country superstar Kenny Chesney was on Oprah Friday, and as only she can do, Oprah got him to talk about his short-lived marriage to Renee Zellweger.
After Kenny talked about how busy he is, Oprah asked if the lack of time was what happened to his relationship with Renee.
He said, "that and the fact that I panicked." Then he started talking about "the box" in which he put everything he values, like his friends and musical success, and how he worked to "protect it... I protected that box." So, Oprah asked, where was his marriage to Renee?
"Well, it was out.. out of the box!", he exclaimed with a maniacal laugh. But he did call Renee a "sweet soul."
Chesney then said he still hoped to be married, but "felt that the idea of marriage made me lose my identity... I just don't know that I've found anybody bigger than that."
Popular in the Community