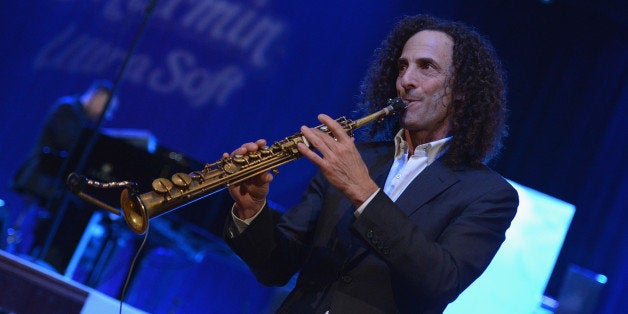 As Kenny G stood upon a toilet paper castle on top of the Hard Rock Cafe overhang, much of Times Square halted in its tracks to the soothing tones of his saxophone, the familiar bars of "My Heart Will Go On" echoing between the buildings and LED screens.
"That was one of the coolest gigs I've ever played," Kenny G said of the performance. "We [speaking of his piano accompanist and long-long friend, Robert Damper] were so alone up there, but so many people were still out there. It was like we were in a closet of our own, it was so easy. I didn't feel self-conscious at all. Usually I can't scratch my ass or blow my nose or anything while performing, but up there I could have done anything."
"There was also a guy on a scaffold taking his shirt and making weird gestures," he continued. "Should I be concerned or is that just New York?"
The impromptu concert marked the initiation of the partnership between Kenny G and Charmin in promotion of their Ultra Soft toilet paper product, as well as Kenny G's quest to bring back the once popular sounds of soft rock. (In fact, the Hard Rock Cafe was renamed "Soft Rock" for the occasion.) As radio and mainstream listening continues to be dominated by pop stars, hip-hop, and the quick-rising electronic dance music scene, Kenny G is aware that the comeback cannot happen by conventional methods.
"I don't think radio is it at this point," Kenny G, whose real name is Kenneth Bruce Gorelick, said. "Theres a huge audience out there, they're just hard to reach. It's a mature audience. They are busy doing their own lives, and they're just not as computer savvy. They have one or two of these records already, and that's kind of good enough for them, so it is hard to tell them that this person or that person has a new record. I believe that if I got in a truck and drove from L.A. to New York, and went door-to-door with hundreds of thousands of CDs, they would want them. But I just don't have the time to do that."
Kenny G plays "My Heart Will Go On" (video: Voice Media Group)
"Younger people aren't flocking to get my music at this point, but they would get my stuff if I did something with a younger artist, and I'm definitely open to that," he said. "I would do something with one of the hip hop guys, or one of the metal guys. As long as there is some musical integrity to it, I will do it."
"It would be really good to do a movie score," he continued. "It's crazy because I know all the right people and I still haven't gotten it done. It's gonna happen, but it's not easy. It could be at any moment, like me going into Starbucks and running into Hans Zimmer and he says, 'Hey, Kenny, we should do something together!' and I say, 'Yeah, Hans. Sure, let's do it!'"
Speaking on his partnership with Charmin, Kenny G said that he doesn't view his music as "soft," but agrees that it certainly is soothing and relaxing. "Let's just say it's not hard music," he joked. Having heard that the people at Charmin were very open to having fun, Kenny G realized the immense potential of jokes at his disposal.
"I'm a real smart-ass; I like to joke about everything. I'm very serious about what I do. I practice every day for three hours. I work on my scales, I work on my tone. But otherwise, I like to have fun," he said.
Indeed, he wasn't kidding. During a private concert in the Soft Rock that followed, Kenny G made some scatological references and joked that he might have been selected by Charmin because of his appearance on an an episode of "South Park." (It revolved around people losing control of their bowels whenever he played one specific note.)
"I don't know what could happen with toilet paper," he said. "It's a funny subject matter, but you know what, even the hip-hop guys probably use Charmin. It's probably one of the most popular items in the world. Just imagine if they took it away?"
"I was even thinking that they should do a contest where the winner, I go with them into the bathroom and play my music while they wipe," he continued. "That would be like the ultimate prize. It could be a career changer. You know the movie 'Love, Actually'? The guy who does the Christmas song that is just horrible, and he says that if the song gets to number one, he will perform the song naked, and suddenly he's popular again? Those kinds of things happen."
In the meantime, Kenny G said that he is halfway done with a new album. He said that it will all be bossa nova covers from the likes of Stan Getz, Cannonball Adderley and Paul Desmond, in order to fill the void that is the ultimate bossa nova collection.
"I love that music. I go back to that era, and I'm playing that style. You can tell it's me, but it's not going to be my normal style. I don't think there's an ultimate bossa nova record out there. I did the same thing with my Christmas record when I did "Miracles." I went to Christmas parties and people had pretty good music, but it wasn't where I thought it should be. So I made one, and it's the biggest selling christmas record in history."
As our interview wrapped up, a couple workers from a Taiwanese TV station came in for a quick video interview, and Kenny G began speaking to them in Mandarin. It wasn't hard to believe Kenny G's extreme popularity in China, as the interviewers gushed over him, telling him how they grew up listening to his music.
"You know how many records I've sold in China?" he asked. "Over 150 million. You know how many I've gotten paid on? Under like 50,000. If you go to Tiananmen Square, or go to any public area in China, you will hear my music at some point."
REAL LIFE. REAL NEWS. REAL VOICES.
Help us tell more of the stories that matter from voices that too often remain unheard.
BEFORE YOU GO
PHOTO GALLERY
Kenny G's Past Performances