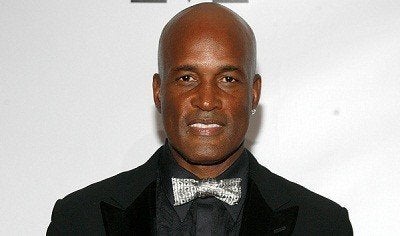 The timing couldn't have been better for the opening of Kenny Leon's latest Broadway production, "The Mountaintop." Starring Samuel L. Jackson and Angela Bassett, the 90-minute play, written by Katori Hall, takes place after Dr. Martin Luther King's "I've Been to the Mountaintop speech" and re-imagines the final hours of his life, leading up to his tragic assassination at the Lorraine Motel in Memphis. The play opened on Oct. 13, just three days before the dedication ceremony for the new MLK memorial in Washington, D.C.
For Leon, directing the play wasn't just about paying homage to the civil rights leader, but also reminding theatergoers of the beauty of an imperfect man. HuffPost Black Voices caught up with the Tony Award-nominated director to discuss his feelings about the production, his thoughts on Angela Bassett replacing Halle Berry, and his other projects, including directing the remake of "Steel Magnolias," working with Alicia Keys on Broadway and his Tupac Shakur-themed musical.
Can you talk about working with Samuel L. Jackson and Angela Bassett in "The Mountaintop"?
This is my sixth Broadway play that I've directed. But I couldn't be happier with the results of what folks are going to see. And then casting folks like Samuel L. Jackson and Angela Bassett -- very talented, but also friends that I've known for over 20 years. So that's been another joy. I think when people see Samuel L. Jackson and Angela Bassett on stage they will really realize what great artists they have been to our country. These are major, major actors who were trained on the stage and went into the film world and had success but are coming back to the stage now to give all they have. It's an amazing thing to watch them for an hour and a half on stage just duking it out with each other.
What sparked your interest in directing it?
Initially, I didn't know what the play was about. When I heard it was about Dr. King and a sexy housekeeper, I said, "Oh man, I don't want to do anything that has anything to do with destroying the iconic nature of Dr. King. But if it's a reimagined look at him or if it's a fictious account of what happened, then that may be the way to go." So I read it and of course I loved it. I said, "Wow, this is so amazing." What made me really love it was that it wasn't about Dr. King, but it used Dr. King as a centerpiece to sort of remind us about the beauty of the imperfected man and that we all have flaws and we all make mistakes. But by the grace of God's beauty, love, and humor, it allows us to move forward in a beautiful way. So I felt like the universal message about the play was that all of us are human and all of us make mistakes, but all of us can't do great things. And that was the message that was left on my heart that I was hoping to leave on the hearts of many patrons.
How do you feel about the play debuting the same week as the MLK memorial in Washington D.C.?
I'm a spiritual person, so sometimes I just think that things happen for a reason and they happen the way that they supposed to happen. I think that it's only fitting that we open this play this weekend. I know several people are coming to the play and then going to D.C. to make a whole weekend out of it. I hope older folks come to the play because they want to see Dr. King and be reminded of what his values were so we can reenergize the country. And I want young folks to come to it and to be invited to Dr. King in a way that allows them to see his strengths and beauty as well. During the previews we had a great cross section of a generational mix and a cultural mix of people that I don't usually see on Broadway.
Originally, Halle Berry was schedule to play "Camae" [Angela Bassett's character] but exited due to her child custody battle. What was the process like in selecting Angela as Halle's replacement?
It's always a director's choice about casting, but I always say that plays cast themselves. And by that I mean, Angela just walked into the room and she claimed it, it was hers. The logic prevailed and it's her role and I almost can't imagine anyone else doing that role now that she claimed it, she's doing it, and she put her footprint on it. So things only work out the way that they're supposed to work out. I'm sure I will work with Halle in the future on another project, but I think this was destined to be Angela's spot and I'm glad Angela did it and she really made the best of it.
Were there any changes made to the script upon Angela's arrival?
No, not really. Katori Hall is a great writer and we didn't make any adjustments. I think the role of "Camae" is just for an ageless person so we didn't change anything. Angela just dropped in and did her thing. It's been a great reunion with me, her, and Sam. I think audiences are pleased with the work, and hopefully the press will say great things about it to go along with what the fans are feeling.
In addition to "The Mountaintop" opening last night, you also made headlines earlier this week with the announcement of the remake of "Steel Magnolias." What was it about the film that made you want to use an all black cast?
Well actually, the producers Craig Zadan and Neil Meron came to me with the idea. They also were the producing team behind "A Raisin in the Sun," the one that I did with Diddy, Phylicia Rashad, Audra McDonald, and Sanaa Lathan for ABC. So it's the same players. Craig and Neil asked me, "What could make that exciting?" And the only thing that could make it exciting -- because the original was done so well, it was just an amazing classic -- was to reimagine it as an African-American story that gives us the opportunity to get our major African-American talent and put these beautiful words in their mouths and create a cinematic event. With African-American talent I think it's great. It just gives us a chance to do something with a quality piece of classic material. I couldn't be more excited, I'm just ready to get the casting done and ready to start shooting. So hopefully we'll start shooting right after the first of the year.
What are your thoughts on those who are already giving the film flack due to the use of an all black cast?
I can't pay attention to the haters. Most of the feedback I've gotten is people excited and wanting to do it. Everything is about variety; I think there's room for everything. There's room for Spike Lee's movies, there's room for Tyler Perry's movies, there's room for classics with an all black cast. There's room for all of it as long as we don't try to make any one piece define us as a race. So I think the reasons to do it is because it's a classical piece of material and it should be approached by anyone who wants to do it. It's funny and it will be uplifting and it also going to give people jobs, so I don't really listen to a lot of haters. If I listened to haters I would not be doing "The Mountaintop" on Broadway now. People said, "Why do that? It's a bad idea to portray King in that way" or whatever. And then you find out that one-hundred percent of the audiences embracing this whole idea of being reintroduced to Dr. King and what he was about. So if I listened to the haters I wouldn't be doing any work.
If you had to create an all-star wish list for the cast of "Steel Magnolias," who would it be?
I can't do that. All I can say is that there's a lot of excitement in the acting community about the possibility of what we're going to be doing. It's going to be a difficult process. There's so many wonderful women that could be in this and who could make it great. There's more than five great black actresses in this country, and the truth of the matter is I'm going to cast this movie [and] then there's going to be some other women that clearly could have been in it. So I'm going to think through it carefully and hopefully make some exciting decisions. There are a lot of people who I would love to collaborate with so we'll just see how many we can collaborate with on this.
Will there be anything that you take away from previous black remakes, such as "The Wiz" or Broadway's version of "Cat on a Hot Tin Roof"?
When I look at "The Wiz" and what they did with the original play, "The Wiz" was the response to "The Wizard of Oz." And so they had the opportunity to use R&B in a strong way and present the black culture and the mix of that was a great thing. Or what they did on Broadway when they did "Cat on a Hot Tin Roof" [in 2008, with James Earl Jones, Phylicia Rashad, Terrence Howard and Anika Noni Rose] it was an exciting thing for a lot of patrons. What I've always said was, "I want to see specifically why do we do this?" I have to see the difference. It's like if I imagine a group of women in a white beauty salon, then I imagine a group of black women in a beauty salon, that's a different culture. So I have to be able to pull out the humor or I have to pull out the specifics in what makes one different from the other. And if I'm able to pull all of those things out of "Steel Magnolias," then it would be a great contribution to the cinematic world.
Speaking of black women and R&B music, you're also working with Alicia Keys for your next Broadway production, "Stick Fly," which begins performances next month. How did you bring her on board as a producer and a composer?
I really didn't bring her aboard. I had a chance to meet her when she did her "I Am" tour, and she brought me on as a stage director for the tour. So I got a chance to know her and work with her, I always respected her and want to work with her. And then one of the great producers who I've worked with in the past, Nelle Nugent, she was on board and she was looking for other partners. And then Alicia went and had her folks go see the play in Boston and she loved it. So she came on board as a producer, and then I said, "If she's going to be on the production team as talented as she is as a composer…" so then I approached her about doing the music and working with the creative team and of course she was thrilled with that.
What are your thoughts on "Stick Fly" being one of the few Broadway plays ever to be written about upper class African-Americans?
I'm so excited for "Stick Fly." I think it's going to be major, major, major because there has never been much written about upper class blacks on Broadway, so this will be a new thing for Broadway. It's a very funny, loving play. We got a great cast in Mekhi Phifer, Dulé Hill, Ruben Santiago-Hudson, Tracie Thoms, Condola Rashad, who is the daughter of Phylicia Rashad. So I'm looking forward to it.
With so many of your projects currently in motion, how do you manage to find time for yourself and unwind?
I'm very good at compartmentalizing so I've been totally focused on "Mountaintop" even though I did a little preproduction work for "Stick Fly". And this weekend I'm doing a reading of a musical that I've been working on with the music of Tupac Shakur. So I'm working with his mother Afeni on this Broadway musical, but we're going to do a small little work shop this Saturday and Sunday just to see where I am on that. And then on Monday morning I start rehearsals for "Stick Fly", so then I'll be totally with "Stick Fly" for the next five weeks. But I'm very good at compartmentalizing things and taking moments of joy for myself. So on December 10, right after I open "Stick Fly," I'll go away on a two week vacation and then I'll get ready to do pre-production for "Steel Magnolias". You got to take your moments.
PHOTOS: 'The Mountaintop' Broadway Opening Night
PHOTO GALLERY
'The Mountaintop' Broadway Opening Night
Calling all HuffPost superfans!
Sign up for membership to become a founding member and help shape HuffPost's next chapter