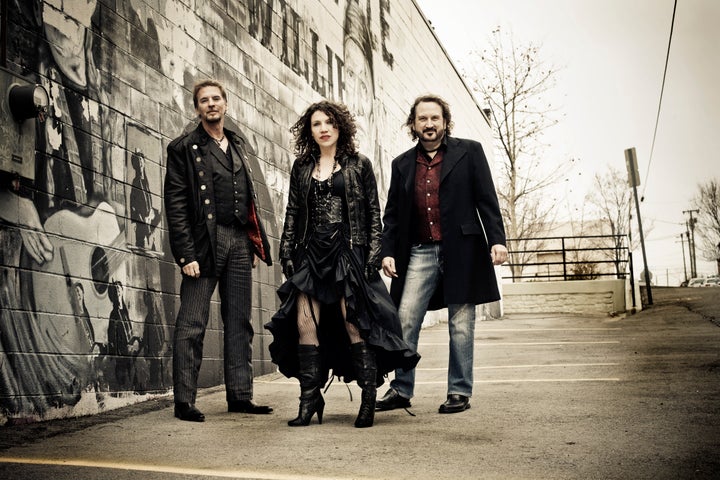 Call this Chapter 3 of Kenny Loggins' musical life. Typically, music-makers leave bands to try their luck as break-out soloists. In the case of two-time Grammy winner Loggins, he's the salmon swimming upstream: He already has the sucessful career as a solo artist and now he's formed a band with Nashville singer-songwriters Gary Burr and Georgia Middleman.
After 30 years of being his own boss, the 64-year-old Loggins -- who began his career as part of the iconic duo of Loggins and Messina -- says he just knew in his gut that it was time for a reinvention. Why? The "juice" was gone, he said. "I just didn't know what to write about anymore."
Scary words from the man who brought us such hits as "Celebrate Me Home" and "Footloose." And would the 70s have been the same without Loggins and Messina's "Angry Eyes" or "Danny's Song"? Loggins' list of hits stretches for miles, including those movie soundtracks for "Top Gun" and "The Tigger Movie."
Loggins, who freely bares his soul both in song and in interviews, says he winced when a trusted advisor suggested he was too old to be starting over with a new band. New bands struggle both financially and physically with grueling on-the-road demands. The music business is a difficult mistress, never satisfied, fickle at best. Did he really want that? At this point in Loggins' career, the advisor said, the singer-songwriter's interests would best be served by kicking back, working on mentoring and collaborations -- you know, phasing out gracefully.
But sometimes, our hearts speak louder than our trusted advisors. And Loggins' followed his. He teamed up with long-time friend Burr -- a soon-to-be 60 Nashville-based songwriter who is known as country music's song doctor; bring him your tired, ailing songs and he makes them, well, sing. He's also the yang to Loggins' yin, balancing the introspective artist with heavy doses of humor and pragmatism. Providing the harmony, both in the band's music and interpersonal dynamic, is Burr's fiance, Middleman, who is in her 40s.
"Is she perfectly named or what?" asks Loggins.
Their music is written in their Nashville studio or on the terrace of Loggins' Santa Barbara home. A year in the making, they are almost done recording their first album and the details of touring are being ironed out. Touring the way new bands typically must hasn't actually changed that much, but watch the Blue Sky Riders reinvent that as well.
"Let's face it," says Burr, "we aren't teenagers who are going drive around the country living out of station wagons."
Bottom line, says Loggins is that "If you are going to reinvent yourself, it has to be fun." For him, the band provides an impetus to stay creative and stay "emotionally alive." Loggins isn't totally abandoning his solo career, which right now he describes as his "day job." He plans on finishing up an album of children's songs. But his heart and soul clearly belong with the Blue Sky Riders.
"I'm constantly amazed at how focused he is on this project," said Burr. "He wakes up every day with 100 new ideas for this band." In fact, somewhere around 3 a.m. in the morning after the Grammys, where the band performed at the post-Grammy party, Loggins bolted awake in bed and blurted out something about "distribution rights."
While Loggins may have the legendary name, it's clear that he views the trio as three equal partners. Not always easy on the ego? Agreed, he said, but a necessary part of the process. It's one of those cases where the sum will be greater than its parts.
He recalls the first time he and Burr sang together. "We sounded like brothers," he said. "The last time I experienced that kind of blend was with Jimmy Messina in 1971."
Loggins, Burr and Middleman will be blogging for The Huffington Post about the experience of forming a band. After five intense, exhilarating days in Nashville, during which the band performed live for the first time at Tin Pan South, Loggins wrote that he texted Burr and Middleman from the airport:
"Finally slowin' down. I am so proud of us, and treasure this 3rd chance to reinvent myself. Thank you both so much for the rush!!"
To which Burr, always the comedian, replied, "Who IS this?"
"That's just so Gary," Loggins wrote. "I howled."
Check out part one of a series of videos in which the Blue Sky Riders answer Huff/Post50's big life questions. Here, they discuss what they know now that they wish they knew growing up.

Calling all HuffPost superfans!
Sign up for membership to become a founding member and help shape HuffPost's next chapter
BEFORE YOU GO