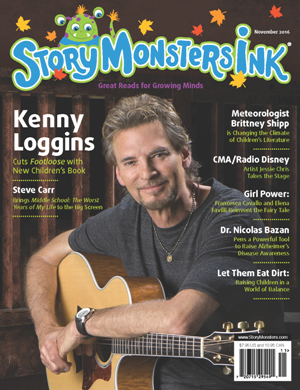 You've heard "Footloose" the song. You've seen Footloose the movie. Now you can read Footloose, the children's book, but don't be surprised to find yourself singing the words rather than speaking them. Musician and children's author Kenny Loggins' new book is a high-energy tale of a jaunty animal dance party. With music and lyrics by Loggins and Dean Pitchford and delightful illustrations by Tim Bowers, the story is set to the eponymous, catchy tune that was a huge hit for Loggins in 1984 when the movie first boogied across the big screen. "The meter of the lyric is a little tricky because the words come out so fast," says Loggins. "But if you're familiar with the song, and most people are, you quickly get how the words are bouncing off of the pages."
Loggins' love of books and reading began at a young age. "My first seven years were spent in Seattle," he says. "Lots of rainy days. Lots of opportunities to read. I still remember the Little Golden Books vividly." Loggins recalls House at Pooh Corner as "the first real book" he ever read. "It obviously left a lasting impression," he says, referring to his later use of the title in his songwriting.
A Grammy Award-winning musician, Loggins credits his two grandmothers with instilling a love of music in him at an early age. "My grandmother, Anastasia, was a musician/pianist," he says. "As a matter of fact, I have her piano in my home. My daughter, Hana, plays it from time to time." His other grandmother lived in a three-story Victorian house in Seattle with a turret. "It was a small conical room, just dusty enough to tell you that no one went up there very often," he says of the space where his grandmother stored her sewing supplies. "But the crown jewel in that tower was her record player. A large oak box on carved legs like a wonderful work of art … and the sound came through a gigantic golden horn at the top of the Victrola. For a boy of five or six, this was as exciting as stumbling across Blackbeard's buried treasure. There, in that dusty, Victorian tower, I discovered the music of the 1930's and '40s—Rudy Vallée, some Glenn Miller, and of course, Bing Crosby."
When Loggins and his family later moved to Los Angeles, his musical interests stayed with him. In high school, he began singing and playing guitar. A few years later, he was earning money writing songs for a record label. While on the job, Loggins met Jim Messina, a musician he admired. They began working on songs together, which ultimately led to an intense musical partnership, producing hits like "Danny's Song" and "Vahevala."
Loggins went solo in 1976. "During the final Loggins and Messina tour, I composed much of my first solo album, Celebrate Me Home," he says. "I would sit alone for hours in the locker rooms and showers of the NBA arenas, waiting to go on. I would sit back there alone in the showers, where the good echo was, and make up song after song."
Immediately, Loggins began to earn his moniker, "The Soundtrack King," with key musical contributions to films such as A Star Is Born in 1976, Caddyshack in 1980, Footloose in 1984, and Top Gun in 1986. "I find it easy to write songs for movies," Loggins says. "If it's a good movie, it'll have a strong emotional moment that they want a special song for. You just study the vibe of that particular scene and write something that enhances it." Yes, Loggins admits he does have a favorite. "My favorite movie to write for was Caddyshack," he says. "Everyone in the cast was fantastic and hilarious. Those were the glory days of Saturday Night Live, and it was a crazy, fun ride."
Loggins has had plenty of other hits, as well, including "Whenever I Call You Friend," "What a Fool Believes," "Meet Me Halfway," and "This Is It."
In 2010, he became part of the Blue Sky Riders, alongside Gary Burr and Georgia Middleman. He said he joined because he needed a change. "I wanted to do something different," he says. "I'd just come through a very difficult divorce, and I was sick of being a soloist. I felt like I had run out of things to sing about. I wanted to feel what it was like to be in a band again and share the duties with two other talented singer/songwriters."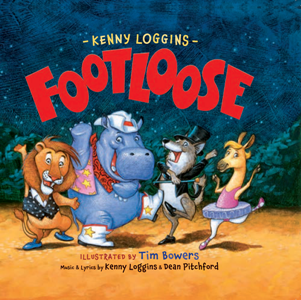 Footloose isn't Loggins' first children's book based on one of his songs. In 2013, he released Moose n' Me, inspired by a song of the same name about his real-life pet. "When I moved out of my parents' house, the first thing I did was get a dog," says Loggins. "His name was Moose because he was the biggest dog in the litter. The first dog to the bowl. He and I were very close and at times it seemed like we could read each other's minds."
Loggins has also released two children's albums: Return to Pooh Corner in 1994 and More Songs from Pooh Corner in 2000. For Loggins, writing songs for children isn't that different from writing stories for them. "They have a lot in common actually," he says. "Simplicity is the watchword in stories and music. When a song becomes a book, the lyrical images come alive. With Footloose, the key was to have lots of animals doing funny things. Once I got the picture in my head of this zoo coming alive under the full moon, the lyrics just poured out."
Today, Loggins dotes on his five children, Crosby, Cody, Bella, Luke, and Hana. "Hana, Bella, and I are making a new lullaby CD together," he says. "Nothing beats the sound of sisters singing together." He's also finished an album for parents and children called All Join In. And, waiting in the wings is a children's book based on another of Loggins' huge 1980s movie soundtrack hits, Top Gun. "I've been asked to write a children's book around "Danger Zone," and I've jotted a few notes down," he says. "I think it's going to be a lot of fun."
REAL LIFE. REAL NEWS. REAL VOICES.
Help us tell more of the stories that matter from voices that too often remain unheard.
This post was published on the now-closed HuffPost Contributor platform. Contributors control their own work and posted freely to our site. If you need to flag this entry as abusive,
send us an email
.