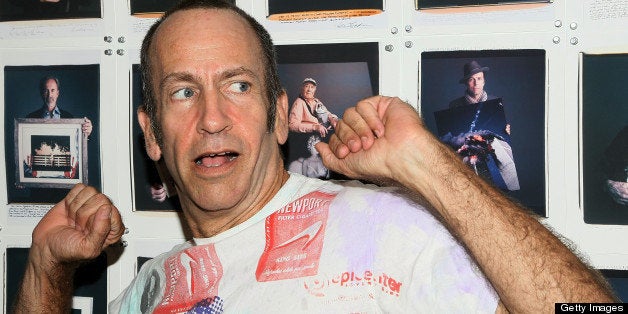 "Just spent 20 hours in 2 Brooklyn jails for this," Kenny Scharf wrote on Facebook when posting the above image of one of his signature graffiti pieces on Saturday. The street artist-turned-gallery star was arrested on Friday night, Art Sucks reports, for spray-painting the small snake graffiti on private property in Williamsburg, Brooklyn.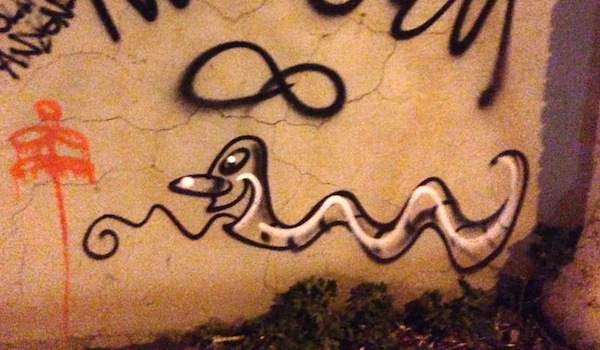 Image via Kenny Scharf/Facebook
"The cops who arrested me were fans and wanted to talk about 'Exit Through the Gift Shop' and even liked the tag," Scharf added later in another Facebook comment. "At the first holding cell in Williamsburg (there were only 5 people in the cell) the police were googling me and asking about things like the Tunnel nightclub" -- the notorious nightspot boasted a lounge whose walls were covered in Scharf's graffiti.
After his arrest Friday evening, Scharf spent the night at a holding cell in Williamsburg before being transferred to Brooklyn's famously filthy Central Booking facility. "Just got up from my wonderful cozy bed," he added on Facebook. "So thankful I got out last night otherwise I would have been in till Monday and that would be beyond torture. It was intense and demeaning and I'm so grateful that I've got a nice clean home! The felons and thugs were all nice to me and I feel bad about their lives in and out of there constantly."
Scharf's current solo show at Paul Kasmin, "Kolors," is on view through May 4.
More of Today's News from BLOUIN ARTINFO:
Related
Popular in the Community