This year marks the twentieth anniversary of the release of Kenny Wayne Shepherd's first album Ledbetter Heights. In the last year, I have seen him play as part of the Hendrix Experience tour, as part of the co-headlining tour with Jonny Lang, and toward the end of the summer, he and his band opened for Van Halen. He is a guitarist who can easily mesmerize an audience with his playing ability and through his passionate and energetic solos.
In this interview we discussed being influenced by Stevie Ray Vaughan, his fascination with the Fender Stratocaster and American muscle cars, and what he thinks is the greatest guitar anthems of all time.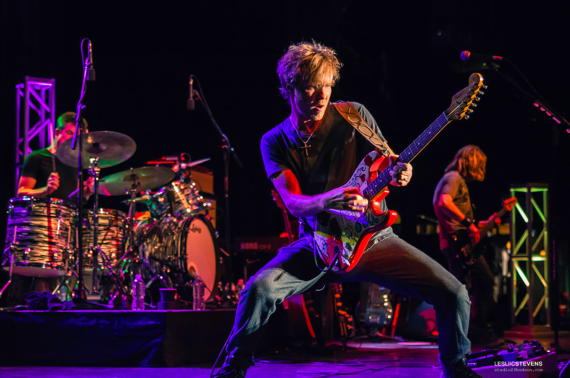 Photo courtesy Leslii Stevens / Studio23
Did the inspiration for playing guitar come from within, or through an outside source like a mentor?
KWS: For me, it was both. I know it came from within because I was always drawn to the instrument. All the music that I loved when I was a little kid, from as far back as I can remember, was music that featured guitar players. So like blues, and country, and rock n' roll--all those genres of music had guitar solos, in every song. The turning point for me, and for me being interested in playing guitar, was when I saw Stevie Ray Vaughan play for the first time when I was seven years old. I got to meet him and it had a huge impact on me. And from that day forward, all I wanted to do was to play guitar with the fire and passion and intensity that I felt when he played.
First memorable concert experience?
KWS: Well the first concert that I went to was when I was three years old and I saw Muddy Waters and John Lee Hooker. Being three years old, I don't remember a lot about it. I know about it because my dad told me that he took me there. But, the most significant concert experience was that show where I met Stevie Ray Vaughan.
What musicians did you try and emulate early on, and then, how did you become interested in the blues.
KWS: I became interested in the blues because my dad was a blues fan. He played blues music and funk and R&B. He was a DJ and was on the radio and so I've been surrounded by music my whole life. So everywhere that I went--there was music in the car, music in the house, music at his job, and he helped promote concerts and bringing artists to town. But a lot of it was blues. And for emulating musicians, Stevie Ray Vaughan was a big influence on me--that was my starting point. And then it was Billy Gibbons from ZZ Top, Jimi Hendrix--these were the guys early on that I was trying to figure out, and asking myself, how did they get that sound? Back then it was harder to figure out than it is today because of the Internet. Then I branched out and started really doing my homework on the history of the blues and rock n' roll and all the influences that my influences had.
What has the blues taught you about music, and about people?
KWS: Blues showed me, in my opinion, that it is the root of all great music. You can trace just about every genre of music back to the blues. It's shown me the power of good music because it has influenced and developed some many different kinds of music. But also, this is a genre that is over one hundred years old and it's still going strong and is still very relevant. There are people interested in it--young people that are trying to play it. It's a testament and it means that you can have a life-long career playing this type of music if you do it right.
You've been a touring musician for quite a while now. Do you still feel the need to practice?
KWS: Yes, you have to practice. A lot of it is muscle memory as far as your ability to do it. You have to work that out and keep it going. When I go home, and I'm with my kids for like a month, it's hard for me to pick up a guitar around the house because I have five kids. So when I come back out, it takes a couple of days to loosen back up. The best practice for me is on the stage. On the road--on stage, because you play with a different level of intensity on the stage than you would if you were sitting in a chair at your house. So that for me is the best place to get my practice.

Kenny Wayne Shepherd signature Fender Stratocaster

You are primarily a Fender Stratocaster guy. Is there something special about the strat that you can pinpoint that you don't find in other guitars?
KWS: I think its more flexible of an instrument. I think it has more tonal possibilities--with the three single coil pickups, a five-way switch and the tone knobs and volume--there's an unbelievable amount of sounds that you can generate with that guitar that you don't necessarily have available to you with other guitars. And, a lot of my heroes played a strat, so that's why I was initially drawn to it. Everything felt right--everything is in the right place for me as a player. When I pick up another guitar, it doesn't feel as intuitive. I have to look to know what I'm supposed to be grabbing, or what knob I'm supposed to be turning, instead of it being second nature.
Through my interviews, I have learned that some musicians try to have an escape from what they do on a daily basis in order to have a fresh perspective on it when they return to the studio or go back on tour. Some musicians hunt, some play golf, and some happen to be collectors. What are your outlets that take you away from the music business?
KWS: I'm a big car guy. So I collect, restore, and customize American muscle cars from the 60's and 70's. I do cross-country road trips--that's a good outlet for me. Obviously for me, my family is the most significant. When I'm not doing music, I really focus on trying to be a good husband and a good father and a family man and give them the attention that they deserve.
Favorite song to play live?
KWS: I go through phases with that. Certain songs can be my favorite like Voodoo Child by Jimi Hendrix, that's always been a favorite of mine because you can just take it in so many different directions. It's probably one of the greatest guitar anthems ever written. If it were one of my songs that I've written, it would be the song Heat of the Sun. It has morphed into something really special in the live concert. I think it gets a fantastic response from the audience, so we always have a good time playing that one.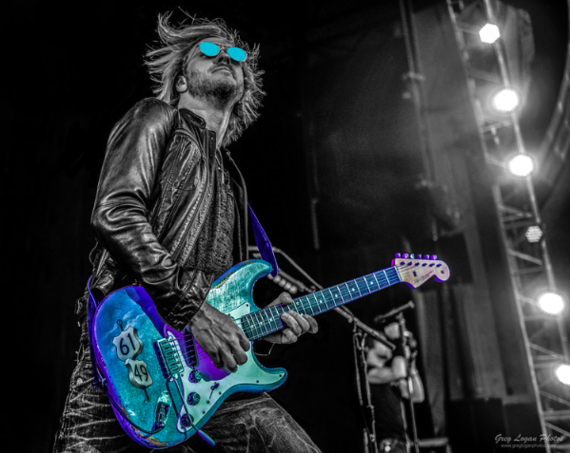 Photo courtesy of Greg Logan / gregloganphotos.com
What song throughout the history of music do you wish that you had written?
KWS: If it's not a song that I've already written, I would have loved to have written Voodoo Child.
You have played with many noted guitar players throughout your career. Have any of them given you any valuable advice? If so, what was it?
KWS: A lot of them have. Ultimately it's all been the same theme: Be true to yourself, be true to your music. Do it to the best of your abilities. Play it from your heart. Don't calculate everything. If you follow that advice, you should probably be in good shape.
What would be your words of encouragement to an up and coming guitar player who was determined to make a living as a musician?
KWS: There are a lot of things today that are available to them that we didn't have available when I was young. The Internet and YouTube--there's lots of people that get discovered because of social media and outlets like that. The bottom line is: you don't get good at anything without practicing. So you got to practice. And you have to realize that it's also a business, so take a vested interest in it. Be as interested in in the business aspect of it as you are in the music aspect.
You can see Kenny Wayne Shepherd this spring playing on the Experience Hendrix tour. For tour dates, visit: experiencehendrixtour.com
Support HuffPost
The Stakes Have Never Been Higher
Popular in the Community