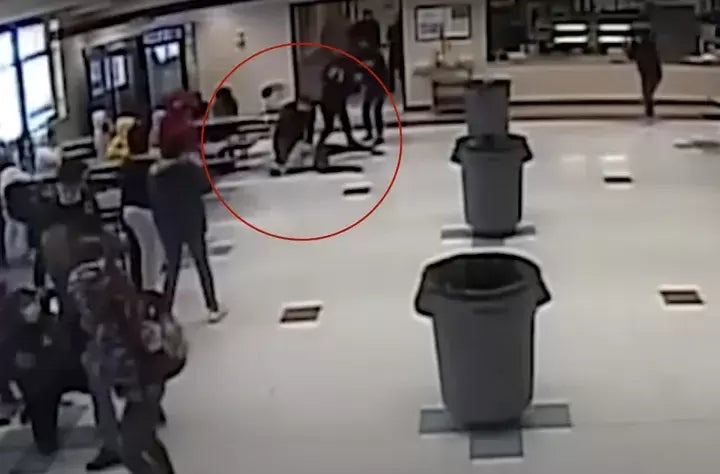 The father of a 12-year-old girl who was pinned to the floor by an off-duty Wisconsin police officer during an altercation at her middle school last year has filed a federal lawsuit against the officer, school district and city.
Jerrel Perez's lawsuit filed Monday accuses Kenosha police officer Shawn Guetschow of using "an unreasonable and unlawful use of force" while taking his daughter into custody at Lincoln Middle School in Kenosha on March 4, 2022.
Surveillance video taken inside the school's cafeteria captured Guetschow, who was working part-time as a school resource officer, pinning the girl to the floor with his knee on her neck for about a half a minute while attempting to break up a physical fight.
The police department is accused of not adequately supervising, disciplining or training its employees "with regard to secondary employment as school security officers," resulting in the officer's quick use of force. The city is similarly accused of failing to train Guetschow on how to interact with children in the school setting. The suit also alleges he was known to have a "short temper" at the time of his hiring.
The restraint left the child with a traumatic brain injury, cervical strain, and recurrent headaches, according to the complaint, which only identifies the child as "Jane Doe" due to her age. She has also suffered from emotional distress, mental trauma and anxiety that has required mental health treatment, counseling and a need to change schools, the suit says.
"Guetschow had multiple opportunities to remove his knee from Jane Doe's neck and failed to do so," the complaint states.
Wisconsin police were banned in June 2021 from using chokeholds, except in life-or-death situations, following George Floyd's 2020 killing at the hands of Minneapolis police. The law does not specify any penalties for their use, however, and leaves it up to prosecutors to determine whether any charges ― such as assault or reckless endangerment ― would be warranted.
The Kenosha Police Department declined to comment directly on the lawsuit but said in a statement Tuesday that a monthslong investigation into the incident found that Guetschow did not violate anyone's civil rights and that he did not commit a crime.
He was placed on administrative duty shortly after the incident but returned to active duty with the department on Jan. 31. He resigned from his part-time position with the school district days after the incident, citing "mental and emotional strain" on his family and a "lack of communication and or support" from the district, according to an email that was previously shared by the district.
"We have the utmost respect for our criminal justice system and the rights of citizens to lodge complaints, both at the State and Federal level," the police department said in a statement Tuesday.
Kenosha County District Attorney Michael Graveley told HuffPost on Tuesday that his office and the U.S. attorney's office both declined to file charges related to Guetschow following an FBI investigation. Graveley declined to comment on any possible criminal charges involving the juvenile.
Attorney Sam Hall, who is representing the Kenosha Unified School District and Guetschow, said Guetschow used a "trained law enforcement technique" to control the student. His office "will vigorously defend KUSD and Officer Guetschow in this action," he said in a statement released by the school district.
Hall added that Guetschow continues to recover from his own injuries sustained while attempting to break up the fight. These injuries, which he said required treatment in a local hospital's emergency room, include a concussion, significant swelling and a contusion of his head.
CORRECTION: An earlier version of this story mistakenly stated that there was a monthlong investigation into Guetschow's conduct. It was a monthslong investigation.
Popular in the Community