I had a fantastic time at Kenosha Startup Week 2017! It brought together hundreds of entrepreneurs, investors, and business leaders focused on startups, and I took the opportunity to attend a session to learn and connect with others, the session I chose was Inspiring Innovation hosted by Cassandra Polzin at Kenosha Fusion. Which was the perfect place to host the speaker forum, walls were adorned with amazing art pieces from local artists combined with exposed brick and a bar that makes amaazing margaritas what could go wrong? The event organizers Kenneth Murray and Cassandra Polzin did a great job bringing everyone together to foster passion, motivation, and innovation. I feel fortunate to live in a city with such a thriving startup community.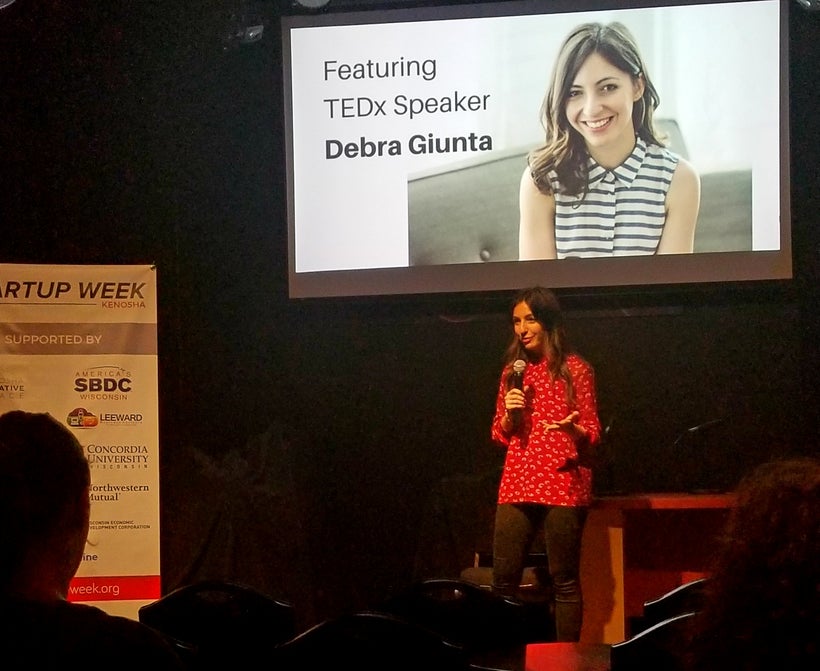 As the event began the first speaker was Debra Giunta Owner of Design Dance. She gave a inspiring and raw tale of her journey through entrepreneurship. She grew up in the south suburbs of Chicago, and has been dancing since the age of two. Debra became director of her first dance education program in her hometown at the age of 16 and has been teaching, choreographing, directing and mentoring ever since. She told a story about how she always dreamed of owning her own studio, as most of her life is been filled with big dreams. The eager entrepreneur early in her tenure signed a 5 year commercial lease, with no money saved aside. She said " I seen the vision, I knew it was going to work". She had no thoughts of failure, unfortunately 9 months into her lease she found out her building was full of mold and was forced to close. Her dreams were shattered, but she still had a purpose and kept dance at the heart of her dreams. She began a humbling experience taking side jobs as a dance instructor, her vision was never to teach dance in someone else's studio. One day after a dance class a student said to her " thank you Ms. Debbie for being here". That's when she realized she had been privileged to have dance at her fingertips the majority of her life, and for most access is not inclusive. She began to vision an inclusive dance program to bring dance education to children in all communities regardless of age, experience level, background and income through partnerships with schools and community centers. Check her out here http://www.designdance.net/staff/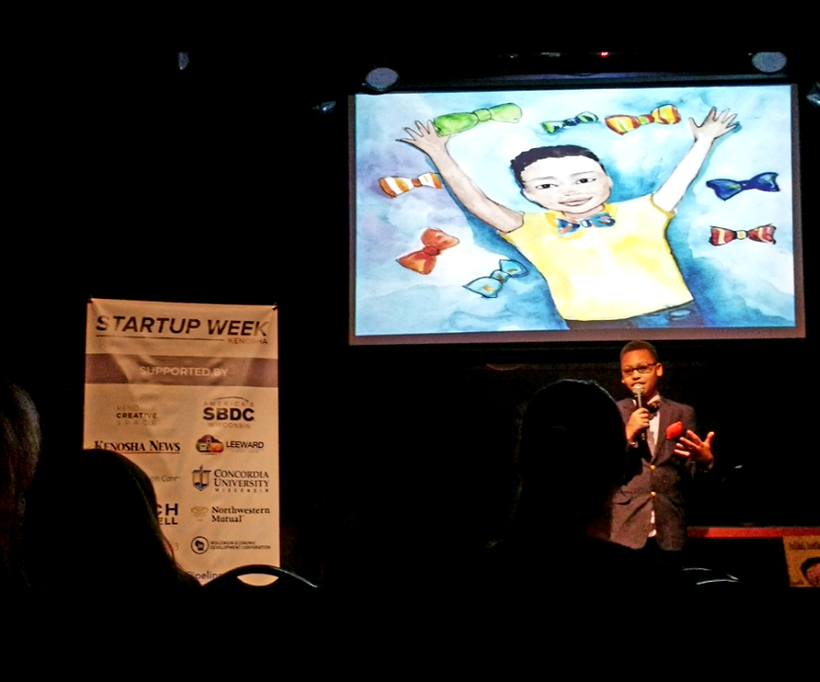 The next speaker was Alex Hart- Upendo 11 year old owner and Founder of Build-A-Bow. He founded his bowtie company at just 9 years old! He started his company after he was bullied for being smart and called names like nerd and dork, he said " I had low self esteem, I wanted to take the negative term nerd and turn it into something positive and fashionable. Bowties gave me confidence it was a way I could speak without speaking." He is also a published author of the book titled " Bullies Bowties And Brilliant Alex" written to bring awareness to bullying and inspire youth entrepreneurship. His company has a social mission that designates a portion of proceeds for his community workshop program called Build-A-Bow for a purpose . His workshop teaches people monthly for free how to design bows, the designs made at his workshops are then sent to people battling incurable diseases or being bullied. The youngest entrepreneur of the night, but full of wisdom and life! He's determined to turn Build-A-Bow into a franchise, and has already sold over 5,000 bows worldwide check him out here www.buildabowbyalex.com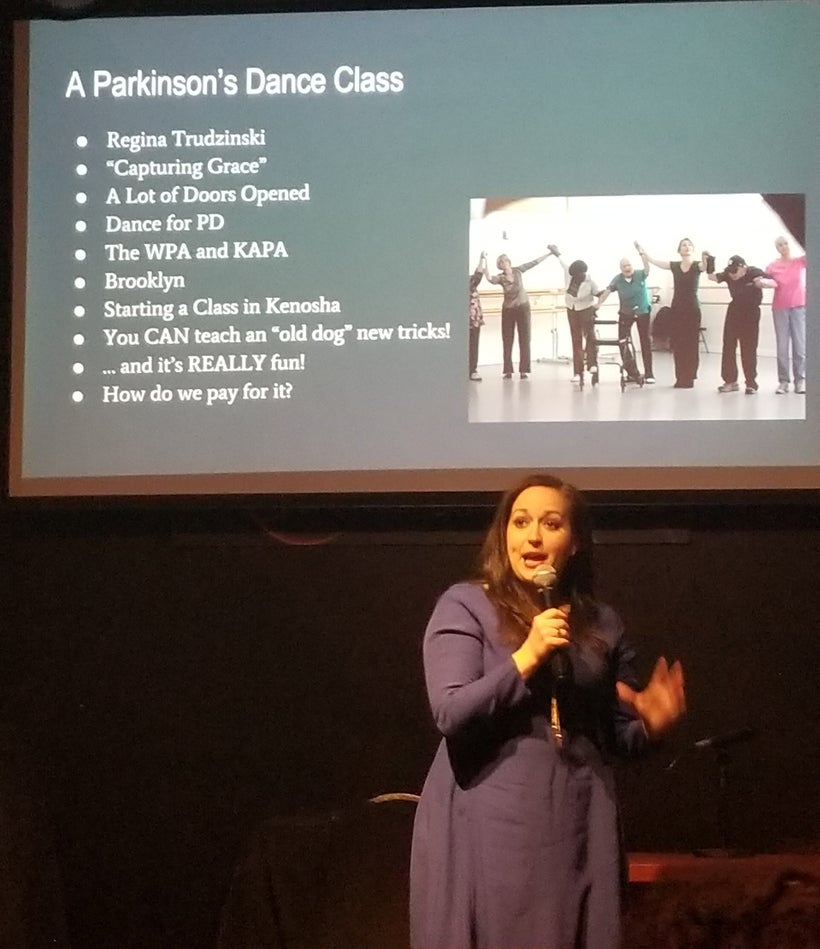 The third speaker of the night was Elly Schaaf Co-Founder of Mellen, which is fitness program centered around the ballet barre incorporating her own personal background in ballet. Mellen Movement has created and added low intensity exercises that utilize ballet positions and movements performed in a ballet class. The mission for her company was to create an environment that uplifts and promotes a positive lifestyle. During her entrepreneurship she discovered something she said " My grandmother had Parkinson's disease, she was very influential in my life. I watched this independent woman loose her ability to do things she loved". Watching her grandmother struggle was frustrating, so she created a Parkinson's dance class. Throughout the night I started to realize each of these entrepreneurs had a social mission at the base of their company's. Check her out here www.mellenmovement.com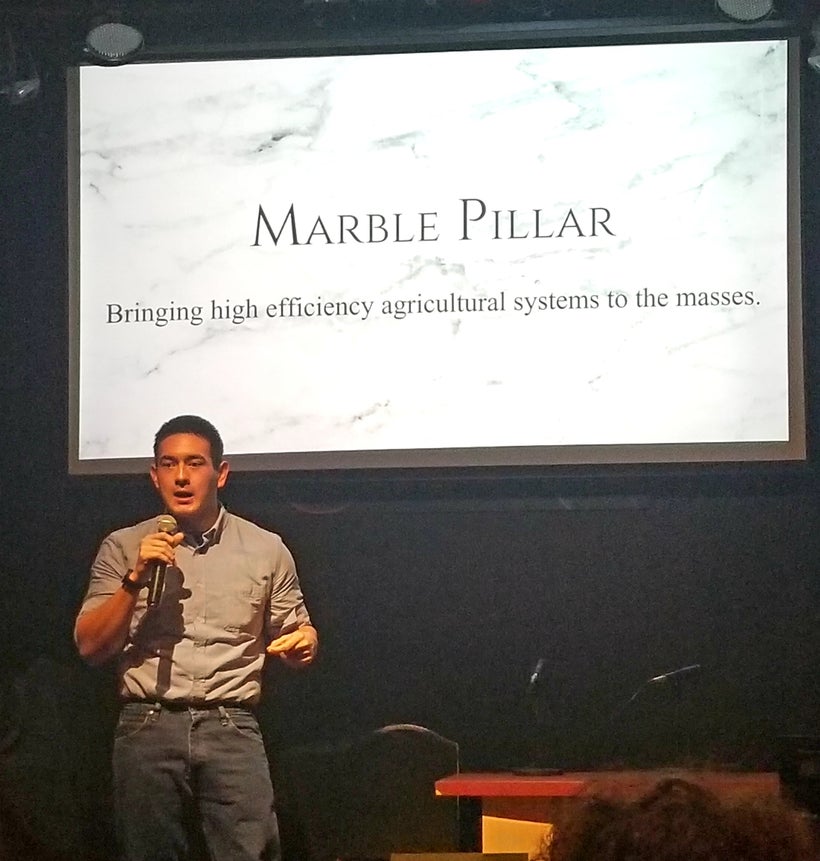 The last speaker of the Evening was Nikolai Lumpkins, the Founder of Marble Pillar which is a innovative system designed to bring high efficiency agriculture systems to the masses. He noticed a pain of growing food at a cost effective manor was almost non existent so he created Marble Pillar. He is a student at the University of Parkside a junior majoring in Bio. He said " I always had a passion for free food, in my down time I was always searching for free food which they actually have a free pizza day at my school. "
In a very humorous way, he explained how he set out to win a competition at his school called " The Big Idea" with a potential to win $2500 in seed money. He started to sketch a system he said "it was basically a light bulb surrounded on all six sides, by trapezoidal panels cut to 60 degrees. When you have six of them you wrap them around one central light source containing a support beam with fans and filters on each end. That will eliminate the need for pesticides, create a closed growing environment to eliminate light so you can use 60-80 percent less electricity to grow food. With this I can cut the cost of growing food in half ." Right now he's raising funds and has his business valued at 5 Million. This kid is going places, his personality his passion and his story made me a fan I cant wait to see him on the cover of Forbes. Check him out here www.marblepillar.com
Overall I would say it was a success, I also scanned the audience and met with other influential entrepreneurs Samantha Jacquest Owner of the pop up library Blue House Books check her out here www.facebook.com/bhbkenosha I also had the pleasure of meeting one of the sponsors for the evening Francisco Loyola Executive Director of Kenosha Creative Space a inclusive co-working space for artists check them out here www.kenoshacreativespace.com
REAL LIFE. REAL NEWS. REAL VOICES.
Help us tell more of the stories that matter from voices that too often remain unheard.
This post was published on the now-closed HuffPost Contributor platform. Contributors control their own work and posted freely to our site. If you need to flag this entry as abusive,
send us an email
.