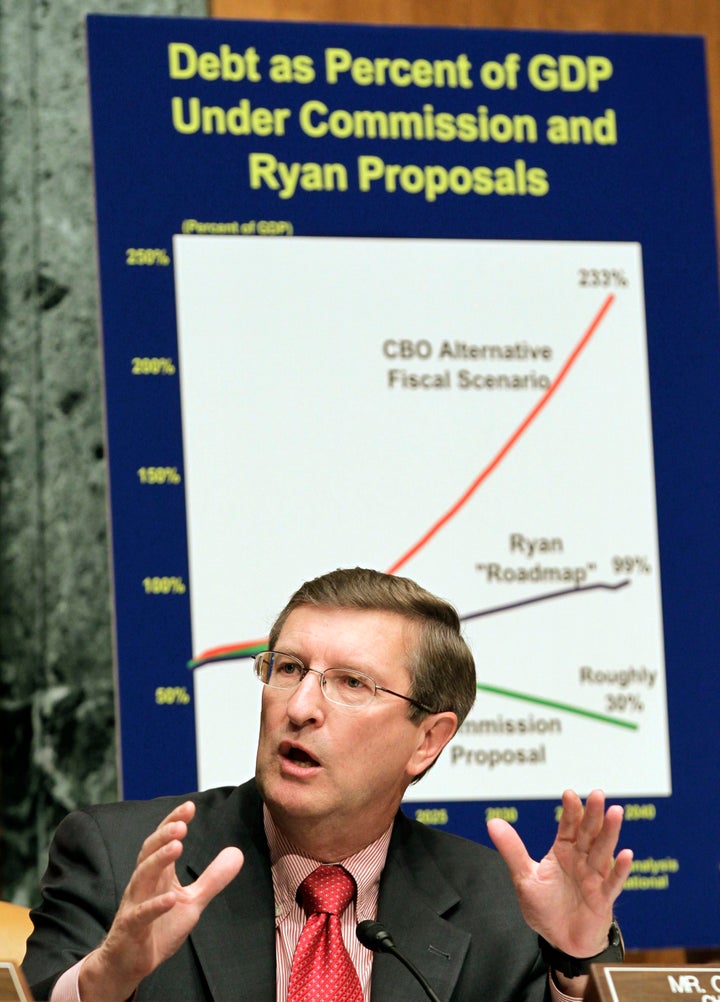 WASHINGTON -- Senate Democrats are furious at their lead budget negotiator for crafting a blueprint that they think moves the party too far to the right, a senior Democratic aide said.
Sen. Kent Conrad (D-N.D.) has been bargaining for months in secret with Republicans in the so-called Gang of Six to craft a budget that might win bipartisan acceptance. On Tuesday, Conrad abruptly dropped the veil and rolled out his own offering for party colleagues -- to brutal reviews.
"He's going to be a man without a country," the Democratic aide said, describing a contentious Tuesday briefing.
The problem for Democrats is that, rather than put down a firm Democratic marker from which the party can negotiate, Conrad has adopted a plan that resembles the work he's done with legislators across the aisle.
In bringing it forward himself, Conrad sets the starting point for the Democratic position in a more conservative spot than President Barack Obama's budget -- and that was already a compromise. Obama's plan includes a spending freeze for federal workers, among many other concessions to the GOP.
"He's setting this out like it's the official Democratic position," a Democratic staffer said. "I don't know if this can pass his own committee without major changes."
Democrats think Conrad decided release his budget before the Gang of Six because the talks were collapsing. He is hoping to salvage the work of the bipartisan group by attracting a few Republicans to the more conservative plan.
"The problem is the Republicans wouldn't agree to anything. They just keep dragging it out," the Democratic aide said referring to the Gang of Six talks.
Sen. Ben Cardin (D-Md.) said that Conrad gave no clear indication that the talks would result in a deal.
"He said that it was up and down, up and down, up and down. But I don't know whether it was up or down the last time he talked to us," said Cardin after being briefed by Conrad, who is retiring at the end of this session.
"I ask all the time," said Sen. Barbara Boxer (D-Calif.) of the halting progress of the Gang of Six. "Every day is a different story. One day I hear, 'It's great, we're going to get a deal.' The next day, they're not. So I don't know. The answer is, I honestly don't know."
One Republican, Sen. Jeff Sessions of Alabama, suggested the secretive Gang of Six work and Conrad's solo move were setting the table for a partisan food fight.
"I just think this process is going to leave us with a more partisan result than an open process would," Sessions said. He is convinced that Conrad will move forward "with or without a Gang of Six agreement."
Sessions seemed to validate Democratic fears over the starting point set by the North Dakota senator.
"I can't imagine that the Conrad budget won't be somewhat better than the president's budget -- it's got to be," he told reporters. "But [Republicans] need to look at it."
"What this is, is a draft proposal. I've been getting feedback, as you can imagine," Conrad told reporters after briefing his colleagues at a Capitol luncheon.
Conrad said that his budget closely reflects the one voted on -– and rejected by -– the president's fiscal commission. That spending plan, primarily put together by former Sens. Alan Simpson (R-Wy.) and Erskine Bowles (D-N.C.), failed to garner the needed 14 of 18 votes to move forward to a congressional vote. It would have cut roughly $4 trillion from projected deficits over a 10 year period, a number that Conrad said his plan equals.
"It borrows some of the ideas of the fiscal commission on revenue," Conrad added, saying that tax rates would be lowered. But his plan would "broaden the base" of taxpayers, he said. It would do that by eliminating certain corporate tax loopholes and special treatment for particular industries and targeting offshore tax havens.
"You would not need to raise rates. You could actually lower rates along the lines of what the commission does," Conrad said.
Conrad's plan pulls "some savings" from Medicare, he said, but does not include a specific spending target, as Republicans have called for.
A significant difference between Conrad's plan and the fiscal commission plan is that Conrad does not address Social Security, which, he noted, is on a separate budgetary track. Social Security is paid for by payroll taxes rather than general revenue, so it does not contribute to the deficit.
Conrad wouldn't comment on the state of the Six of Gang negotiations, saying that the group had agreed to stay mum.
Sen. Tom Coburn (R-Okla.), a Gang member, was less convinced his fellow negotiators were keeping their lips sealed.
"You can go get that from Conrad or Durbin," Coburn told HuffPost when asked about the status of the negotiations. "They talk to you guys all the time."
Popular in the Community