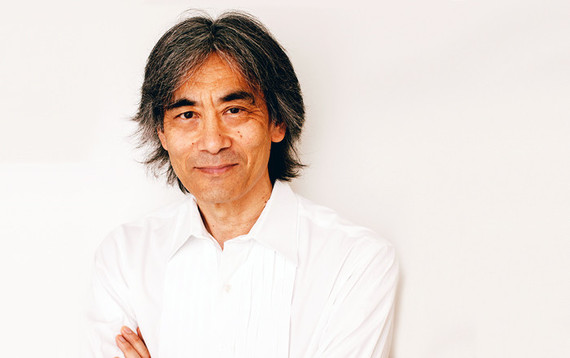 Montreal Symphony music director Kent Nagano.
By Mark McLaren, ZEALnyc Editor in Chief, October 18, 2016
This year marks a milestone for the American-born conductor Kent Nagano, now in his tenth year as music director of the Montreal Symphony. In results against which other orchestral music directors (and their boards) might not like to be scored, his tenure in Montreal has correlated with some striking accomplishments for the organization. His is not a name that floods classical music chatter. Over the years, Nagano hasn't always appeared in published shortlists. But press chatter is inappropriate and inadequate in measuring the success of this conductor who is a mix of breezy-affability and disciplined intelligence.
Throughout his career, Nagano has been a quiet force in positions with organizations that also fall below the chatter. With Opéra de Lyon, Manchester's Hallé Orchestra and Deutsches Symphonie-Orchester Berlin (and Montreal), he has won five Grammy Awards (six additional nominations) and five Diapason D'or. He has championed new opera, conducting the world premiers of Saariaho's L'Amour de Loin in Salzburg, works by John Adams (Death of Klinghoffer), and Peter Eötvös (Three Sisters) and commissioned works by Jörg Widmann, Wolfgang Rihm and Unsuk Chin. He has advocated for lesser-know repertoire like Hindemith's Cardillac, Shostakovich's The Nose, and Messiaen's massive Saint-François d'Assise (1995 Grammy nomination).
I spent time with the Montreal Symphony in August reporting on its Classical Spree summer music festival, where I found a unique organizational personality - a charming combination of fun, community, and razor-sharp quality. Montreal's reputation has always been solid (Dutoit recorded extensively with the orchestra from 1977-2002) but has been less present of late, last playing in New York in 2011. That changed last season with raves during a ten-city US tour ('This is a sound with tremendous polish but little varnish, and the result is exciting...').
I spoke with Nagano on September 7 as the Montreal Symphony opened its season. In this, the first of a three-article series, Nagano talks about his ten years with Montreal, accomplishments of the orchestra and organization, and the place that the orchestra holds within the city's community. In ZEALnyc's second installment, Mr. Nagano discusses an event quite rare for a symphony orchestra - the introduction of a new instrument (the octobass) to the Montreal Symphony in mid-October. And in our final article, Mr. Nagano discusses his work on the development and world premier of Kaia Saariaho's opera L'Amour de Loin, which makes its US debut at the Metropolitan Opera in December.
MM: Congratulations on Classical Spree, I had a very nice time.
KN: I must admit, everyone really felt so jubiliant after this year's Classical Spree. It was a little tiny milestone for us. Whenever you try to put a new idea into reality, it is a little bit tenuous for the first couple of years. And for us, we've had the very good fortune of having the community respond in a very big way, so the first four years were clearly going in the right direction. Then this past year at the festival, everyone, all the players, the audience, the public whom I spoke with, the soloists that visited us, everyone had a feeling that it was now a kind of tradition.
MM: I have to say, it was very impressive musically. It was fantastic to hear Arabella Steinbacher playing Prokofiev at 11:30 in the morning. And I was struck by the community support throughout the festival.
KN: Yes, and it is the chance for the orchestra to really spend time with, and get very, very close to our audience. We have several initiatives, because for us, it is important as a performing ensemble, that we maintain our relevance within the community. So that the community feels that they can identify with what we are doing, that they feel that the concert hall is their concert hall. Not the OSM's, not Kent Nagano's, not some international soloists, but that actually the concert hall is a meeting point for the whole community. I think that everybody felt that, and it sounds as if you could feel that too, the warmth between the community and the orchestra.
MM: Yes. Talking about the community, I wanted to hit on a few milestones over your tenure with Montreal. One of those milestones is Maison Symphonique. I understand that plans were on the drawing boards as you arrived, then came the economic crisis. Talk to me a little bit about that process and your thoughts about Maison Symphonique.
KN: Well, it was a bit of a long history behind the idea of a new concert hall. My older colleagues have told me that before I came, for something like 30 years there had been an attempt to build a concert hall. Sometimes things got so close that even a new concert hall had been announced. I think that happened twice with my predecesor Maestro Charles Dutoit. But always, for whatever reason, economic downturn, political leadership where different priorities were suddenly taken up, the hall never got built.
When I first came to Montreal, we were playing . . . I have to say it wasn't a bad hall, but it was a hall that was built for a multi-purpose function. It was a little too big for most of the repertoire, we're talking about 3,500 seats, and the accoustics were meant to hold amplification as well as ballet and opera. So naturally, as having the accoustics for the entire spectrum of classical music, it was very difficult to be specific. It was nearly impossible to play Haydn, Mozart, any of the early classical repertoire. Johannes Sebastian Bach was very difficult.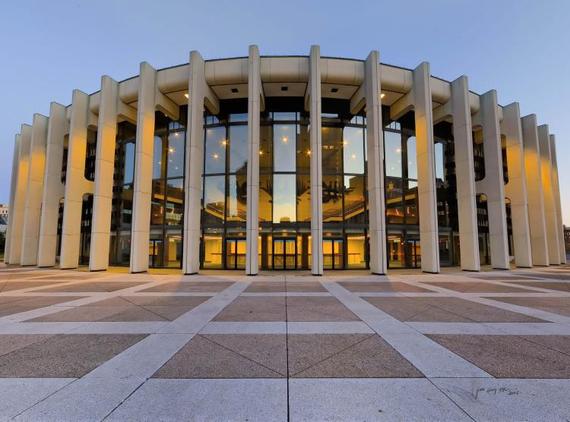 Wilfrid Pelletier Hall, Place des Arts, Montreal Canada
But we decided when, I first came, that this repertoire should not be avoided at all, that the OSM really needed to serve our community with a full range of music. So we began a very strong initiative in Mozart and Bach and Hayden. We filled the house, the older Wilfrid Pelletier hall, 3,500 seats every night. But it really was apparent to everyone that the time for a new concert hall had arrived.
I did officially make the appeal for a new concert hall before I even started. I made an address to the Chamber of Commerce, to the business community, and the business community responded very positively. And the public responded very positively. And if both of those things happen, it is much easier for the political structure to actually follow and say "yes." The community-at-large, and specifically the business community recognized that quality of life helps business recruitment. Quality of life issues help give the perception that the city is very active in its vision and in urban planning, and the communithy really did come together with the orchestra. We realized this jointly--the community, politicians, businesses, musicians, and myself. We did realize this, and I would consider that an historic milestone. It is the first real designated concert hall in Quebec.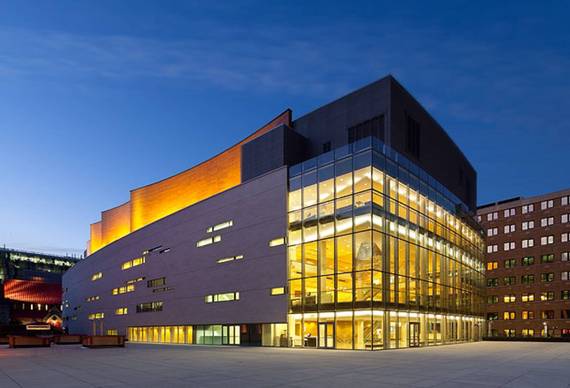 Maison Symphonique, home of the Montreal Symphony in Montreal, Canada.
Photo provided by Diamond-Schmitt Architects.
So, that was the first step. The second step was that the orchestra really needed, if we were to keep going, a highest-level symphonic choir. So we started a new symphony choir as the second initiative, and that choir has now earned the reputation as one of the world's great international choruses. We just built a choir from scratch, the Montreal Symphony Chorus.
The third initiative was, when we built the hall, we always felt it should have an organ. Quebec has quite a strong religious background, and the Catholic Church was such an important part of the Quebec area. And we have still a lot of active churches and within those churches, there has been established a very strong culture, scholarly culture as well as popular, culture of the organ. A very strong role for the organ. We wanted an organ in the new concert hall, but we ran out of money before we were able to establish it.
So that became the third major initiative. Once again, when community leaders, politicians, business community, the orchestra and myself, we all joined hands together and we successfully installed the organ two years ago. This has been a major accomplishment for the community, and it is one of the few cities that I know of that whenever we announce an organ recital, it is sold out. So it has really taken a very popular turn.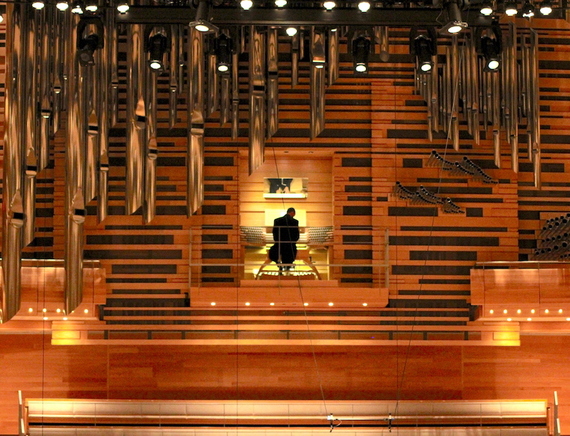 Organist Jean-Willy Kunz at Grand Orgue Pierre-Béique at Maison Symphonique, Montreal Canada August 13, 2016. Photo: ZEALnyc.
And I think that these kinds of projects, when we accomplish it together, bring everyone a little bit closer together and should be celebrated. We try to insure that no artifical walls or barriers go up so that there is not even a hint of separation or elitism or detachment between our orchestra and our community. That is especially important in the twenty-first century, and it really is not healthy for the general cultural life of a city.
So, I think what you were able to witness with us, (and we were so happy to have you), you saw what happened at the olympic stadium--35,000 people, you saw what happened at Virée Classique. Our opening concerts tonight and this week, we're repeating the program four times, you can't get a ticket to it. We are beyond sold out and I think that is the result of what can happen when everyone joins hands and works together to make the highest quality possible.
MM: It is impressive how you talk about the relationship with the community. Over the past ten years since you arrived, do you sense a change in the relationship that the community has with the orchestra, during your ten years?
KN: Well, one of the things that I think the community and the orchestra can be very proud of, is that in coming together and in making projects happen together, we've seen is a radical physical difference in what the audience now looks like.
When I first got to the city, many people on the administration staff said, '...oh dear, we have a grey-haired syndrome here...,' meaning that our audience is getting older and older. But, we decided over the course of the season, that we would never change one thing - we felt that the one thing that transcends generation is the natural human tendancy to appreciate exceptional quality.
So rather than push the bar down, we pushed the bar very, very high, where we challenge the audiences with extremely adventurous programming. We promote not only very well-known marquee international soloists, but we support young and up-and-coming soloists that our audience takes under its own wing. They feel that the young soloists belong to them, and are a part of our tradition in Montreal. The same thing with young composers.
The result, after ten years, is that the audience today--and I think you probably felt that when you came to our concerts--is so much more homoginized. All from as young as 8, 6 years old up to people who have already retired from their profession and everything in between. Families come. In short the concert hall looks like Montreal. It looks like what you see when you walk in our parks, walk on our streets. That's what our public looks like.
And I think that's been the most remarkable change, and that again, something that both the community and the orchestra can celebrate. Because that happened with everyone working together.
Look for more from ZEALnyc's interview with Maestro Kent Nagano in October, when he discusses the introduction of the octobass to the Montreal Symphony.
Later in November, we conclude our three-part series with Maestro Nagano's thoughts on Kaia Saariaho's L'Amour de Loin, an opera that Nagano played a role in developing, and which has its US premier at the Metropolitan Opera in December.
_______________________________
Mark McLaren, ZEALnyc's Editor in Chief, writes frequently on classical music and theater.
For all the news on New York City art and culture, visit ZEALnyc's Front Page.
Calling all HuffPost superfans!
Sign up for membership to become a founding member and help shape HuffPost's next chapter