 What do you do when you're a kid who has life-threatening food allergies and you have to deal with other kids who don't understand what that means exactly? Well, in my new novel, William Edwards and the Wizardly Glasses, William Edwards has friends who use their magical powers to protect him, and he learns to walk away from the people or situations that make him feel excluded.
What's it like for a real kid who has food allergies? I sat down with Kenton Duty, who co-starred on Disney's Shake It Up, for a Skype interview. He spoke with me about his experiences with food allergies and bullying and his advocacy work.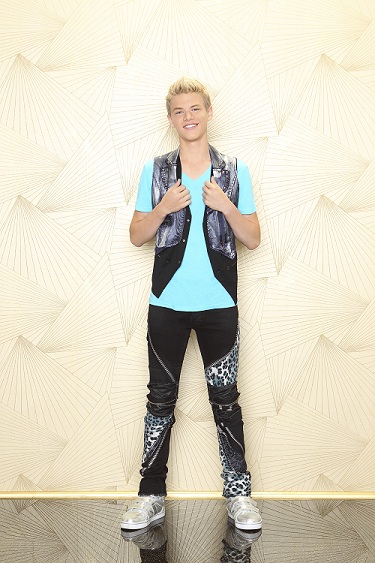 Kenton Duty stars as Gunther on Disney Channel's Shake It Up. (DISNEY CHANNEL/BOB D'AMICO. Photo used with permission.
While its easy to think that popularity, especially the kind that a Hollywood star has, would protect you against being teased and bullied, that hasn't been the case for Kenton Duty. Despite being a Disney star and having more than 200,000 followers on Twitter, Kenton Duty, who is allergic to chocolate and wheat, said, "I get bullied all of the time," from playful pestering to "full on peer-pressure, 'Eat this!'"
The American College of Allergy, Asthma and Immunology (ACAAI) recently reported that 79 percent of children with food allergies surveyed reported that they had been bullied because of their food allergy, and 57 percent of the children said that the bully harassed them or touched them with the food to which they are allergic. (The study, "Bullying Among Pediatric Patients With Food Allergies," was published in the journal Pediatrics.)
Kenton Duty has a mature understanding of his situation. He avoids eating foods to which he is allergic and carries epinephrine auto injectors, which contain life-saving medicine to self-administer if he ever goes into anaphylaxis, a life-threatening allergic reaction. He takes these protective measures despite never having had anaphylaxis, knowing that his next allergic reaction could be that severe.
"This is something that I have to live with, and this is what I need to do," he asserted.
Of course, Kenton Duty does not advise just letting go of incidents where you are teased or bullied with your food allergen. He advises kids to report these incidents to the adult in charge, whether it's a teacher, vice principal, principal, guidance counselor (most -- 80 percent -- of bullying incidences occur at school), or manager, if at work and, to your parents. He also said kids should tell their friends.
"If you have good friends, they will have your back," he said.
Still, some teens don't carry their life-saving epinephrine auto injectors with them at all times. To that behavior, Kenton Duty had this to say: "I think it's sort of a dumb way to live your life."

"You've got to take charge," he said.
In addition to carry an epinephrine auto injector, Kenton Duty urges teens like him who have food allergies to wear medical alert jewelry. He pointed out that the jewelry can "speak" for them if they are choking during anaphylaxis so that people will know what's wrong and what emergency action to take.
"[T]hat bracelet can save your life," he said.
And for those teens who do take control of their lives, Kenton Duty said that having food allergies can be a silver lining versus a cloud hanging over them. He said that he eats healthier and laughed about saving money on dates. He also said it's helped him to be with other teens who have food allergies, joking that none of them think it's strange to be allergic to chocolate. In fact, he's even kept in touch with some of the teens he met at a FAAN Teen Summit that he attended. (So, if you want to hang out with Kenton Duty and learn more about food allergies, he'll be back again at FAAN's teen summit this year in Washington, D.C.)
As for dating, Kenton Duty tells his date if she wants to kiss him, that she won't be able to eat what he's allergic to. So far, no problems.