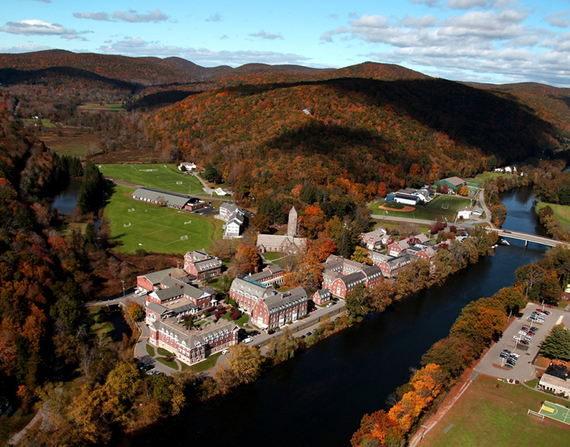 Normally the Kent School campus bustles with students of high school age but for two and a half days this summer the students were adults spending "vacation" days studying "What Comes Next" at the KentPresents ideas forum wrangling with subjects from cybersecurity to cancer to criminal justice. Conducting the lectures, panels, discussions, debates the "professors" were distinguished journalists and consultants, politicians and pundits, and winners of Nobel and Pulitzer prizes.

Conceived and carried out by Ben and Donna Rosen as a charitable enterprise to raise money for the local community and to enhance Northwest Connecticut's reputation as an intellectual and cultural destination, the ideas festival drew participants from Connecticut, New Jersey, Quebec, New York, New Orleans, and afar who mingled in classrooms, lecture halls, and social events networking and interacting. Simultaneous sessions in three different venues required participants to make difficult choices -- which topics to attend? what to miss? Here is a sampling of the variety and array of subjects that were explored.

OPENING SESSION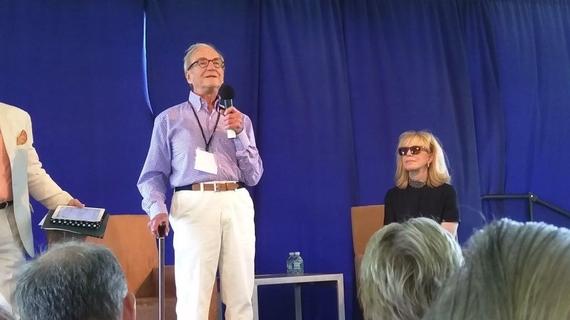 Impresarios of the ideas fest Ben and Donna Rosen greeted participants at the opening session held in a tent on the Kent School grounds.

ISLAM EXPLAINED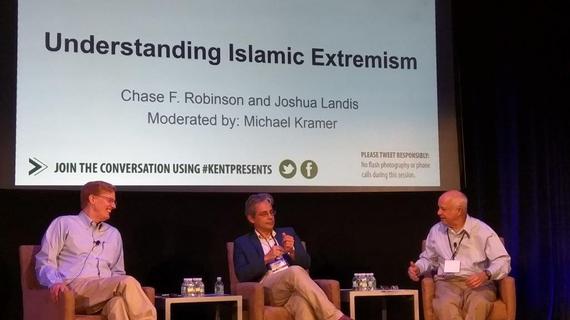 The emergence of ISIS and dilemmas of the Middle-East military campaign were explored in "Understanding Islamic Extremism" with pre-modern Middle East CUNY historian Chase F. Robinson and www.SyriaComment.com author and professor Joshua Landis moderated by journalist Michael Kramer.

ECONOMIC OUTLOOK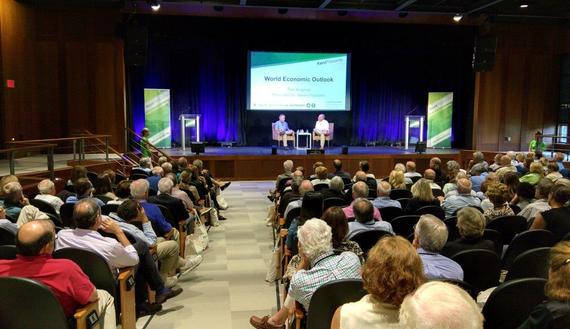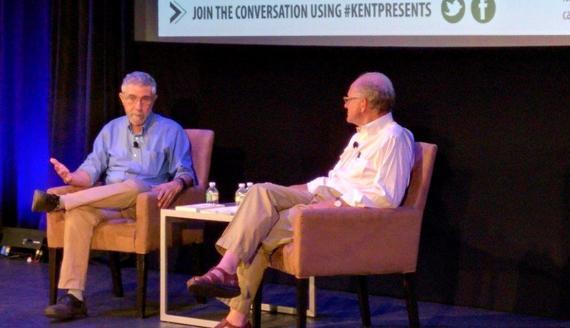 Interviewed by Steven Pearlstein of the Washington Post, New York Times columnist and 2008 Nobel Prize winner Paul Krugman forecasted "The World Economic Outlook."

IRAN NUCLEAR BILL: YES? NO?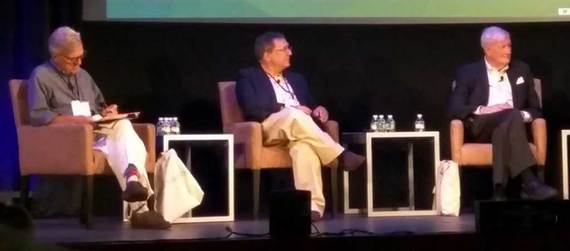 What should be the outcome of the vote on the Iran nuclear bill? Foreign affairs expert James Hoge, NY Times National Security Correspondent David Sanger, and Iran Project Director Ambassador William Luers debated the pros and cons before audience members who then voted with instant electronic devices. The audience overwhelmingly passed the bill.

2016 ELECTION ISSUES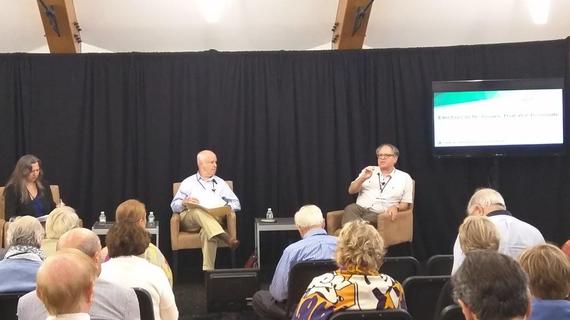 What will be voters' biggest concerns in the 2016 election? Political science professor Janet Gornick and journalists Michael Kramer and Nicholas Lemann discussed "Election 2016: Issues That Will Dominate."

DECIPHERING DNA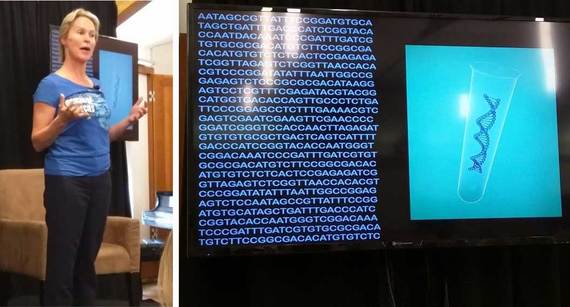 Frances Arnold describes the laboratory process she pioneered of dissecting biological molecules and recombining them into new ones to mimic Darwinian evolution.

LANDMARK PRESERVATION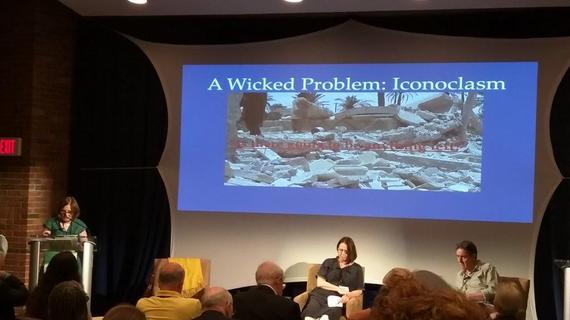 Writer Judith Dobrzynski led the panel on the challenges and dilemmas of "Preserving Our Cultural Heritage" with digital conservation technology expert Adam Lowe and Bonnie Burnham, President of the World Monuments Fund.


2016 BALLOT CHOICES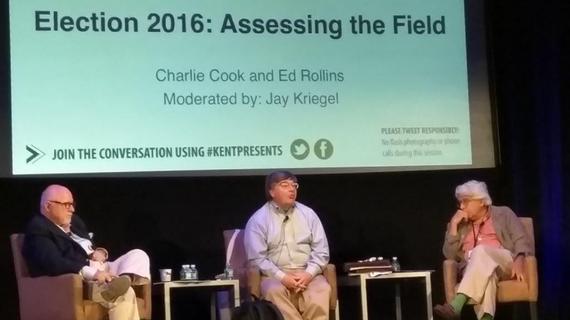 What names will we confront on the ballot in the 2016 election? Political consultant Ed Rollins and Cook Political Report editor and analyst Charlie Cook mulled over the possibilities with political analyst Jay Kriegel moderating

CANCER CONCERNS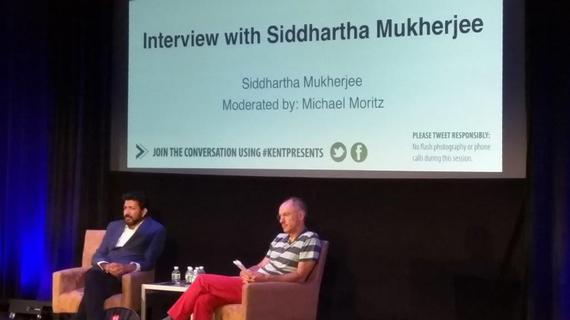 2011 non-fiction Pulitzer Prize winning author of "A Biography of Cancer" Siddhartha Mukherjee discussed cancer research developments in conversation with Michael Moritz, Chairman of Sequoia Capital.

INNOVATIVE TECHNOLOGIES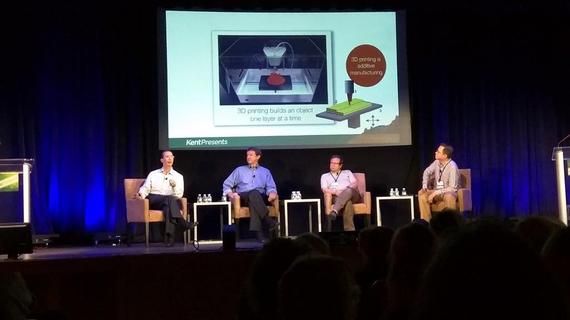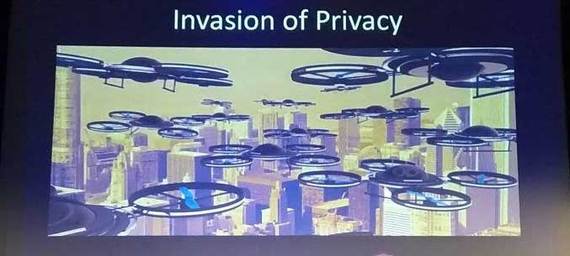 3D printing was discussed in one of two sessions on "Disruptive Techologies" which also touched on the data torrent, biotech, wearables, energy storage, drones, cryptocurrecies.

ART SCENE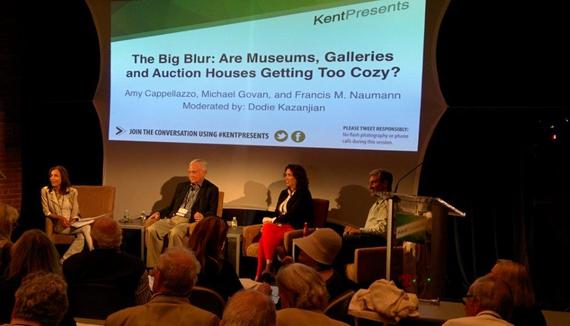 The increasingly complex ties among museums, galleries and auction houses were the focus of a session conducted by author Dodie Kazanjian with New York gallery owner and author Francis Naumann, Art Agency Partners founder Amy Cappellazzo, and LACMA Director Michael Govan .

MUSEUM QUESTIONS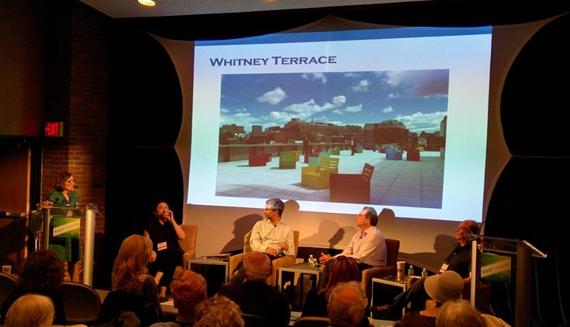 The complicated construction projects and display challenges of contemporary museums and the efforts to fund them were topics at "21st Century Art Museum: Better or Worse?" moderated by art critic Judith Dobrzynski, New Orleans Museum of Art Director Susan Taylor , LACMA Director Michael Govan, Richard Olcott of Ennead Architects, and New York Magazine art critic and columnist Jerry Saltz .

RATING PRESIDENTS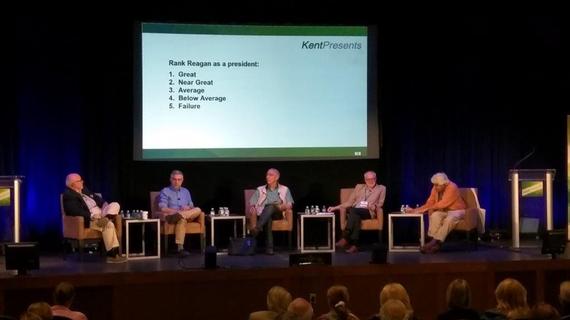 In a lively session pitting Republicans vs. Democrats, author Dan Kevles moderated as political consultant Ed Rollins and NY Times Nobel Prize laureate Paul Krugman debated with history professor David Nasaw and political analyst Jay Kriegel arguing the pros and cons of Ronald Reagan and LBJ. Audience members pressed buttons to record their evaluations before and after each presentation. Concluding with a vote evaluating the current president, Obama ranked high.

MORRIS vs. BUCKLEY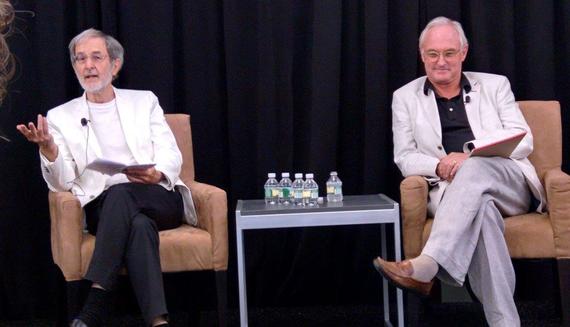 In the light hearted session "Morris vs. Buckley, The Gipper vs. the Veep" Pulitzer Prize and National Book Award author Edmund Morris and Thurber Prize humorist Christopher Buckley traded anecdotes gleaned when they were writing about and working with President Reagan and Vice President George H.W. Bush.

KISSINGER VIEWS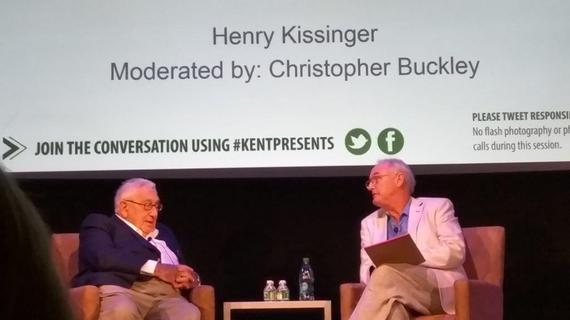 Former Secretary of State Henry Kissinger discussed the state of the world and reminisced with family friend Christopher Buckley.

BEHIND THE MUSIC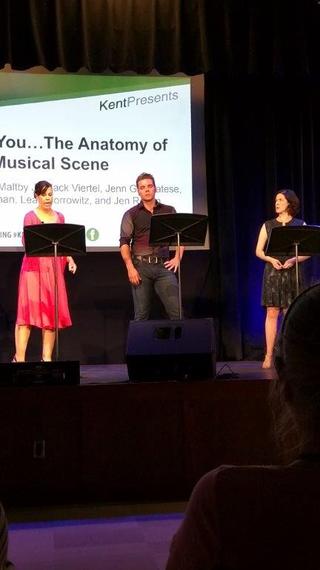 Actor/singers presented the pivotal "bench" scene from the great American musical "Carousel" before it was explicated and illuminated by Tony winner director Richard Maltby, Jr. and Jujamcyn Theaters vice president Jack Viertel.

PRESENTER'S BOOKS FOR SALE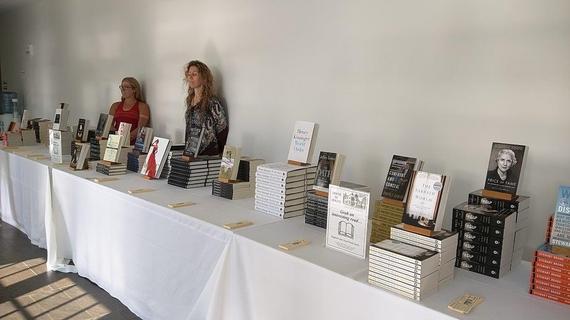 Books authored by the many presenters were on sale for participants.

EXCHANGING VIEWS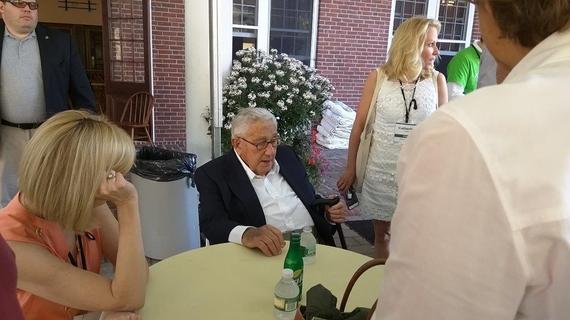 Between sessions, participants interacted with former Secretary of State Henry Kissinger and other presenters.

LUNCH LINE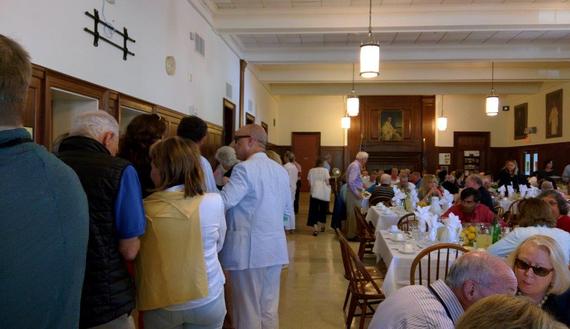 Mealtime line ups in the dining hall were reminiscent of old school days. Quinoa salads, grilled salmon, fruit compotes prepared by the Kent School chefs were healthy and tasty.

GALA FRIDAY EVENING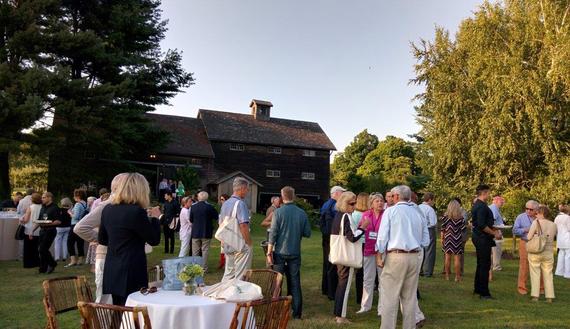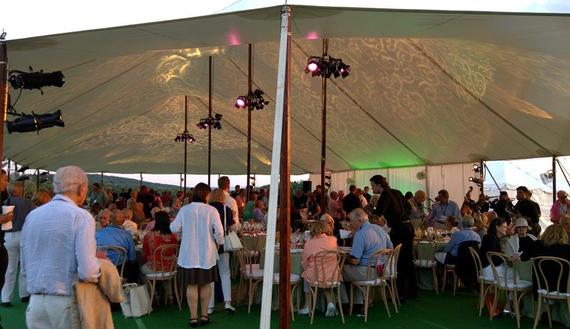 Friday concluded with an elegant reception and dinner on Skiff Mountain overlooking the hills of Connecticut.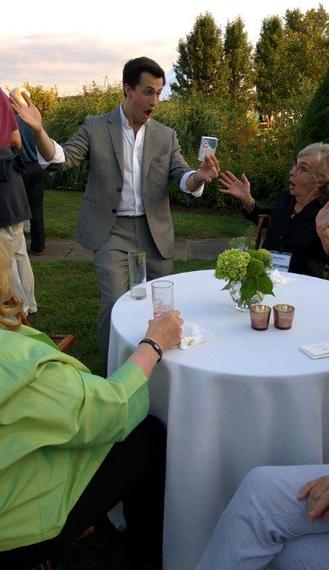 A wandering magician with card tricks matched wits with guests. Later in the evening dinner guests were treated to a performance of political satire by "The Capitol Steps."

IDEAS FESTIVAL CONCLUDES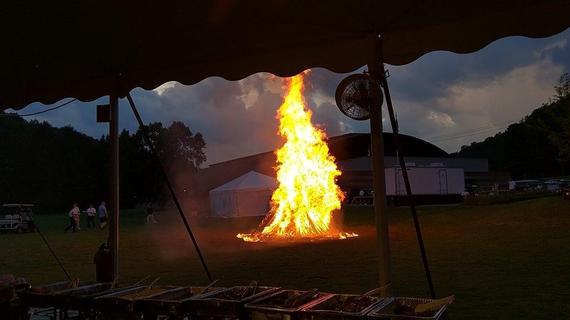 A towering bonfire illuminated the barbecue which concluded the provocative and inspirational holiday voyage to discovery.