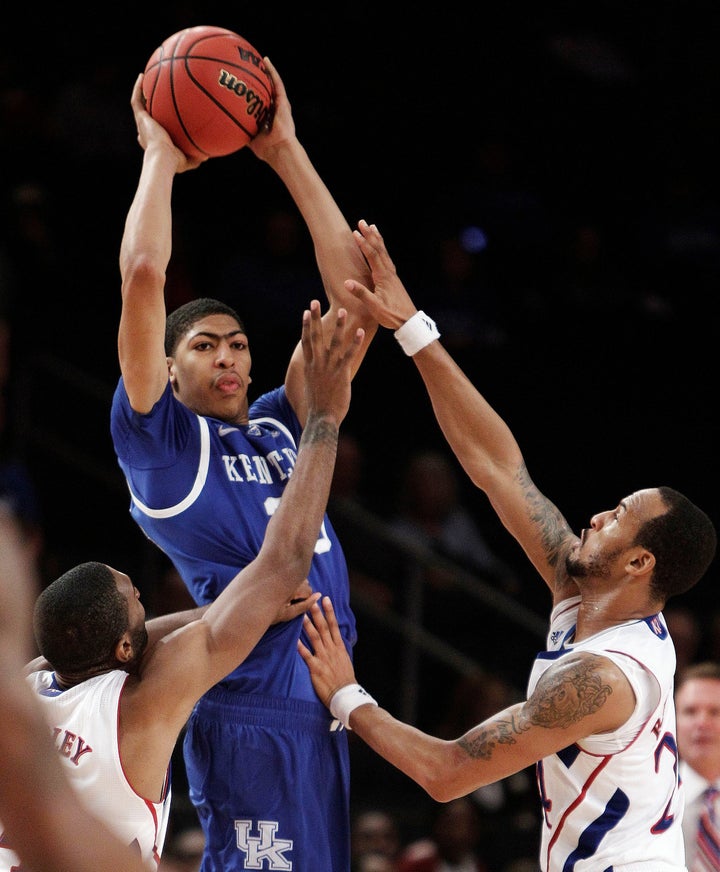 NEW YORK -- In watching Kentucky manhandle Kansas at Madison Square Garden Tuesday -- as much as I love Doron Lamb and Terrence Jones -- it was impossible not to be wowed by freshman Anthony Davis.
Davis is that rarest blend of guard skills powering a 6'10" body. Sure, he's still learning. As a slow-footed junior guard in high school, he was barely 6'3" and barely garnered looks from Division III colleges. In less than a year though, he grew nearly eight inches and became the No. 1 high-school player in America. And just three games into what will surely be a one-year career at the University of Kentucky, Davis is already proving his worth.
Tuesday, against a preseason first-team All-American in Kansas power forward Thomas Robinson, the much leaner Davis used his quick feet and apt timing to alter and block Robinson's shots around the rim. The Kansas junior tried to maneuver around the baseline, deploying his strength and a bundle of drop-step countermoves, but Davis matched him every step.
Aside from the obvious rebounding appeal, I was most impressed with Davis' push to dominate a game defensively. His impeccable timing led to seven blocks (he's averaging six per game) and a boatload of altered shots around the rim, making it nearly impossible for the Jayhawk guards to finish in the lane. If he can put on 15 pounds of muscle -- he's still very frail -- then Davis could become a shutdown defender both in the paint and at the high post. In some respects, he reminds me of Tyrus Thomas at LSU -- a very fluid athlete who runs the floor, finishes above the rim and blocks shots.
Offensively Davis remains a work in progress, but there's no question he possesses enough natural ability to eventually flourish. Not unlike other 18-year-old big men, he's very raw with his back to the basket, instead drifting to the perimeter for spot-up situations or pick-and-pop opportunities. What impressed me early, however, was that he forced himself back inside after he missed a couple of jumpers. This turned out to be a great decision. Lurking around the rim all game, he finished a flurry of dunks both in transition, off alley-oops and by crashing the glass. One Kentucky fan told me Davis registered 10 dunks (out of 12 field goals) against Marist last week. I'm not sure he didn't get very close to that number once again versus 11th-ranked Kansas.
All in all, there is plenty to love about Davis and very little to dislike. Yes, he's soft at times, doesn't have a go-to move and is still growing into his suddenly very tall frame, but for a guy just learning how to play power forward/center, he has all the tools to become a superstar. NBA general managers and coaches love upside even more than production in young players, but quite honestly, Davis -- who is averaging 18.5 points per game and eight rebounds -- has both. With an absurd 7'4" wingspan, he's a factor just being there. Once he develops his body and post skill set, his natural guard talents will allow him to contribute all over the floor. And because he runs the court so well, he's already an anomaly in terms of a big man who thrives in an up-tempo system.
As fantastic as Florida's Bradley Beal and Duke's Austin Rivers are, there is not a more influential freshman in the country right now than Anthony Davis.
Click here for my full evaluation of Austin Rivers.
Email me at jordan.schultz@huffingtonpost.com or ask me questions about anything hoops-related at @206Child for my upcoming mailbag.
Plus, check out my new HuffPost sports blog, The Schultz Report, for a fresh, daily outlook on all things sports, and listen to my radio spot on 1280 The Zone every Friday night at 6:25 EST.

Calling all HuffPost superfans!
Sign up for membership to become a founding member and help shape HuffPost's next chapter