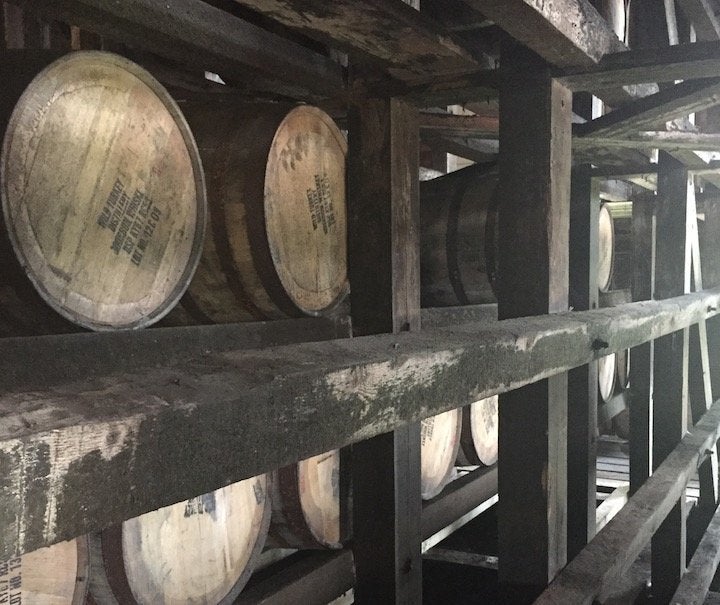 Bourbon whiskey continues to trend upward, as more and more drinkers eschew clear and imported spirits for a taste of the iconic brown liquor.
Production, says the Kentucky Distillers Association, has increased more than 170 percent since 1999. At 1.3 million barrels, production in 2014 reached its highest mark since 1970.
That's one big Kentucky hug.
But pretend, for a moment this has less to do with Mila Kunis than it does tradition and a history we can touch, taste and smell — the indubitable angels' share, as much as 40 percent of the aging whiskey escaping from each barrel, stacked high in the rickhouses, through evaporation.
It can be argued, by me anyway, it's that smell, that unforgettable bouquet of Bourbon that makes the Kentucky Bourbon Trail a path worth taking.
Eight distilleries, members of the Kentucky Distillers Association, formed the Kentucky Bourbon Trail in 1999, an experience juxtaposing the history at Woodford Reserve with the ultramodern Evan Williams Experience.
Excuse my informal language, but that's what makes the Kentucky Bourbon Trail so damned cool. It's becoming a trail well worn, the proverbial beaten path, which could become even busier should Kentucky pass Senate Bill 11, allowing distilleries to sell cocktails on site, among other things.
Last year, distilleries on the Kentucky Bourbon Trail and the Kentucky Bourbon Trail Craft Tour recorded 900,000 visitors, reported the Lexington Herald-Leader, citing the KDA.
But before you go stomping off to Kentucky and shelling out a few bucks for a tour, remember you'll taste Bourbon in its naked, unadulterated state — warm and straight. If that turns you off — don't know why it would, but — here are a few things to keep in mind to ensure a once-in-a-lifetime adventure:
Each bourbon tasting is accompanied by a special, truffle-like piece of chocolate, made with a distiller's signature bourbon. Stock up at the gift shop and save some for special occasions; they're that good.
Get the connoisseur's tasting at Heaven Hill, Bourbon Heritage Center
We found ourselves in a small group, so it became a more personal experience. Visitors also get to taste some really great Bourbon — stuff that goes for close to $300 a bottle, such as a 23-year-old single barrel Elijah Craig and small-batch-bottled-in-bond William Heavenhill.
One trail, diverse and amazing tours
With eight distillers making basically — I said basically — the same product, the potential for repetition and monotony seems inevitable. But each tour is unique, entertaining in its own way, replete with smart tour guides to help as through a complex, celebrated and sometimes notorious history of this close-knit community. Tastings are often available, sans the full tour. Jim Beam offers self-guided tours — for free. It's a nice little walk, which conveniently ends at the tasting room. The downside is you get just two tastes, so take a partner who doesn't mind sipping after you, or vice versa.
Not all of Kentucky's distilleries, including Buffalo Trace in Frankfort and Barton 1792 in Bardstown, are part of the trail. Buffalo Trace, which now owns the legendary Pappy Van Winkle brand, is near Wild Turkey and Four Roses. So, by all means, go off-road. If you have time — and even if you don't — check out the KDA Craft Tour, featuring 10 smaller distilleries.
Alltech's Lexington Brewing and Distilling Co., which makes Town Branch bourbon, also — as its name implies — makes beer, which is aged in, you guess it, used Bourbon barrels.
If the whiskey seems a bit to hot for your liking, simply add a splash of water, which changes the character and complexity. It's there, so use it if you must. Booker's, from the Beam family, can reach 120-proof — no gauging here. Check out some tasty barbecue in the nearby smokehouse, then go have another taste, or two.
See more from John Trump here.