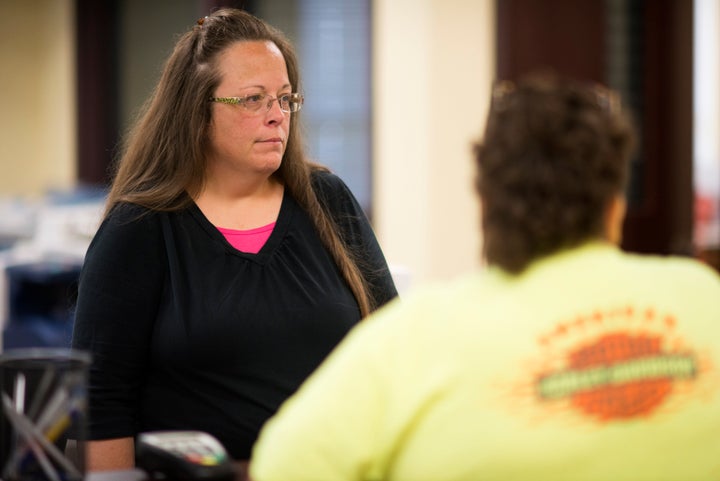 WASHINGTON -- The Kentucky county clerk who refuses to issue marriage licenses to same-sex couples said in a court filing on Wednesday that it's "impossible" for her to authorize these marriages and she should not be punished.
After the Supreme Court legalized same-sex marriage in June, Kentucky Gov. Steven Beshear (D) ordered county clerks in the state to uphold their oaths and follow the law. Rowan County clerk Kim Davis, who has been married four times, refused. After she was sued in federal court for her noncompliance and ordered to issue marriage licenses to all couples in the county, she refused again. After she sought a delay of that order and lost, she brought her plea all the way to the high court, which on Monday effectively required her to comply. She has since continued to defy the order, citing "God's authority."
The same-sex couple suing Davis asked the U.S. District Court for the Eastern District of Kentucky on Tuesday to hold her in contempt. They didn't ask the judge to throw Davis in jail -- there is outside concern she may be perceived as a martyr and inspire copycats -- but instead urged the court to "impose financial penalties sufficiently serious and increasingly onerous" to make her comply.
In a court filing on Wednesday, Davis argued that she cannot authorize same-sex marriage licenses because the action "irreparably and irreversibly violates her conscience." She also claimed that if the court holds her in contempt, the action would violate her due process rights.
Davis presented a number of ways that same-sex couples could get married without her participation. Among her suggestions were modifying Kentucky's marriage license form to remove her name and the "personal nature of the authorization" and getting a neighboring county clerk to issue licenses. Davis also suggested that Kentucky call a special legislative session to address the issue.
She should not be fined, Davis argued, because she has "not been afforded all of the requisite constitutional protections for those facing criminal allegations," including a jury trial.
Davis is scheduled to have a hearing on Thursday. Attorney General Jack Conway's office is also reviewing a request for a special prosecutor to be appointed to look into the case, a spokeswoman said. Kentucky law makes it difficult for Davis, an elected official, to be fired.
"The law is clear and the courts have spoken. The duty of public officials is to enforce the law, not place themselves above it," said Steven Shapiro, legal director of the American Civil Liberties Union in a statement on Tuesday.
Cristian Farias contributed reporting.