The defiant Kentucky clerk who has doubled down in her determination not to grant marriage licenses to same-sex couples can't be fired for refusing to do her job.
On Tuesday, after the U.S. Supreme Court turned her away, Rowan County clerk Kim Davis again declined to grant those licenses, insisting that she was acting "under God's authority." So what happens next?
Kentucky law largely shields an elected official like Davis from being forced out of her post. Until the next election, when the voters can boot her, she can be removed only through impeachment by the state legislature.
That's a messy, lengthy process that has rarely been pursued in Kentucky. The simpler alternative, as Gov. Steve Beshear (D) told another recalcitrant clerk, would be for Davis to either issue the licenses or resign. But even the governor is legally powerless to make her resign.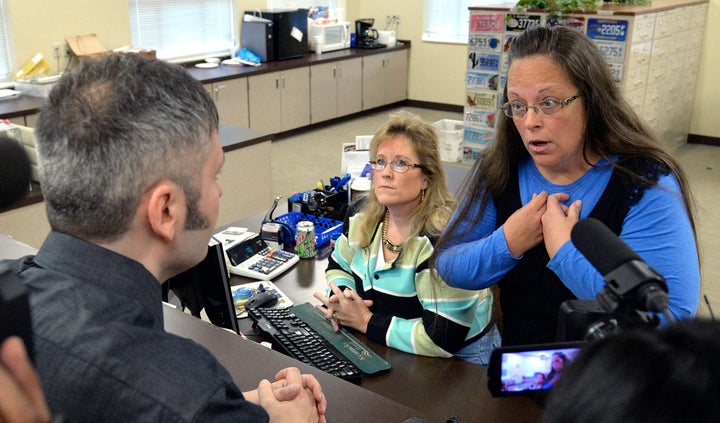 There are other ways to penalize her for shirking her official responsibilities.
Kentucky civil rights attorney Joe Dunman -- who was involved in Obergefell v. Hodges, the Supreme Court case that legalized same-sex marriage nationwide -- explained in July that the state executive branch could seek charges against Davis. 
"It is a crime in Kentucky for a public servant to intentionally refrain from performing a duty imposed upon him or her by the law," wrote Dunman in Insider Louisville.
Some state lawmakers hope to stymie that legal process. In anticipation of potential criminal repercussions for Davis and other religious objectors, they are weighing bills that would grant religious exemptions to public officials opposed to same-sex marriage.
The prospect of such a carveout raises other constitutional issues, Dunman noted. For one, the clerks in question took an oath to uphold the Constitution and the laws of the United States and Kentucky. When "they're at work, they're not acting as private individuals. They're acting as the government," he wrote. 
That was precisely the reasoning the U.S. Court of Appeals for the 6th Circuit adopted last week when it ruled against Davis and told her she had "little or no likelihood" to win her case in her official capacity.
Like Davis, the plaintiffs who first sued her in federal court are also not giving up. They're pursuing a contempt action before the judge who effectively ordered her to issue marriage licenses to straight and gay couples alike. On Monday, the Supreme Court refused to intervene and delay the judge's order.
So Davis could ultimately face consequences in civil or criminal court. Or maybe political consequences before the Kentucky legislature or the electorate.
Just don't hold your breath if you hope to see her get fired like anyone else would be.
Calling all HuffPost superfans!
Sign up for membership to become a founding member and help shape HuffPost's next chapter