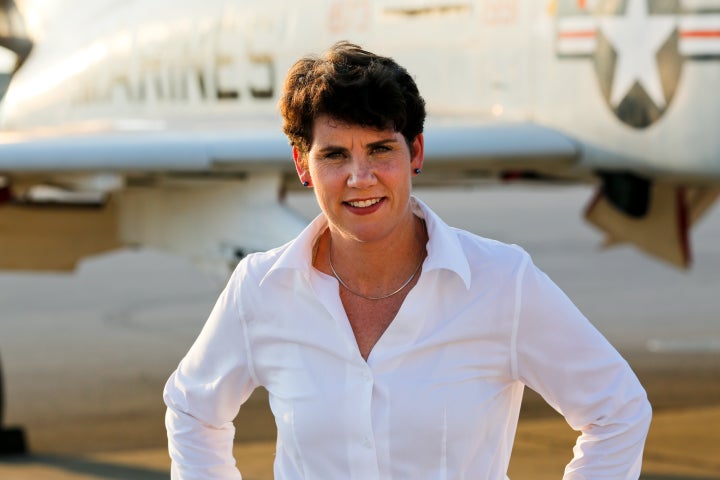 UPDATE: May 22 ― Retired fighter pilot Amy McGrath won Tuesday's Democratic primary in Kentucky's 6th Congressional District, defeating Lexington Mayor Jim Gray.
LEXINGTON, Ky. ― Amy McGrath's campaign for Congress hadn't even officially started, and it was already broke.
Last June, the former Marine fighter pilot retired from the military to move home to Kentucky and launch a political career. McGrath is everything a national Democratic campaign official would want in a new candidate ― she is a woman and a veteran, and while she isn't a small business owner, her husband is. Still, she struggled to win over Democratic Party insiders in Kentucky and Washington, most of whom were waiting for Jim Gray, the popular mayor of Lexington, to decide whether he would pursue Kentucky's 6th Congressional District seat instead.
So in July, with a bit of money in the bank and desperation beginning to set in, McGrath's campaign manager, Mark Nickolas, decided that he had to do something crazy. He told McGrath, who hadn't yet unpacked from her move, to dig her bomber jacket out of a box. He took his fledgling candidate to Lexington's Blue Grass Airport, stood her in front of a fighter jet, and told Mark Putnam, the ad man who has made Democratic candidates from Missouri to Wisconsin go viral, to start filming.
The ad that resulted told a simple story: As a child, McGrath begged her congressman to help overturn the military's ban on women in combat, to no avail. But the Pentagon reversed course when she was in high school. She enrolled in the U.S. Naval Academy, joined the Marines and became the first woman to ever fly an F-18 fighter jet in combat.
McGrath relates this anecdote over b-roll of soaring jets, with a quick departure to point out that Republicans want to take away Kentuckians' health care. You could discern the message of the commercial all the way from Paducah: McGrath is a woman and a fighter, and she won't be deterred from achieving her goals.
When Nickolas answered his cell phone on the morning of Aug. 1, 2017, the day he planned to launch the ad, the voice on the other end had bad news: McGrath had raised just $50,000 so far. The ad had cost $57,000. Her campaign was $7,000 in the red, and she'd barely said hello.
"I thought to myself, 'Did I just destroy her career?'" Nickolas said.
On the contrary: Over the next three days, McGrath became a national political sensation, a symbol of the wave of Democratic women running for office in the age of Trump. Comedian Sarah Silverman called her a "badass" on Twitter. Chelsea Handler invited McGrath to appear on her show. More than 1 million people watched the video, and money ― lots of money ― began rolling in: McGrath raised more than $340,000 in the 72 hours after the commercial first aired.
What the ad didn't do, however, was win over national Democrats ― namely, the Democratic Congressional Campaign Committee, or DCCC, which continued to recruit Gray. Neither did it push Gray out of the race: When he finally declared his candidacy in December, Gray held, according to McGrath's own internal polling, a 40-point lead.
But handshake by handshake, McGrath quickly narrowed the gap. Going into Tuesday's primary, she was either fast on Gray's heels or out in front, depending on whose polling you believe, and the DCCC has quietly taken the position that either Democratic hopeful will have a strong chance to beat Republican incumbent Rep. Andy Barr in November.
"I think people are hungry for new leaders, and a new generation of leaders. They're tired of the old guard. They want folks who aren't hand-picked."
Ideologically speaking, there is little daylight between McGrath and Gray. The distinction between them lies mainly in affect and strategy, with McGrath continuing to push an outsider vs. insider narrative of the primary even as she seemed to become at least some of the insiders' preferred candidate.
While she may well lose her primary, McGrath's campaign contains some lessons for a party desperate to flip districts like this one. She unabashedly pandered to the sort of discontent that swept President Donald Trump into office, but she took care to hitch it to issues like jobs and health care — particularly to the efforts of her state's senior senator, Republican Mitch McConnell, to "take health care away from over a quarter-million Kentuckians."
Grievance plus stuff. Stick that on your lawn sign.
The challenge facing McGrath's campaign was immediately evident for any visitor to her campaign office near the University of Kentucky's campus in Lexington. Her opponent had headquartered his 2016 campaign for Rand Paul's U.S. Senate seat out of the same office; across the drive, a small house still had a "Gray for U.S. Senate" campaign sticker plastered on the front door.
And though McGrath's initial ad had garnered her national attention, Gray still seemed like an obvious front-runner in the early months of the race: He is the mayor of the district's biggest base of reliably Democratic votes and oversees a city with a 3 percent unemployment rate. He won the 19-county area by three points in the Senate race against Paul. And in a year when the DCCC is going for broke trying to gain the 24 seats it needs to regain the House majority, Gray is a bit of a luxury: a wealthy businessman in a marginally competitive district who has the ability to relieve financial pressure on the national party by self-financing at least part of his campaign.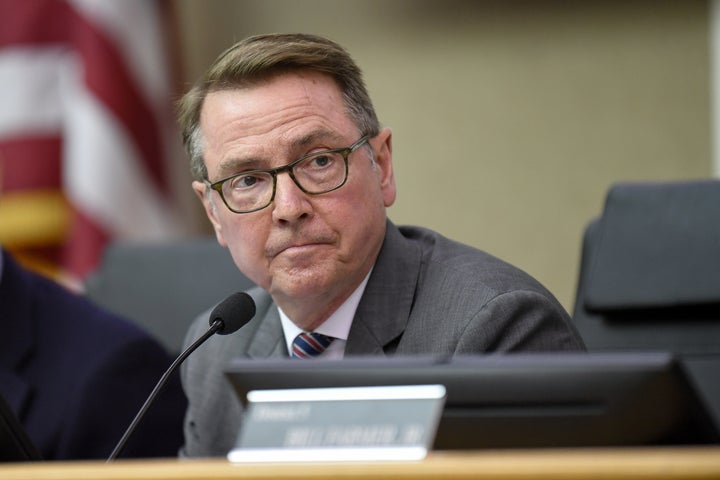 Gray also comes with progressive bona fides: A popular mayor who's transformed Lexington, he supported removing the city's Confederate statues; he's a small-town Kentuckian who helped turn his family business into a construction giant; he's viewed favorably by 77 percent of primary voters. He supports raising the minimum wage to $15 an hour and expanding Obamacare; he touts a record of targeting utility monopolies that would seem to fit neatly into the new Democratic antitrust agenda. A win in the primary and again in November would make him the first openly gay congressman in Kentucky's history.
But what would ordinarily be a compelling biography instead became something of a liability in an election year that has thus far favored political outsiders ― especially when they're women. In Virginia, Pennsylvania, Nebraska and beyond, insurgent female candidates have knocked off more established opponents with stronger-on-paper political resumes, feeding off the sense that Americans (and especially Democrats) want a new generation of political leaders to emerge.
So what Gray and national Democrats saw as strengths, McGrath and her team instantly pegged as weaknesses. Without much room to differentiate herself on the issues, McGrath instead chose to paint Gray as a favorite son of the national Democratic establishment, the hand-picked choice of Washington rather than of central Kentucky.
"I think people are hungry for new leaders, and a new generation of leaders," she said. "They're tired of the old guard. They want folks who aren't hand-picked."
The characterization isn't exactly accurate: Aside from the Senate run, Gray's entire political career has been spent on the Lexington city council or in the mayor's office, and he's hardly been a prominent voice in statewide or national Democratic politics. But by playing up her status as an outsider ― a veteran, a mother, a woman, three things she says there aren't enough of in Congress ― McGrath's narrative has taken hold nonetheless, and her calls to shake up Congress have resonated strongly against Gray's safer, duller call to "send some adult supervision to Washington."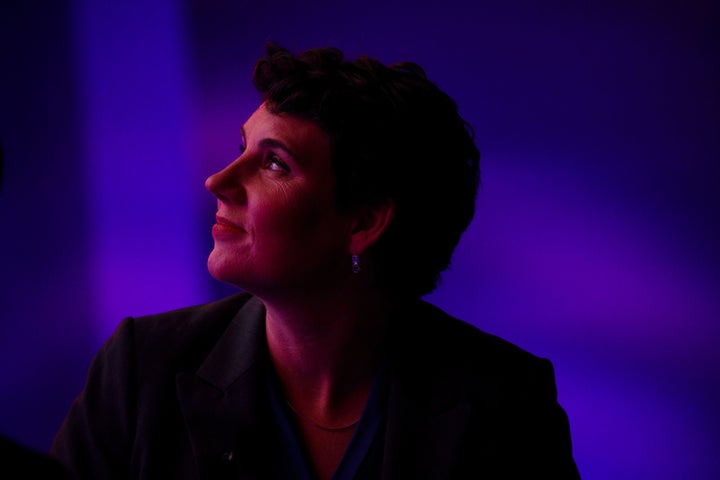 Yet as McGrath's national profile grew after her first ad, she remained relatively unknown and perhaps even a little suspect to Kentucky voters. A native of Edgewood in northern Kentucky, she'd never lived in the central part of the state and had only relocated to the district in June, upon retiring from the U.S. Naval Academy.
(Gray attempted to punch back on this point in the race's closing days, releasing an ad that hit McGrath for only recently moving to Kentucky. But groups like VoteVets, a nonprofit that promotes veteran candidates and their issues, have slammed the ad as an attempt to "swift-boat" McGrath's campaign.)
Even before Gray entered the race, Nickolas, who had managed former Rep. Ben Chandler's (D) successful 6th District campaign in 2004, outlined an aggressive retail politicking strategy to get McGrath in front of voters ― not just on TV, but in their homes, churches, billboards and mailboxes.
Nickolas ― who thought he was out of politics for good until Chandler urged him to meet with McGrath ― said he was instantly swayed by her grasp of the issues and the realities of politics, which she had honed during stints working for Rep. Susan Davis (D-Calif.) in Congress during her time in the military. Most of all, he was impressed by her passion, and he banked on his belief that if they had to chance to meet her, Kentucky voters would feel the same.
McGrath, meanwhile, purchased ad space in every local newspaper in the district and published an editorial detailing why she had chosen to run now, in 2018, and here, in central Kentucky. She piggybacked off the popularity of the initial ad, which gained her thousands of social media followers, to hold Q&A's with voters in the district that were broadcast on Facebook. She hit all 19 counties in her first few months in the race, stumping across the region and spending hours, even days, in areas that had once been reliable Democratic strongholds but have trended red for more than a decade.
In a district where Democrats still hold a registration advantage, she has pushed the message that the national party has abandoned its voters here. "The Democrats here feel left behind by the national party," she said. "The national party, to them, is Washington D.C. They don't have the same values. They're led by San Francisco and New York. They don't see leaders from here or the Midwest. And they're focused on the wrong things."
"You can be a progressive and still do well in more conservative areas, as long as those rural voters get a sense that you'll fight for them."
Led by San Francisco and New York. You don't need a decoder pin to understand what McGrath is getting at. But she goes no further. She doesn't counterpose issues of identity — transgender access to bathrooms, women's rights, race — against the economic concerns of white, working-class voters. McGrath is pro-choice. She's a vocal critic of Trump's efforts to ban transgender people from the military. She thinks his effort to ban refugees and immigrants from majority Muslim countries is discriminatory and misguided.
McGrath doesn't shy away from those issues when voters bring them up, and she believes her military service helps bridge the gap between the two sides when they do disagree. But she's primarily focused on what she sees as the concerns that the district's old-school Democrats who've been voting Republican still share with the national party: chiefly, health care and the economy.
She has argued for not just protecting the Affordable Care Act but expanding it to include a public option and a lower age of eligibility for Medicare, against the Republican tax cut package for which incumbent Barr voted, and for raising the minimum wage. She describes herself as a "fiscal conservative," but mostly to score points off of Barr for passing deficit-fattening tax cuts after years of fear-mongering on that very same issue.
And in a direct appeal to the rural parts of the district, she's advocated for an expansive role for the federal government, arguing that it should invest heavily in broadband, infrastructure, and job and economic development in areas left behind by the decline of manufacturing and the collapse of the coal industry.
"We ought to have the federal government funding high-speed broadband in those areas. And we ought to do it for our country," McGrath argued during an interview in her Lexington campaign office. "Eisenhower didn't say, 'Let's let private industry build the highways.' No, the government did that. And it powered our country. FDR brought electricity to Appalachia. The federal government did that."
McGrath speaks in a folksy, unpolished manner, with the occasional curse word slipping out, her voice rising and falling and sometimes cracking as she talks about the ugly direction the country she fought for has taken, or about Barr's vote to repeal the health care law that gave thousands of local residents coverage for the first time. "The average household income here in Kentucky is about $50,000. That's not a lot," she said. "When you have Andy Barr coming in and saying, 'I'm going to repeal Obamacare and give you health savings accounts' ― dude, they don't have the money for health savings accounts."
The more Kentuckians have gotten to see of McGrath, the more the message she's aiming for has set in.
"A lot of people say they want to shake things up. She's believable in that regard, just because of her demeanor," said Al Cross, a veteran Kentucky political journalist. "She comes across as somebody who wants to get things done and won't take no for an answer."
"The average household income here in Kentucky is about $50,000 ... When you have Andy Barr coming in and saying, 'I'm going to repeal Obamacare and give you health savings accounts' ― dude, they don't have the money for health savings accounts."
That invocation of Franklin Delano Roosevelt, meanwhile, isn't an accident ― it was the New Deal and the local economic populists who supported it, like former Kentucky Sen. (and Vice President) Alben Barkley, who painted the state blue a century ago. In a state where Democrats have continually lost ground over the last decade, McGrath is arguing that "we have to talk about the things that made these people Democrats in the first place," Cross said. "FDR is the guy who confirmed people as Democrats. And Alben Barkley did too. And it's been a long time since either of those guys were around."
Even before the polls began to shift, there were signs that the strategy was working. Last fall, McGrath traveled to Anderson County ― one of the district's largest counties ― to meet with Ben Carlson, the conservative editor of the local daily newspaper, the Anderson News. Carlson was impressed, not just by McGrath, but by the enthusiasm people had about her.
"I haven't sensed, in a congressional race, this kind of enthusiasm for a candidate in the 12 years I've been running the paper. For either party," Carlson said. "She's brought that kind of excitement to it."
To Nickolas, that's evidence that this sort of hyperlocal campaigning in districts where voters increasingly feel detached from both sides of the national debate can help Democrats win back seats.
"I think it's a reminder that sometimes we get away from the fundamentals," Nickolas said. "We get seduced by the latest way of communicating. Too many campaigns put their money on TV and digital, and what suffers is the old school face-to-face communication with voters."
McGrath's style of campaigning, Nickolas believes, is crucial for Democrats in purplish districts like Kentucky's 6th. The grievance gets people's attention; the stuff gets their votes.
"They want to know: 'Are you going to go to Congress and represent me? Are you going to care about me?'" Nickolas said. "She leads with that: 'We may not agree on some of the issues. But you should believe that I'm going to have your back.'"
He continued: "You can be a progressive and still do well in more conservative areas, as long as those rural voters get a sense that you'll fight for them."
Popular in the Community