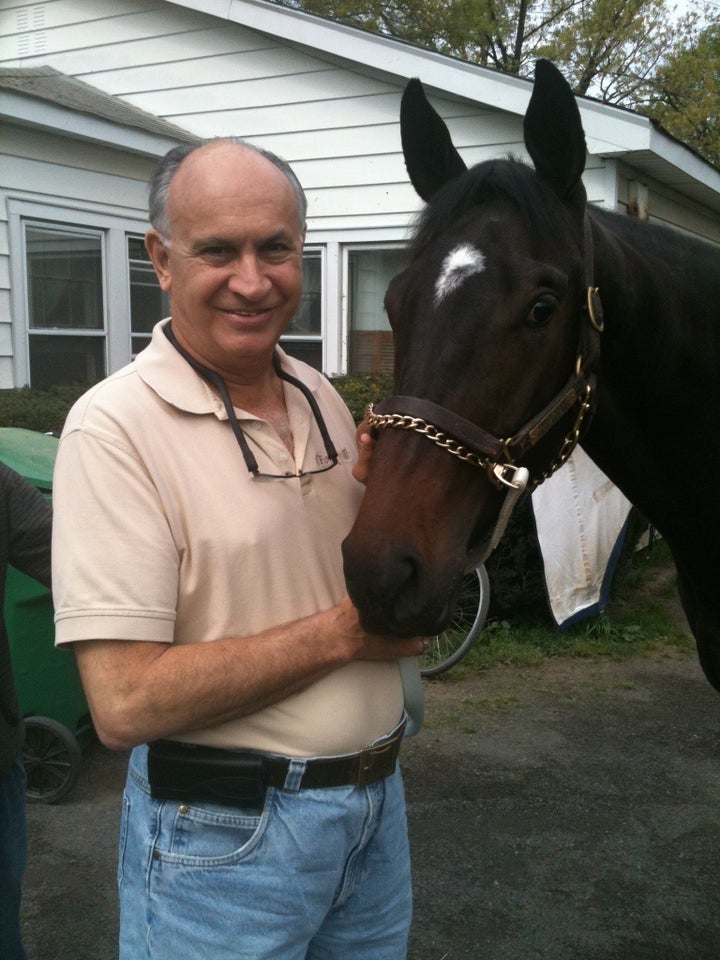 If Saturday's Kentucky Derby makes you dream of owning a thoroughbred for the price of a nag, you're in luck. Several firms arrange partnerships for small-timers to buy a share of a racehorse. Investments begin in the low hundreds of dollars.
Dave Dillon, a Chicago hospitality executive, plunked down $5,000 for a 5 percent stake in a yearling through Team Valor International, a Versailles, Ky.-based stable. Dillon's chances of profiting were remote -- up to 95 percent of owners lose money, estimated Team Valor owner Barry Irwin. But Dillon's colt, Animal Kingdom, was an exception in the grandest way imaginable. It won last year's Kentucky Derby.
"Animal Kingdom was way past catching lightning in a bottle," Dillon told The Huffington Post. "It was catching lightning in a bottle that's locked in a safe."
After spending a chunk of his winnings on memorabilia, Dillon received a check for his cut of the purse from both the derby and Animal Kingdom's second-place finish in the Preakness -- $65,000. He could receive about $300,000 when the horse begins breeding.
Racing syndicates open to regular joes multiplied in the 1990s and they're flourishing now. While the economy has crushed the aspirations of many Americans, the low-risk partnerships offer a Seabiscuit-like sliver of hope for investors seeking more fun than dividends. "They're buying into a dream," said Richie Munk, the 60-year-old managing partner of Funky Munky Stable.
Some syndicates (see below for a list) offer partnerships for the price of a laptop. For $1,000, one can purchase from Funky Munky a 1.665 percent interest in one horse, plus three or four months of training expenses. Partners at that percentage then pay around $65 a month in upkeep, bringing the total outlay to about $1,600 in the first year, unless the horse's winnings exceed its costs. The bills come quarterly. Prize money, divided by the percentage invested by each partner, arrives a week or two after a race.
Owning a thoroughbred outright often requires CEO-level income. The average sale price of a 2-year-old at a recent Ocala (Fla.) Breeders Sale reached $41,358, and six horses went for more than $200,000. Then throw in around $50,000 annually for training and vet care.
Horse racing has been called the sport of kings, but Munk has spent the past two decades inviting the middle class to get in on the action. Formerly in janitorial sales, Munk assembled affordable partnerships for two stables before founding Funky Munky in 2008. Funky Munky's 250 clients include cops, a retired parks supervisor, a grandmother and an atomic lab researcher. They range in age from 21 to 71. He promises them a good time, with the possibility of reaching the winner's circle.
"We're not running a pet shop," he said. "We put horses where they have the best chance to make money."
Still, the more common return on investment is the entertainment. The thrill of watching the horses race and train as an owner, and the fun of hanging out at the barn, carry their own value, Munk explained on a recent spring morning at Belmont Racetrack in Elmont, N.Y. That's where a handful of his horses call home. The smell of hay and the clopping of hooves can slow a coffee-addled pulse in minutes. But if it's the excitement of lucre you seek, you might as well know what you're up against.
Munk estimated that 20 percent of his horses earn money beyond their training expenses, which run to $48,000 a year. That's better odds than winning the lottery or even than completing an open-ended straight in poker. But it's not a proposition on which to bet the farm.
He generally purchases the horses for between $15,000 and $50,000 -- either through claiming races, which have a uniform price for every entrant, or through sales of 2-year-olds. Funky Munky also sells shares in harness-racing standardbreds starting at $500. Trotters race more often, providing more thrills for the buck, he said.
But the glamor and romance are on the thoroughbred side. In the last meeting at prestigious Saratoga, Funky Munky led all public syndicates with four victories. And it has produced a few recent standouts. Munk claimed Jack on the Rocks for $30,000 in 2009 and it won $275,000 in purse money before being claimed by another stable. In 2010 Hold That Prospect won four of its first six starts, collecting $193,000 within a year. The stable's latest prospect is Mitigation, who triumphed in its second straight race April 6 at Aqueduct.
Don Coons, a 56-year-old father of three from Burnt Hills, N.Y., has invested between $1,000 and $1,200 in three Funky Munky horses. His first horse raced three times and was retired. The second, Funky Munky Mama, won her third race in January and has been covering her barn bills, he said. The third, One Way To Rock, won a maiden race at Saratoga last summer by eight lengths but is recovering from a stress fracture. Coons also fared well when he bought a share of a horse called The Funky Express as a college graduation present for his son. The horse quickly won two races and was sold for $155,000.
"I'm not into this to lose a lot of money," Coons said. "I'm not in it to make money. I enjoy going to the barns, seeing the horses."
Coons recommended that potential buyers in any syndicate research the horse trainer's track record in either the Daily Racing Form or another Internet site, and check the bloodlines of the 2-year-olds. Munk said that prospective buyers can also view workout results. Keep in mind, though, that limited partners have no say in most stables' decisions.
While horse racing has struggled mightily in recent years, the advent of racetrack-attached casinos, or "racinos," has bumped up the races' prize money in certain regions to give investors a better shot at clearing revenue, Funky Munky trainer Gary Gullo said.
But anyone fantasizing about buying into a Kentucky Derby winner on the cheap ought to keep their expectations in check. As they say in racing, it's a long shot.
"Only use money you can afford to lose," Funky Munky partner Alex Dugas said. "Don't take the milk off the table."
AFFORDABLE SYNDICATES
Note that most of these numbers were taken from the syndicates' websites and can fluctuate, depending on the particular horse.
Funky Munky Stable, $1,000 for a 1.665 percent share, funkymunkystable.com
Karakorum, $499 for .5 percent share, karakorum.com
Fantasy Lane Stables, $625 for a .325 percent share, fantasylanestable.com
Green Hill Racing, $2,500 for a 10 percent share, jeffgreenhill.com
RaceHorsePros.com, $5,000 for a 10 percent share, racehorsepros.com