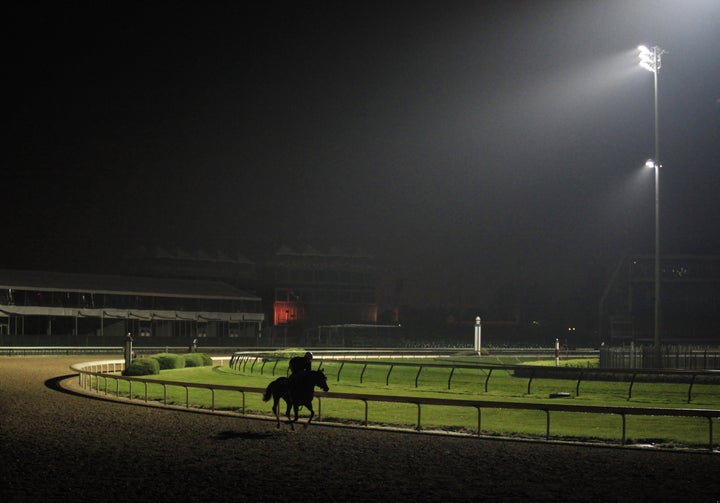 (AP) LOUISVILLE, Ky. — The Kentucky Derby, perhaps more than any other sporting event, prides itself on tradition.
From the tasty mint juleps to the meticulously constructed Derby hats to the playing of "My Old Kentucky Home," the nation's oldest continuously run sporting event – as the sign in the paddock reminds you – is an annual step back in time.
Yet four-time Derby-winning trainer D. Wayne Lukas envisions a day when the race run on the first Saturday in May for the last 135 years will move into primetime.
"I think it's inevitable," he said.
For proof, Lukas simply points to the newly installed lights that surround the track, including four that jut right in front of Churchill Downs' iconic twin spires.
"If you ask somebody standing here 20 years ago if we'd ever have lights at Churchill, they'd say 'Absolutely not, that would never happen,'" he said. "And here they are."
The track experimented with temporary lights last summer to see how fans would react to night racing toward the end of the sometimes steamy spring meet.
The response was so overwhelming, with crowds averaging nearly 30,000 a night, the track invested $3-4 million over the winter to make the lights permanent.
"The decision was really a reflection of the commitment we have to make sure that we're having special events and special nights for the industry," said Churchill Downs president Kevin Flannery.
Flannery likened the move to the one the Chicago Cubs made 20 years ago when lights were finally installed at Wrigley Field.
"We're an iconic track, we're an iconic facility and just like Wrigley we have to give the customer what they want and we have to do things that spark demand for our product," Flannery said.
Never is that product in greater demand than on Derby Day, when 150,000 crowd the grandstand and the infield and millions more watch on TV.
And though the Derby prides itself as "the fastest two minutes in sports" the race is simply the exclamation point on a three-hour made-for-TV event.
There's a red carpet packed with celebrities. Features on everything from the right food to serve at a Derby party to backstories on the principle Derby players, all culminating with 120 seconds of chaos as the world's best 3-year-old colts dash toward history.
It can make for pretty compelling TV. Ratings for the Derby have steadily increased 27 percent over the past decade. Mine That Bird's stunning upset in last year's race drew 16.3 million viewers and a 9.8 rating, the highest since 1992.
NBC Universal senior vice president of marketing Mike McCarley attributed the uptick in ratings to an effort by both the track and NBC to better market the race. NBC promos the Derby across its broad platform of networks – including Bravo and CNBC – in an effort to reach a larger spectrum of viewers, particularly females.
McCarley points out that the Derby is one of three sporting events in which more women watch than men. The Winter and Summer Olympics are the others.
"It's a very unique spectacle," McCarley said.
One that McCarley isn't quite sure would work under the lights.
"Any sort of major time shift, that's Churchill's decision to make but there's something that's very special about the Kentucky Derby and the way that it is now," he said. "You have 136 years of tradition. You can't be doing a whole lot wrong when it's as successful as it is."
Flannery is a little more ambiguous. Though he says there are no plans to alter post time for the Derby, he added "never say never."
In an age when everything from the Super Bowl to the World Series to the NCAA championship game doesn't begin until well after sunset, Lukas thinks running the Derby at night could make sense.
"We're being dictated by TV and to make our sport better and get a better following, night racing might do it," he said. "If we go prime time, run it about 9 o'clock, the ratings would probably quadruple."
That may be overstating it a bit, but holding major races at night works in other parts of the world.
"I couldn't imagine (the Derby at night), but then again you have places like Dubai World Cup where they run their biggest races at night," said jockey Willie Martinez, who will ride Noble's Promise in the Derby. "It would definitely be interesting to see 20 horses under the lights."
Trainer Todd Pletcher, who will saddle four horses in the Derby, agrees.
"I wouldn't necessarily be opposed to it," he said. "I think that we've got to do things to try and get the mainstream involved in racing and see what our sport is all about. Sometimes that means making some changes that went away from the way tradition has been done for a long time."
Trainer Bob Baffert argues part of the Derby's lure is the mass of humanity – much of them dressed in their Sunday best – that engulfs the track on Derby Day. Run it under lights and you miss out.
"It's so spread out, you wouldn't get the crowd, the backside," he said. "You wouldn't be able to see it so it would take away from it."
Yet Baffert has been around long enough to know nothing is forever, even at the Derby.
When asked how he'd feel about having his picture taken in the winner's circle with lights flickering in the background, Baffert simply laughed.
"Can't we just (airbrush) them out of there?" he joked. "We can (airbrush) them out of there. I don't care if there's lights. If I win the Derby, I don't care if there's 20 lights back in there, I just want to win the Derby."