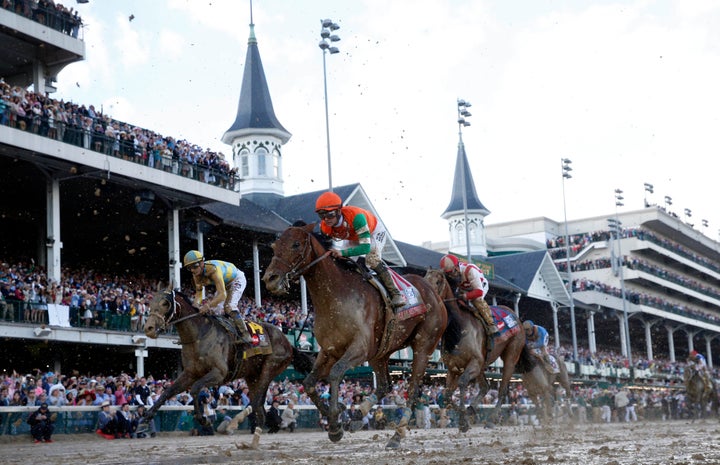 It may have taken one of the largest horse races in the country to get America's deadly hepatitis A outbreaks on the public's radar.
Indiana public health officials issued a controversial warning last month that those traveling to Louisville for this weekend's Kentucky Derby should make sure they've gotten a hepatitis A vaccine. Kentucky is one of several states in the midst of a hepatitis A outbreak spread by contaminated fecal matter, with over 400 cases and three deaths since August.
Outbreaks of the potentially deadly virus, which is preventable thanks to an effective vaccine, have largely infected homeless and drug-using populations in Kentucky, Michigan and California, among other states. Hepatitis A infections are up 85.8 percent compared to this time last year, with 1,122 cases, according to the U.S. Centers for Disease Control and Prevention. And 2017 was already a year of elevated infection rates ― up 48.7 percent from 2016.
Taking notice, Indiana public health officials released a statement from the Department of Health on April 18 that urged "Hoosiers" to get vaccinated if they plan on traveling to states "with popular tourist events coming up" that are experiencing outbreaks, highlighting the outbreaks in neighboring Kentucky and Michigan.
But Kentucky's acting Commissioner for Public Health Jeffrey Howard objected, noting that the CDC hadn't recommended travel restrictions or vaccinations prior to attending.
"Some misleading information has raised concerns about travel to Kentucky and even the Derby," he wrote in a statement. "Let me say that it IS safe to travel to Kentucky and it IS safe to attend the Kentucky Derby."
The Louisville Courier-Journal published an op-ed with the headline "Indiana officials basically call Kentucky a third-world country."
Since the hepatitis A vaccine became available in the U.S. in 1995, outbreaks have been primarily tied to contaminated food imported from countries without proper sanitation systems. But the jump in outbreaks over the last year has been tied to a phenomenon more common in developing countries: a growing need for proper sanitation services for the surging homeless and drug-using populations.
In Kentucky, the vast majority of hepatitis A cases ― just under 300 ― are in Jefferson County, which encompasses Louisville and is home to the Derby. As the state's biggest tourist event of the year, the horse race can draw crowds of up to 170,000 people and nets the city $400 million in economic benefit.
"I mean look at the opioid epidemic, which was affecting disenfranchised people in our country for many years before it gained the attention of policymakers."
The growing outbreak has managed to fly largely under the radar when it comes to national media coverage, due in large part to the communities primarily affected and a severe undercounting in the CDC's year-end numbers for 2017 due to a state system reporting error in California.
"Maybe it's because of the juxtaposition with the Derby and stuff, but it's not underreported now, I can tell you that," said Dave Langdon, a public information officer for the Louisville Metro Department of Health and Wellness.
According to Google Trends, this is the most anyone's talked about hepatitis A in the U.S. ― which has killed 25 people in Michigan and infected thousands after the outbreaks' start two years ago ― since a series of news stories in September 2017 that focused on San Diego's efforts to reverse an outbreak by sanitizing their streets with bleach.
It's been a year where other public health problems ― from the deadly flu season to the onslaught of hurricanes ― grabbed headlines, said Lilly Kan, the senior director for infectious disease and informatics at the National Association of County & City Health Officials.
But Dr. Jeff Duchin of the public health offices of Seattle and King County, Washington, which has been working to prevent a similar outbreak among its massive homeless population, told HuffPost he wasn't surprised that it was something like a supposed threat to the Kentucky Derby that finally brought attention to hepatitis A.
"I mean look at the opioid epidemic, which was affecting disenfranchised people in our country for many years before it gained the attention of policymakers," he said. It wasn't until middle-class people were affected that resources started to flow for treatment.
"It's not the first time ... preventable diseases that occur in disenfranchised communities have been ignored until they come to the doorstep of those who have more resources and power," Duchin said.
KENTUCKY WANTS VACCINES FOR ITS RESIDENTS
Despite resistance to Indiana's recommendation for travelers, Kentucky is recommending all citizens in the six primary counties affected by the outbreak are vaccinated ― a break from the protocol followed in Michigan and California during their own outbreaks. This is partially because the makeup of patients with hepatitis A has been different from the California outbreak ― which was primarily among the homeless ― and Michigan outbreak ― which had a higher percentage of drug users.
According to Dr. Jonathan Ballard, Kentucky's epidemiologist, 30 percent of the Kentucky cases don't have a reportable known linking factor ― other than young adulthood, which he defined as a broad age category from 20 to 49 years old.
And calls for the vaccine in Louisville keep rolling in, according to Dr. James Jackson, the chief medical officer of Family Health Centers Inc., which operates eight local low-income community health centers in Louisville. The centers' pharmacist has been forced to restock nearly daily as the clinics have been running out.
"Because we are a safety net provider, usually the ones living on the margins are the ones that are our patients, and they are the people that need it the most," Jackson said.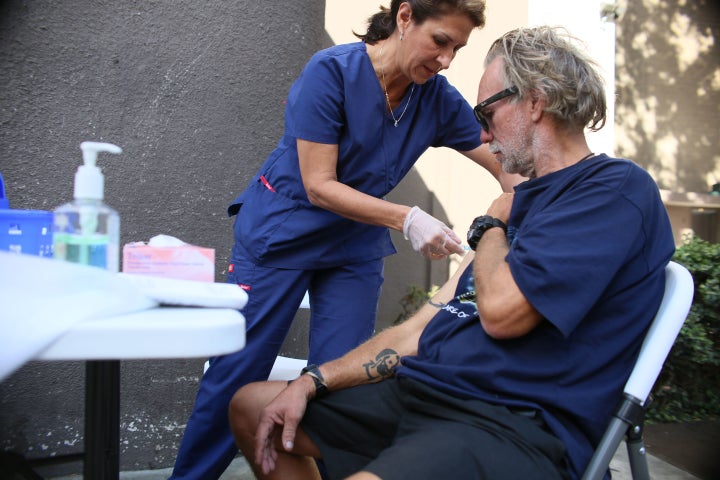 A QUESTION OF VACCINE SUPPLY
The CDC also pushed back against Indiana's recommendation. Spokeswoman LaKia Bryant told HuffPost that tourists to affected areas were not most in need of vaccination.
"State and local health departments in the affected areas are prioritizing vaccination to individuals at highest risk of acquiring infection (e.g. injection/non injection drug users, men who have sex with men, persons in transient living conditions, recently incarcerated, individuals with chronic liver disease)," Bryant wrote in an email.
Indiana's health department defended its decision, citing the CDC's own immunization committee. Jeni O'Malley, director of public affairs for the department, highlighted the CDC's recommendation that the hepatitis A vaccine be available to "any person wishing to obtain immunity" protection.
But that's a luxury for a time when vaccine isn't needed elsewhere, according to Duchin.
"If you wait until there are multiple large-scale outbreaks happening in your country, there isn't enough vaccine to go around for everyone," he explained.
As for the effect on the Derby itself, officials aren't expecting it to temper the enthusiasm. Kentucky health officials have reiterated that the risk of infection is very low for those not engaging in high-risk activities, and the city has tripled the number of hand-washing stations as a precaution.
As of yet, there have been no cases in Kentucky found from food contamination, but people are advised not to eat food sold out of people's backyards or otherwise uninspected locations. And in an abundance of precaution, more than 500 employees in the food service industry at the Churchill Downs Racetrack where the Kentucky Derby is held have been vaccinated, according to John Asher, the vice president of Racing Communications.
"We have not had any indicator of an effect on tourism, and this has been going on since November," said Cleo Battle, the executive vice president of the Louisville Convention and Visitors Bureau.
The war of words between health departments hasn't been all bad, according to Kan of the National Association of County & City Health Officials, as the hullabaloo has encouraged people to talk to their health care providers.
And Lynn Sutfin, a public information officer for the Michigan Department of Health and Human Services, said she's been fielding more and more requests from local papers and TV stations following the Indiana warning.
"This has definitely helped raise the visibility of the outbreak ― so I guess one could say that might have been a positive," she said.
Popular in the Community