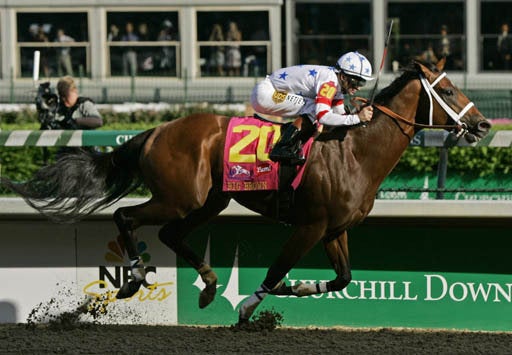 ***SCROLL DOWN FOR VIDEO OF THE NBC COVERAGE FROM THE MINUTES OF THE CONFUSION AND THEN THE ANNOUNCEMENT***
Big Brown backed up his trainer's boasts with an explosive finishing kick and won the Kentucky Derby on Saturday - a day marred by the fatal breakdown of the filly Eight Belles.

The cheers for the winner's decisive victory were cut short when Eight Belles, the runner-up, was euthanized on the track minutes after the race when she collapsed with two broken front ankles.
Hillary Clinton last week put her money on Eight Belles to win the race:
"I hope that everybody will go to the derby on Saturday and place just a little money on the filly for me," Sen. Clinton told supporters in Jeffersonville, Ind., ABC News reports. "I won't be able to be there this year - my daughter is going to be there and so she has strict instructions to bet on Eight Belles."
Eight Belles actually ended up finishing second in the race, just behind Big Brown. But in a shocking and tragic development, just as Eight Belles crossed the finish line, jockey Gabriel Saez "heard the worst sound possible - a pop."
Saez said the filly did not take a bad step, but he heard the pop and tried to pull her up.

"I tried to get her to stop," he said. "I tried to get her to stop, but she wouldn't stop."

Dr. Larry Bramlege the on-call veterinarian from the American Association of Equine Practitioners said on NBC that the the horse broke both front ankles. She was euthanized on the track.
Here is the NBC coverage as the confusion of Eight Belles down gave way to the announcement she's been put down:
The rest of the AP article is below:
The unbeaten Big Brown took charge when the 20-horse field turned for home. Under the urging of jockey Kent Desormeaux, Big Brown cruised to a 4 3/4-length victory to become the seventh unbeaten Derby winner with his fourth consecutive win. The last one was Barbaro in 2006.

Eight Belles was attempting to become the fourth filly to win the Derby. However, as the horses galloped out around the first turn, the filly fell to the ground and jockey Gabriel Saez jumped off.

An equine ambulance came onto the track, but the filly could not be saved, said Dr. Larry Bramlage, the Derby's on-call veterinarian.

"When we passed the wire I stood up. She started galloping funny. I tried to pull her up. That's when she went down," a distraught Saez said.
Popular in the Community