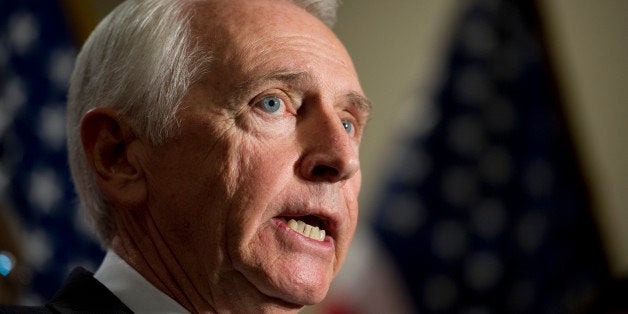 Kentucky Gov. Steve Beshear's administration is arguing the state's ban on same-sex marriage isn't discriminatory because it applies to straight people, too.
"Kentucky's marriage laws treat homosexuals and heterosexuals the same and are facially neutral. Men and women, whether heterosexual or homosexual, are free to marry persons of the opposite sex under Kentucky law, and men and
women, whether heterosexual or homosexual, cannot marry persons of the same sex under Kentucky law," the Democratic governor said in a brief filed with the Supreme Court on March 27.
In the brief, Beshear also argues "there is no fundamental right to same-sex marriage."
The Courier-Journal reports that Dan Canon, the lawyer representing the six couples challenging Kentucky's gay marriage ban, called Beshear's argument "especially absurd."
"Kentucky is in essence saying that our clients are precluded from marriage entirely, unless they change their sexual orientation (or simply marry someone to whom they are not attracted)," Canon told the Courier-Journal in an email. "It's akin to passing a law banning all Catholic churches within city limits, and then saying it's not discriminatory because you can still go to a Baptist church."
The Supreme Court will hear oral arguments April 28 on states' rights to ban same-sex marriage, with arguments being presented on current bans in Ohio, Michigan, Kentucky and Tennessee. The court is expected to deliver its ruling on the case this summer.
In March 2015, lawyers from the Justice Department filed a brief urging the Supreme Court to rule states' same-sex marriage bans unconstitutional. Hundreds of companies have also urged the nation's highest court to side with same-sex marriage advocates.
In 2013, the Supreme Court ruled the federal ban on same-sex marriage was unconstitutional.
CORRECTION: This post has been updated to reflect Beshear is a Democrat.
Calling all HuffPost superfans!
Sign up for membership to become a founding member and help shape HuffPost's next chapter
BEFORE YOU GO
PHOTO GALLERY
Reactions To Indiana's 'Religious Freedom' Law