WASHINGTON -- Kentucky voters' election of Republican Matt Bevin as their new governor on Tuesday may also decide the future of the Bluegrass State's health care system.
Outgoing Gov. Steve Beshear (D), who is term-limited, embraced President Barack Obama's landmark health care reforms, making Kentucky the most politically conservative state to create its own health insurance exchange, known as Kynect, and to expand Medicaid to more poor adults living near the poverty line. Kentucky saw the second-biggest drop in its uninsured rate among all states since enrollment through the Affordable Care Act began two years ago.
But Bevin, a tea party favorite, has vowed to unravel Beshear's policies, putting health coverage for hundreds of thousands of Kentuckians at stake in the election.
About 400,000 Kentuckians have qualified for Medicaid coverage under the Affordable Care Act's more generous standards, and approximately 100,000 more signed up for private health insurance policies through Kynect, according to a spokeswoman for the Kentucky Cabinet for Health and Families. The share of Kentucky residents without health coverage fell more than 11 percentage points between the end of 2013 and June 2015, Gallup reported in August. Only Arkansas experienced greater improvement, with its uninsured rate declining by more than 13 percentage points.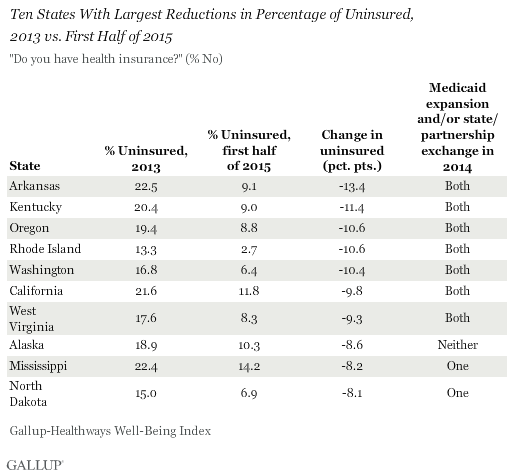 The federal exchange healthcare.gov struggled in the fall of 2013, while states like Hawaii, Oregon and others switched from their own exchanges to the federal sign-up system amid technological, logistical and financial troubles. But Kynect and Kentucky's Medicaid expansion are both regarded as successes, even by voters skeptical of Obamacare itself, surveys have shown.
"We've seen a drumbeat of positive stories about how many people have been added to insurance, the number of people who are now covered who were not covered before. We know the state has gotten a lot of positive publicity for it," said Steve Voss, a political scientist at the University of Kentucky in Lexington. "There certainly would be a lot of bad publicity as a result of scaling this back."
But Bevin staunchly opposes the Affordable Care Act on ideological grounds and has demanded its full repeal, consistent with the consensus view of Republican politicians nationwide. Bevin even painted Mitch McConnell (R-Ky.), the Senate majority leader and one of the law's chief antagonists in Washington, as soft on Obamacare when he unsuccessfully challenged the senator in a primary race last year.
Bevin's promises to roll back Obamacare in Kentucky could be tested as soon as he takes office. Ironically, the uncommon gubernatorial authority that enabled Beshear to implement the Affordable Care Act without having to go to the legislature could also empower Bevin to undo that legacy, despite Democrats controlling the state House of Representatives.
"When a tea party Republican can't embrace rolling back what the Affordable Care Act has done, who can?" Voss said. "Not even this guy is willing to go to the mat for rolling back the Medicaid expansion. To me, that's your big story."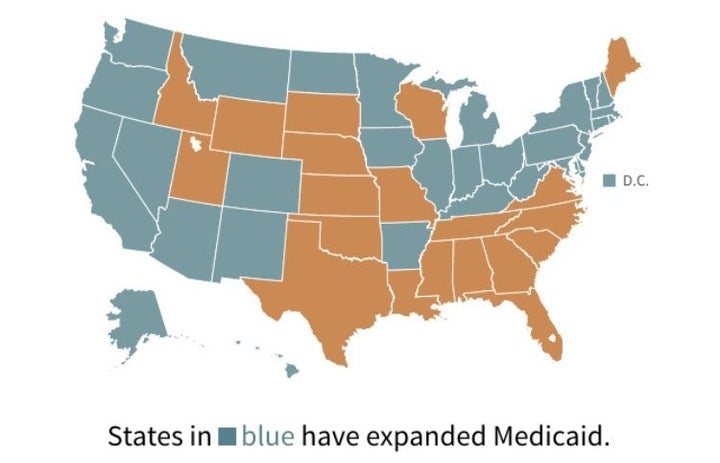 Bevin's apparent retreat from a wholesale repeal of the Medicaid expansion isn't necessarily a sign that his opposition to Obamacare has weakened, Voss said. Rather, it may merely reflect a growing understanding of the practical impact of abruptly taking away health coverage from hundreds of thousands of people.
"There has been an educational process for him as a campaigner talking to people with Republican sympathies but who are well-versed in health care policy that suggested maybe he needed more nuance," Voss said.
Public opinion may not align with Bevin's aims, in any case. Less than one-quarter of Kentucky voters want the Medicaid expansion repealed -- including less than half of Republicans -- while 54 percent support leaving it in place, according to a Bluegrass Poll reported by the Lexington Herald-Leader last week.
Still, Bevin's supporters likely will demand he take action to curtail Kentucky's participation in the Affordable Care Act.
"The hostility to Obamacare is pretty well-ingrained in not just his party as a whole, but especially the wing of the party that's moving him into office," Voss said. "I think absolutely doing nothing and just continuing it the way that Democrats would would be politically devastating."
And favorable public opinions toward Kynect and the Medicaid expansion could change, Voss added, if Bevin made the case that Kentucky can't afford its share of the programs' costs and highlighted the negative aspects of Obamacare in the state.
"If he wants to be able to reverse what Gov. Beshear has done without paying significant political cost, he'd have to take the time to change the conversation before he altered the policy in any dramatic way," he said.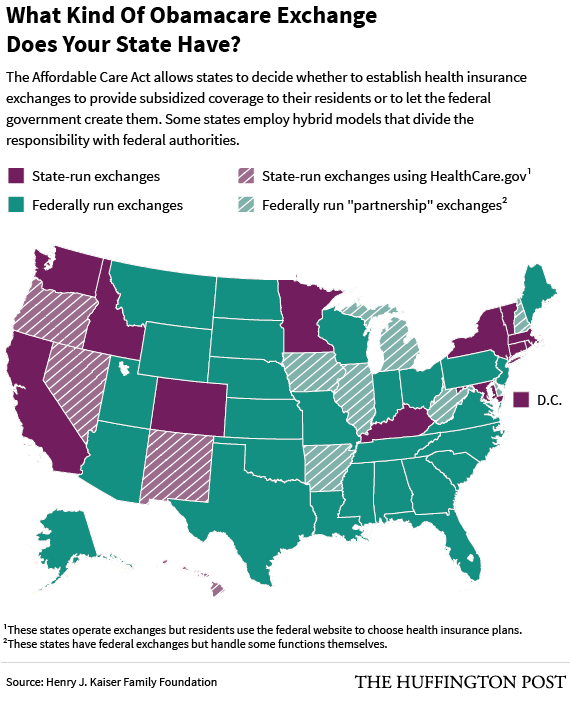 This article has been updated with the election results.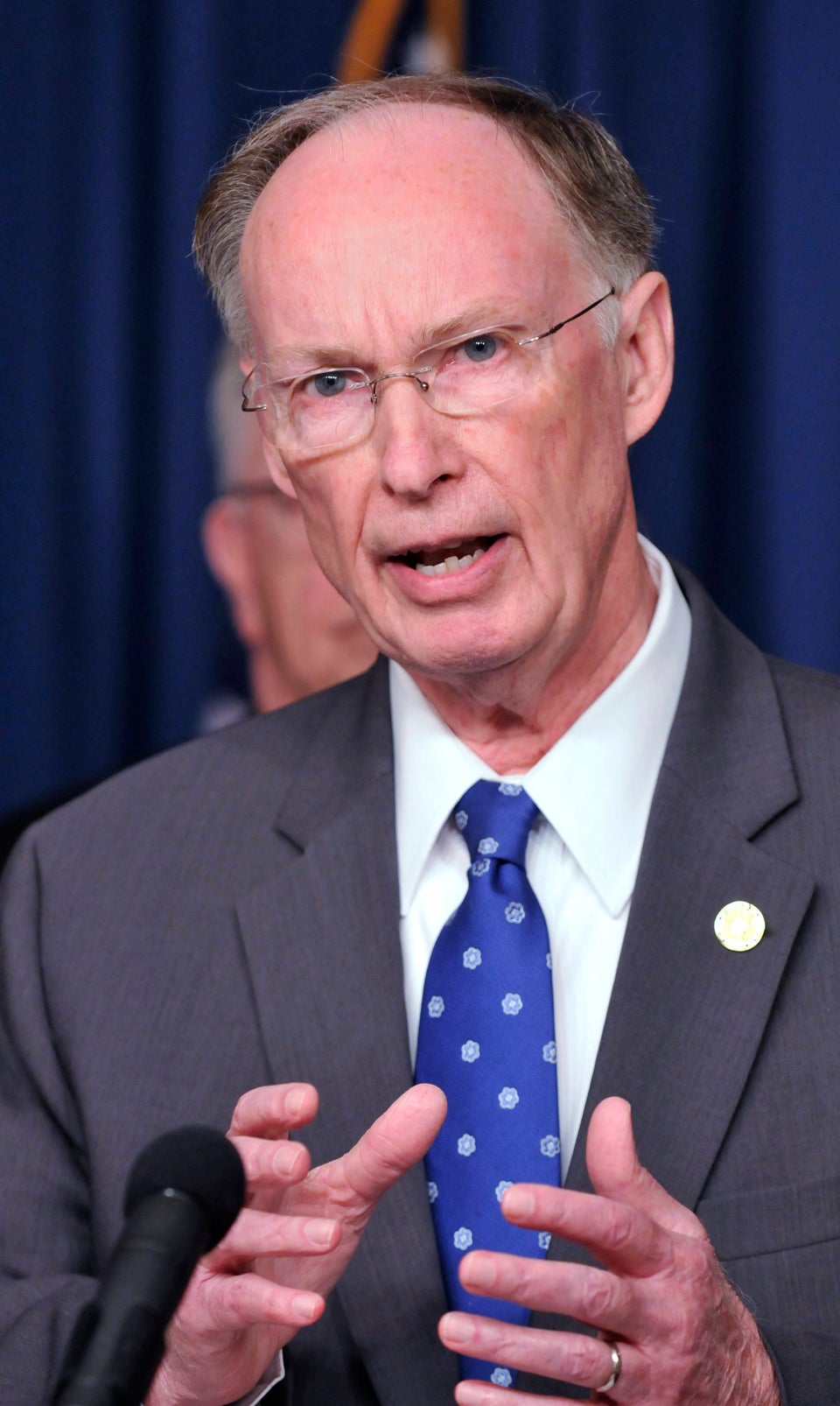 United States Governors
Popular in the Community