WASHINGTON -- Kentucky Gov. Matt Bevin (R) formally launched his effort to remake Obamacare in the Bluegrass State Wednesday, vowing to negotiate with President Barack Obama's administration to devise a new way to provide health coverage to low-income residents of the state.
At a press conference in Frankfort, Bevin said he would present a proposal by the middle of 2016 to reshape Kentucky's health care programs. 
"We are going to transform the way in which Medicaid is delivered in Kentucky, and this transformation, I think, will be a model for the nation," Bevin said.
The new governor offered little detail about what the change would actually look like, however. Under former Gov. Steve Beshear (D), Kentucky endeavored to make the Affordable Care Act work, expanding Medicaid to adults near or below poverty and creating Kynect, a state-run health insurance exchange. The newly minted governor now wants to overhaul Medicaid and scrap Kynect.
Bevin is proposing to reshape Obamacare in Kentucky despite the success of the state's health insurance exchange and the Medicaid expansion. The Medicaid expansion has provided health coverage to about 400,000 low-income Kentuckians and about 100,000 have obtained private insurance policies via the exchange. These enrollments made Kentucky one of the Affordable Care Act's biggest winners, as the state saw a nearly 11 percentage point drop in its uninsured rate since sign-ups began in 2013, a decline second only to Arkansas.
Although Bevin won office with a wide margin -- defying predictions of a narrow victory by state Attorney General Jack Conway (D) -- polls show Kentucky residents strongly favor the Medicaid expansion in its current form. Some 72 percent of Kentuckians, including 54 percent of Republicans and 43 percent of Bevin voters, want to keep the expansion as is, show survey results published this month by the Henry J. Kaiser Family Foundation. A slim majority also supports retaining Kynect, according to the poll. Most Kentuckians do not favor the Affordable Care Act itself, however, the survey shows.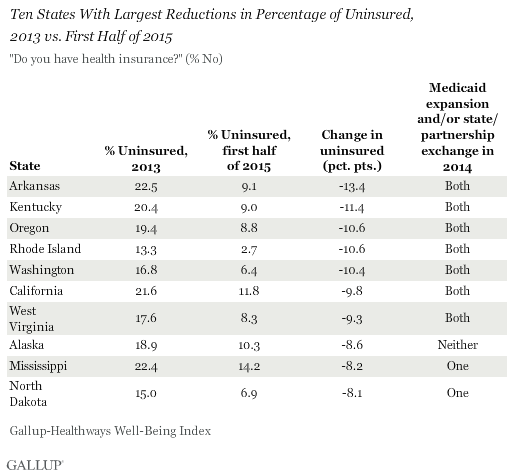 Kentuckians' views on Medicaid perhaps explain Bevin's evolution on the topic. He initially vowed to undo the expansion completely, but as his campaign neared the finish line and after he took office early this month, Bevin instead began to talk about modifying the program. He aims to emulate what Indiana Gov. Mike Pence (R) did in his state, where those who qualify under the Affordable Care Act must pay more for their health care than Medicaid enrollees in other states. Pence was a guest at Bevin's inauguration ceremony, when the new Kentucky governor cited Indiana's Medicaid program as a model.
"Indiana's is the model that frankly is most likely that we will look to replicate," Bevin said Wednesday.
Beyond citing Indiana's initiative and Medicaid privatization efforts in states like Arkansas and suggesting his proposal would require beneficiaries to have "skin in the game" -- meaning they would be responsible for more of their medical expenses -- Bevin provided no information about his vision for Medicaid or Kentucky's health care system at large.
The Obama administration would have to approve Bevin's plans to change how Medicaid works in Kentucky because the program is jointly run by federal authorities and agencies in the states. The White House has accommodated state officials looking to expand Medicaid while undertaking reforms, such as enrolling new beneficiaries into private health insurance plans rather than traditional Medicaid. But the administration has rejected other demands from states, such as requirements that Medicaid enrollees have jobs to qualify for coverage, which federal officials say would violate existing law.
Kentucky will take a different approach, Bevin said at the press conference. Starting in 2017, the Affordable Care Act permits states to submit so-called innovation waivers to the federal government enabling them to reshape their health coverage programs while still receiving federal funding tied to the law.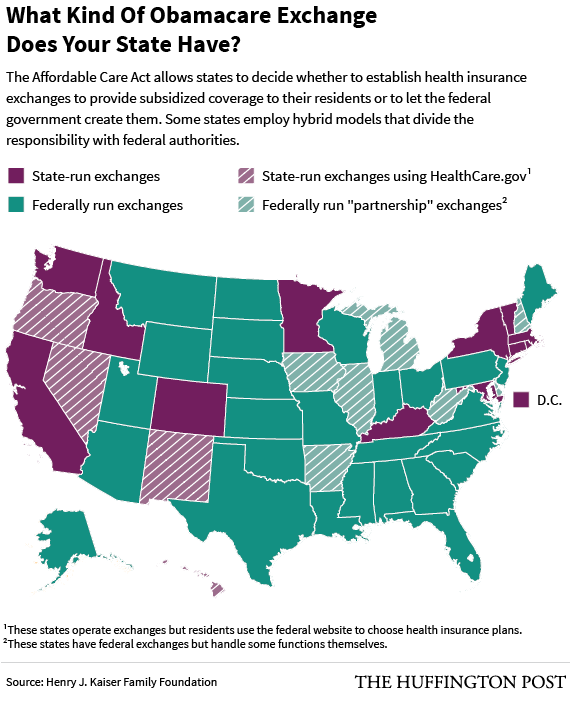 Bevin had a "very extensive and substantive conversation" with Health and Human Services Secretary Sylvia Burwell earlier this month in preparation for formal discussions with the Centers for Medicare and Medicaid Services, or CMS, he said. "She is somebody who is very committed to this," he said. "She and I had a good conversation about what solutions look like for Kentucky."
The bar for approving these waivers is set high under the law. Most importantly, states must demonstrate that their reforms will cover the same number of people at equal or lower cost than through Medicaid expansion and the health insurance exchanges. No state has yet attempted to use this mechanism, but Colorado voters will consider a ballot measure next year seeking to replace the state's current programs with a single-payer system that would cover all residents, which would require federal approval of the same type of waiver.
"I'm absolutely confident that we can make this work. I'm confident that CMS will meet us in good faith, and I look forward to that dialogue and continued discussion, which has come out of the gate well," Bevin said. "By the middle of next year, we will have an opportunity to know whether this is going to work or not."
While Kentucky reconsiders its Medicaid expansion, other states are moving in the opposite direction. South Dakota Gov. Dennis Daugaard (R) came out in support of the expansion this month, joining Republican governors like Gary Herbert in Utah and Matt Mead in Wyoming who are trying to persuade state legislators to adopt the policy. And in Louisiana, Democratic governor-elect John Bel Edwards is poised to revive the issue when he succeeds Gov. Bobby Jindal (R), a steadfast opponent of Medicaid expansion. To date, 30 states and the District of Columbia have broadened Medicaid eligibility under Obamacare.
PHOTO GALLERY
Health Care Reform Efforts In U.S. History
Calling all HuffPost superfans!
Sign up for membership to become a founding member and help shape HuffPost's next chapter