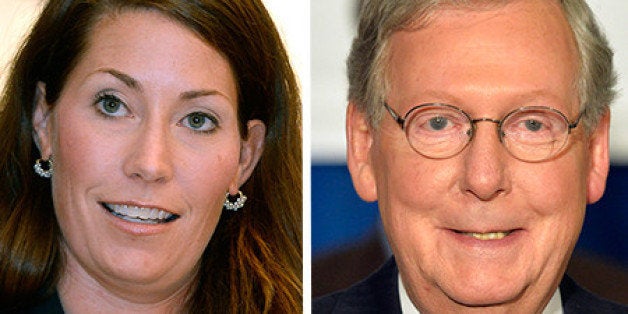 They may be political rivals, but Kentucky Sen. Mitch McConnell (R) and his Democratic challenger, Kentucky Secretary of State Alison Lundergan Grimes (D), can agree on one thing: The Drug Enforcement Administration needs to release the state's hemp seeds.
"I take a back seat to no one in working to protect Kentucky communities from dangerous drugs such as heroin," McConnell said last week in a statement. "It is an outrage that DEA is using finite taxpayer dollars to impound legal industrial hemp seeds. The agency should immediately release the hemp seeds so Kentucky pilot projects can get under way, which will ultimately lead to more economic opportunities in our state."
And Grimes agrees. "Alison supported the farm bill that allowed Kentucky to move forward with hemp for research, and believes the federal government needs to stop picking on Kentucky on this matter," Charly Norton, Grimes' press secretary, told HuffPost.
Last week, the DEA seized a 250-pound shipment of hemp seeds from Italy that the state's Department of Agriculture intended for use in the launch of a legal industrial hemp pilot program. Earlier this year, the farm bill legalized the industrial production of hemp for research purposes in a number of states, but the DEA's position is that importation remains illegal. Kentucky was forced to delay a hemp planting ceremony last Friday that would have celebrated the launch of the state pilot program.
Instead, Kentucky filed suit against the DEA, demanding the agency release the seeds. The lawsuit, filed in the U.S. District Court for the Western District of Kentucky, names the DEA, the Department of Justice, Customs and Border Protection and Attorney General Eric Holder as defendants.
Along with McConnell and Grimes, the hemp seed seizure has also drawn the condemnation of Kentucky Sen. Rand Paul (R).
"It is completely unacceptable for federal agencies to hold legal hemp seeds that will be used for Kentucky's legal hemp pilot projects," read a message on Paul's Facebook page last week. "The seeds should be released immediately so Kentucky can implement the projects and we can move forward with the reintroduction of industrial hemp, which has great potential to create jobs in our state."
During the first hearing for the case Friday, DEA officials said that the Kentucky Department of Agriculture would need to fill out a narcotics license, as well as a memorandum of agreement with the university departments responsible for planting the seeds and with any private land owners where the seeds will be planted.
The DEA and KDA are scheduled to meet in court again Wednesday. The DEA has said that it will process KDA's permits within three days of receipt. The hemp seeds are then expected to be released.
Hemp, sometimes called marijuana's "sober cousin" because it lacks the psychoactive ingredient that generates the "high" sensation, has a long history in America. The plant has been incorporated into a wide range of household products, including paper, cosmetics and textiles. In the 1700s, American colonial farmers were required by law to grow hemp, and it was used for hundreds of years to make rope, lamp oil and much more.
American industrial hemp production peaked in 1943, with more than 150 million pounds from 146,200 harvested acres. Although the crop hadn't yet been officially banned, production dropped to zero in the late 1950s as a result of "anti-drug sentiment and competition from synthetic fibers," according to the Associated Press.
Currently, 22 states have passed pro-hemp legislation and another 11 states have introduced it in some form. Fourteen states have removed barriers to hemp production and are able to pursue industrial hemp cultivation per the parameters of the farm bill.
REAL LIFE. REAL NEWS. REAL VOICES.
Help us tell more of the stories that matter from voices that too often remain unheard.
BEFORE YOU GO
PHOTO GALLERY
27 Reasons Why The U.S. Shouldn't Lead The War On Drugs