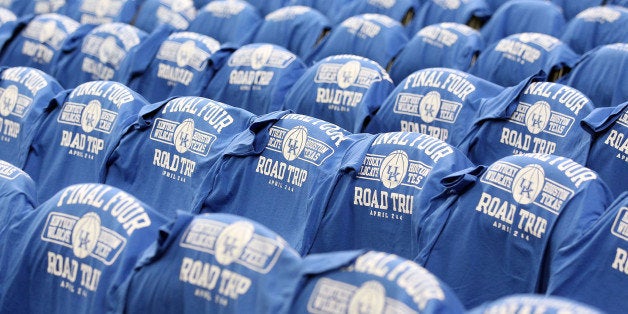 In a statement provided to The Huffington Post, the school's president, Eli Capilouto, said the school emphasizes tolerance and urges continued conversation on Indiana's law:
As a University, we have a strong and enduring commitment to the values of tolerance, diversity, and inclusion. We are a community that welcomes and celebrates the multitude of backgrounds, identities and perspectives. We encourage the vigorous debate about the intent and impact of this issue.
The Religious Freedom Restoration Act, which takes effect July 1, allows individuals or corporations to cite religious beliefs if sued by another party. However, many have argued that the measure will allow businesses to legally discriminate against others, specifically the LGBT community.
In recent days, some have pointed out that Kentucky and 19 other states have similar "religious freedom" laws. Kentucky's was passed in 2013.
"As a good progressive and a good liberal, I live in a state with a religious freedom law," Jonathan Miller, a former state treasurer for Kentucky, told the Lexington Herald-Leader in a story published Monday.
Miller, who the paper noted was looking for tickets to the Final Four on Saturday, added, "It's quite disturbing, but I'd be a hypocrite if I boycotted Indiana when I don't boycott my home state."
No. 1 Duke will face off against No. 7 Michigan State on Saturday, with No. 1 Kentucky vs. No. 1 Wisconsin to follow. The tournament's championship game will also be held in Indianapolis on Monday.
Related
Popular in the Community