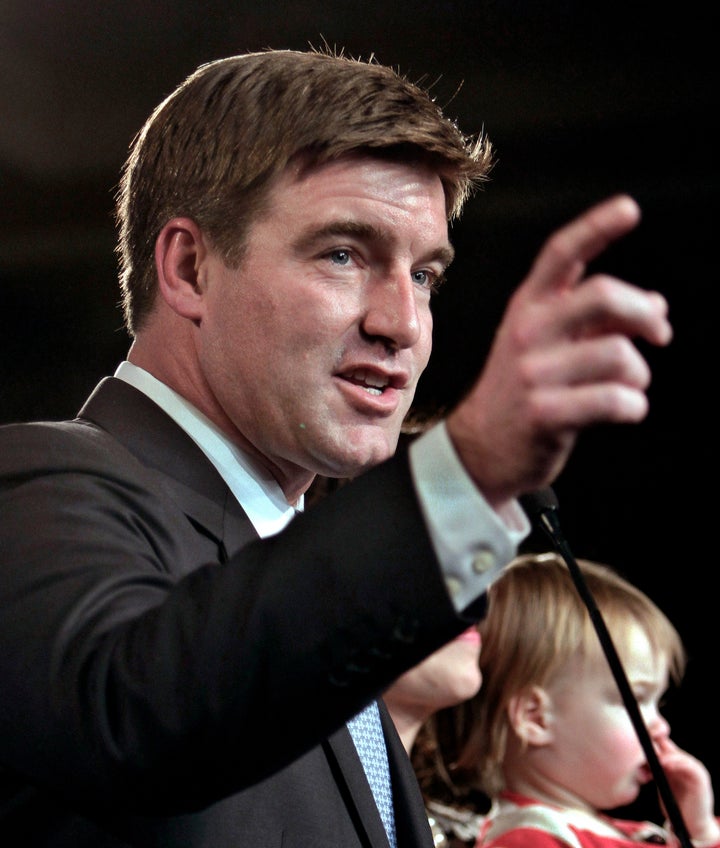 NEW YORK -- Kentucky Attorney General Jack Conway has added his name to a list of state law enforcers who fear that a settlement being negotiated among government officials and big banks isn't backed by a sufficient investigation into potential wrongdoing.
As law enforcers approach a deal with banks to settle allegations that the companies improperly foreclosed on American homeowners, the banks are pushing for a broad release from liability for actions that have not yet been fully investigated, Conway said in a Thursday email to the Progressive Change Campaign Committee, obtained by The Huffington Post.
By raising these concerns, Conway has aligned himself with New York Attorney General Eric Schneiderman and law enforcers from other states who have questioned the adequacy of the groundwork underlying the settlement talks.
"Today's economic crisis was caused by Wall Street acting improperly," Conway, a Democrat, said in the email. "Every American has paid the price -- with families losing their homes, investors losing their money, and many Americans losing their jobs. There should be absolutely no criminal or civil immunity given to banks for activity that has not yet been investigated."
All 50 state attorneys general, along with a group of federal agencies, launched an investigation into banks' foreclosure practices after it emerged last autumn that mortgage companies employed so-called "robo-signers," who approved thousands of foreclosure documents without reading them. Some banks temporarily halted foreclosures, saying they would review documents for errors, as criticism mounted.
Talks to settle the civil allegations seemed to be reaching a conclusion over the summer. But some government officials, including recent Obama Administration adviser Elizabeth Warren, questioned the sufficiency of the investigation into the ways banks dealt with homeowners.
The banks, which include Bank of America, JPMorgan Chase, Citigroup, Wells Fargo and Ally Financial, seem eager for a resolution to the talks that have contributed to investors' anxiety over the institutions' financial health. A legal penalty for the banks could reach $20 billion, The Huffington Post reported in June.
But consumer advocates are not united in the belief that the investigation has been inadequate. Some progressive law enforcers and other attorneys say the investigation -- which has been largely shielded from the public view -- is grounds enough for a deal that could give immediate relief to homeowners, by setting rules for mortgage practices and potentially offering monetary assistance.
"We all agree that banks have behaved abominably and they must be held accountable. It's my strong belief that the multi-state AG effort is attempting to do exactly that," said attorney Ira Rheingold, executive director of the National Association of Consumer Advocates, in an email. The attorneys general, he added, "have done a significant investigation/examination of serious servicer misbehavior in the foreclosure and loan modification processes and I believe that the fair resolution of their negotiations offers the best hope for immediate relief for consumers faced with the possible loss of their homes."
A spokeswoman for Iowa Attorney General Tom Miller, who is leading the states' investigation, did not immediately respond to a request for comment. Earlier this month, when Minnesota Attorney General Lori Swanson raised concerns about the adequacy of the investigation, a spokesman for Miller said in an emailed statement: "We share a lot of common ground with Attorney General Swanson and we appreciate her input."
Miller removed New York's Schneiderman from the so-called executive committee of attorneys general last month, as divisions emerged among state law enforcers. Schneiderman, who has expressed skepticism about the national investigation, has advocated for a narrow settlement, as he pursues his own investigations into the banks' behavior.
Attorneys general from Delaware and Massachusetts have also questioned the thoroughness of the national investigation.
UPDATE: 1:20 p.m. -- Iowa's Miller said a settlement with the banks will not include criminal immunity, and any release from civil liability will not be broad.
"Attorney General Conway is against something that doesn't exist," Miller said. "We've made it very clear for at least a month that there's nothing to do with criminal immunity. That should be known."
Related
Popular in the Community